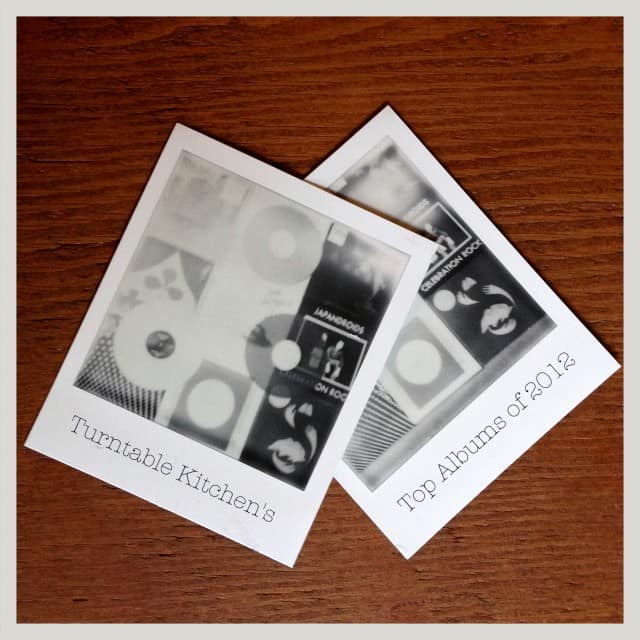 I think one of the best parts about compiling my year end list is forcing myself to take the time to look back upon the year in music. Around this time each year, I sit down in front of my record player and pull LPs from my collection to play them one by one. In some cases this means re-listening to records that I haven't played in months. For example, I'd loved Cloud Nothing's Attack on Memory, THEESatisfaction's Awe Naturale, and Shigeto's Lineage early in the year, but over the course of the year I'd let them slip from my mind. But when I let them needle drop on those albums I was instantly reminded of why I'd loved them so much.
It's also fun to contemplate the different threads that run through the world of music in any given year – even when it isn't clear quite where they all lead. For example, when I look at a list of the best music of 2012 (my own list or any other), I can't help wonder if the world of music is slowly splintering into hundreds of disparate genres or actually converging into a more amorphous genre-defying state.
For example, following up on a strong year in 2011, r&b continues to push into new territory and faces a continued critical and popular resurgence. Some of this is a result of revitalization caused by blending traditional r&b with contemporary aesthetics: Frank Ocean's channel ORANGE & Miguel's Kaleidoscope Dream being my two favorite examples of this trend. But r&b continued to get "weird" too leading to some really fantastic experiments – THEESatisfaction's Awe Naturale being a prime example.
Electronic minimalism continues to embrace lush, sonic texturalism in new and interesting ways, resulting in some of the most forward-facing music you'll hear this year. Indeed, this could be said of a pretty diverse range of releases including Purity Ring's Shrines, Flying Lotus' Until The Quiet Comes, The xx's Coexist, Jessie Ware's Devotion, Shigeto's Lineage, and Zammuto's self-titled debut. Yet, despite a few superficial similarities, for the most part there is more separating the sound of these artists than unifying them.
Meanwhile, the umbrella term "indie rock" continues to embrace an increasingly unwieldy array of artists. For every talented artist that decided to ditch basic pop song structures in favor of lush, grandiose songwriting (including my top two LPs this year – Grizzly Bear's Shields and Beach House's Bloom), there were others that intentionally decided to keep it simple, fast, and loose including folks like Cloud Nothings, Ty Segall, Japandroids, Father John Misty, and The Fresh & Onlys. Similarly, while some artists favored slick, dance-music inspired production (think Tanlines' Mixed Emotions & Matthew Dear's Beams), other artists (including Exray's and Seamonster) succeeded, in some part, because they embraced a more loosely-woven, DIY production to create a cozy warmth and whimsical air.
But what I find most fascinating is the way that many artists are increasingly demonstrating their appreciation for music outside of the confines of their own genres. Whether it's Frank Ocean crooning Radiohead tunes at live gigs or Flying Lotus deciding that 2012 was the year to directly engage with the world of hip hop, it increasingly feels as if this creative cross-pollination has simultaneously created a more diverse – but nonetheless unified – musical landscape. However you look at it, the result is that 2012 proved to be another fruitful year for people who love new music.
Finally, I'll add a few notes about the methodology of my list. First, only LPs were considered. As a result, I didn't include any EPs despite the fact that some of my favorite music of the year was released on that format (including essential collections by Pure Bathing Culture, Evy Jane, Dum Dum Girls, NO, AlunaGeorge, Rhye, Turtle Giant, Teen Mom, Joey Bada$$, Hands, Oscar Key Sung, Ender Belongs To Me, and The Bones of J.R. Jones). I've always differentiated between the two, and in my mind it keeps things a little easier. Further, the numbering is intentional but I'll confess that this year the numbers feel a little looser than usual. For example, I don't think there was a clear "No. 1 album of the year." I could easily swap any of the top three into first place and feel pretty good about my list. Not only that, because of the breadth and diversity of good music this year, I feel like just about any of the albums on my list deserved to be in the top ten. And on a different day and in a different mindset, any of the albums I listed out for "Honorable Mention" could have found a spot on this list. What can I say? There was just a LOT of great music this year.
Let me know what you think.
List Plus MP3s
1) Beach House – Bloom :: Beach House – Lazuli
2) Grizzly Bear – Shields :: Grizzly Bear – gun-shy
3) Frank Ocean – channel ORANGE :: Frank Ocean – Pyramids
4) Purity Ring – Shrines :: Purity Ring – Ungirthed
5) Peaking Lights – Lucifer :: Peaking Lights – Beautiful Son
6) Mac DeMarco – Mac Demarco 2 :: Mac DeMarco – My Kind Of Woman
7) Cat Power – Sun :: Cat Power – Ruin
8) Fiona Apple – Idler Wheel :: Fiona Apple – Every Single Night
9) Wild Nothings – Nocturne :: Wild Nothing – Paradise
10) Ty Segall – Twins :: Ty Segall – Thank God For The Sinners
11) Cloud Nothings – Attack on Memory :: Cloud Nothings – Stay Useless
12) Flying Lotus – Until The Quiet Comes :: Flying Lotus – Getting There
13) THEESatisfaction – Awe Naturale :: THEESatisfaction – QueenS
14) Matthew Dear – Beams :: Matthew Dear – Headcage
15) Tame Impala – Lonerism :: Tame Impala – Apocalypse Dreams
16) Japandroids – Celebration Rock :: Japandroids – The House That Heaven Built
17) Father John Misty – Fear Fun :: Father John Misty – Hollywood Forever Cemetery Sings
18) The xx – Coexist :: The xx – Chained
19) The Fresh & Onlys – Long Slow Dance :: The Fresh & Onlys – Presence of Mind
20) Jessie Ware – Devotion :: Jessie Ware – Devotion
21) Shigeto – Lineage :: Shigeto – Huron River Drive
22) Tanlines – Mixed Emotions :: Tanlines – All of Me
23) Divine Fits – A Thing Called Divine Fits :: Divine Fits – Would That Not Be Nice
24) Miguel – Kaleidoscope Dream :: Miguel – Use Me
25) Exray's – Trust A Robot :: Exray's – Ancient Thing
26) Flume – Flume :: Flume – Star Eyes
27) Seamonster – Baldessari :: Seamonster – Vincent's Chair
28) ∆ – An Awesome Wave :: alt-j – Breezeblocks
29) Captain Murphy – Duality :: Captain Murphy – Mighty Morphin Foreskin
30) Zammuto – Zammuto :: Zammuto – The Shape of Things To Come
Special Mention (in no particular order): Kendrick Lamar – Good Kid, m.A.A.d. City, Frankie Rose – Interstellar, Lemonade – Diver, Grimes – Visions, David Byrne & St. Vincent – Love This Giant, Menomena – Moms, BRAINSTORM – Heat Waves, Deerhoof – Breakup Songs, Conveyor – Conveyor, The Walkmen – Heaven, Window Twin – Wish, Motel Beds – Dumb Gold, Saint Maybe – Things As They Are, A.C. Newman – Shut Down The Streets, Memory Tapes – Stella, Geographer – Myth, Sharon Van Etten – Tramp