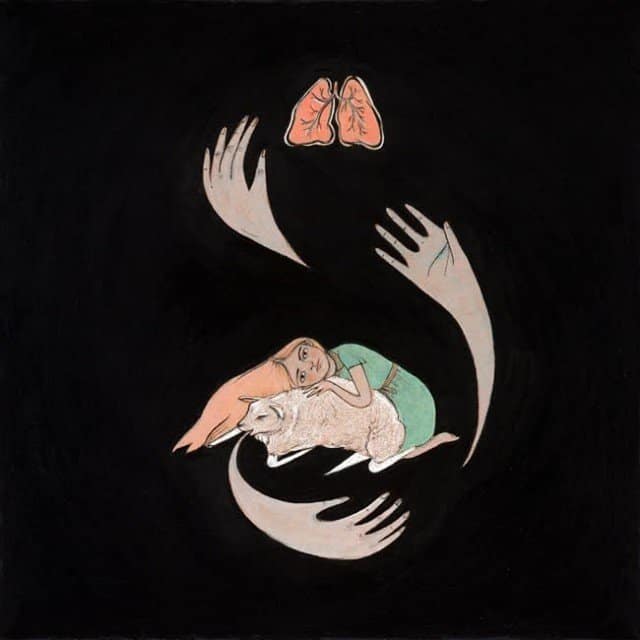 I can't imagine it'll come to a surprise as any of our regular readers that I've been enjoying Purity Ring's debut album Shrines. After all, over the past year and a half I've already featured roughly half of the album's tracks on our monthly mixtapes. And yet, as much as I loved each of the singles the duo had slowly teased out over that time, I have to confess that I had reservations as to whether the music would translate well to the album format.
Indeed, we first featured the duo (Megan James and Corin Roddick) on Turntable Kitchen back in February of 2011 after the release of the track "Ungirthed." It's a mesmerizing electro pop jam featuring stuttering low end and a tight snare-based rhythm to guide James' poetically abstract lyrics: "the scent of my hands is familiar / to fosterly men in their coats / who guard not their spirits from fire / who speak with some tenderly coax."  It's refreshingly unique and engaging. It's the type of pop groove that manages to sound familiar and yet not quite like anything else out there. It made no. 3 on my top tracks of 2011.
A few months later they released the tonal and darkly lit b-side to their single titled "Lofticries" which was another brain-pleasingly enigmatic pop groove. Distorted, almost chopped and screwed-like vocals build a backbone for sludgy synths and slowly twinkling electronics. It was a perfect companion piece for their lead single. Following the release of the track "Belispeak" later that fall, James and Roddick had cemented their credentials for releasing strong singles. "Belispeak," like it's predecessors, is lush and beautifully textured.
Yet, strong singles don't always translate to strong albums. It wouldn't be hard to imagine the possibility that the album's best tracks would prove to be those previously unreleased singles. Happily neither of those concerns prove to be true. Indeed, the album's first two jams alone prove to be worth the price of adding this record to your collection. Opening track "Crawlersout" features the same stuttering, snare-heavy percussion and syrupy vocal-based synths that textured Purity Ring's early singles alongside shimmering, mystical ambiance. Likewise, "Fineshrine" explores the same dark, unsettling spaces as their earlier jams, but with a heavier focus on James' lyrical vocals.
The album, which runs at just over 38 minutes, doesn't continuously rely on the  same bag of tricks to progress though. In fact, the track "Saltkin" may be the album's finest moment. It's also the LP's brightest and (relatively) cleanest tune. Likewise, sparse album closer "Shuck" is *nearly* acapella as it slowly begins to unfurl before James' vocals are met with foggy low end and skittering, echoey claps.
With a hyper-contemporary sonic fingerprint alongside highly textured rhythms and relatively annuated lyrics (James' lyrics almost sound like they are pulled from a dark, old fairy-tale), Shrines makes an excellent pairing for the David Chang (of Momofuku fame) inspired Carmelized Pork Belly Buns that Kasey is featuring in the Kitchen today. If you're a fan of pork belly, bacon or mind-blowing food, you'll want to try this recipe.
Head to the Kitchen to read the recipe for Kasey's Carmelized Pork Belly Bun. Then head to Insound to preorder Purity Ring's Shrines on limited-edition teal vinyl.