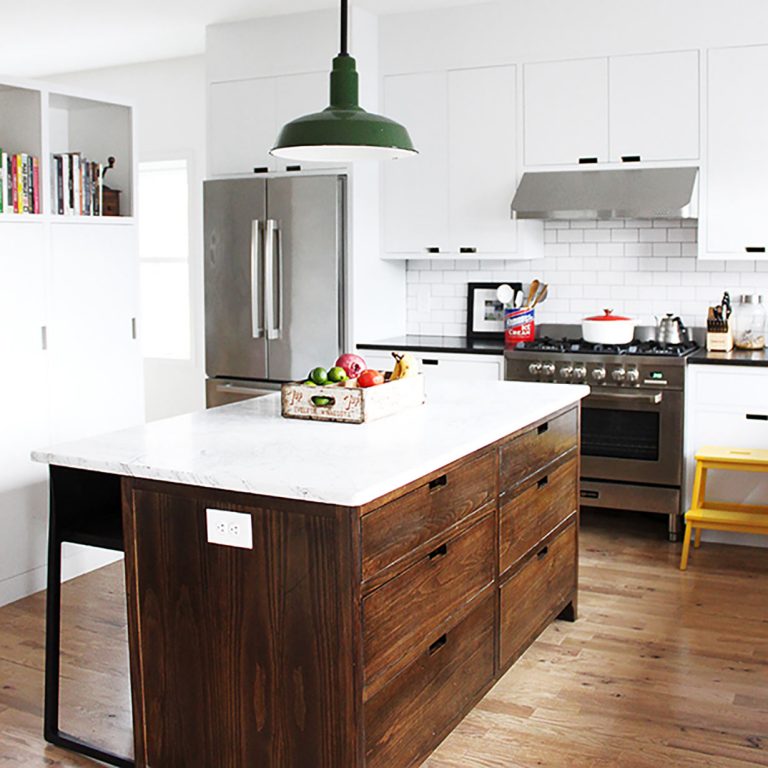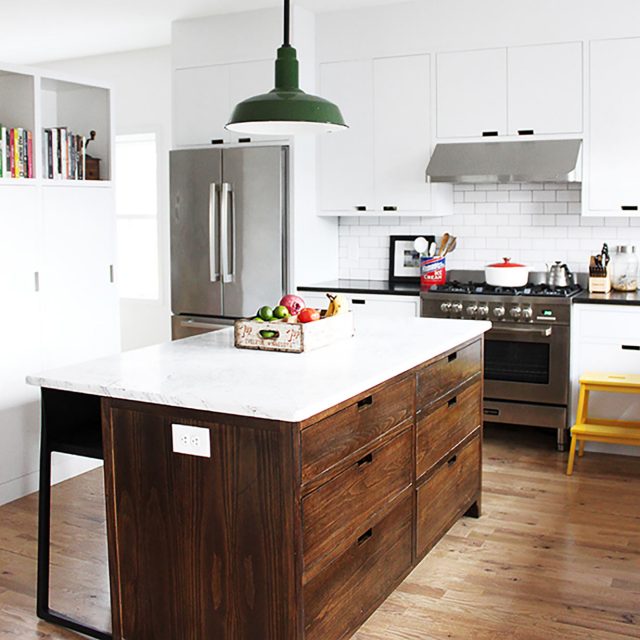 Updated 1/12/21
Oftentimes, you'll hear people talk about how much more affordable it is to cook at home than to eat out but having a kitchen well-stocked with kitchen essentials is really the only way to make home cooking achievable and enjoyable. A lot of people ask me what items I feel are essential to my kitchen and having recently moved, I got to experience first-hand what it meant to make do with not a lot of stuff.
With a lot of our kitchen utensils, gadgets, and accessories packed away in boxes, we realized that cooking at home requires a few handfuls of essentials. Here's a rundown of things we can't live without.
The basics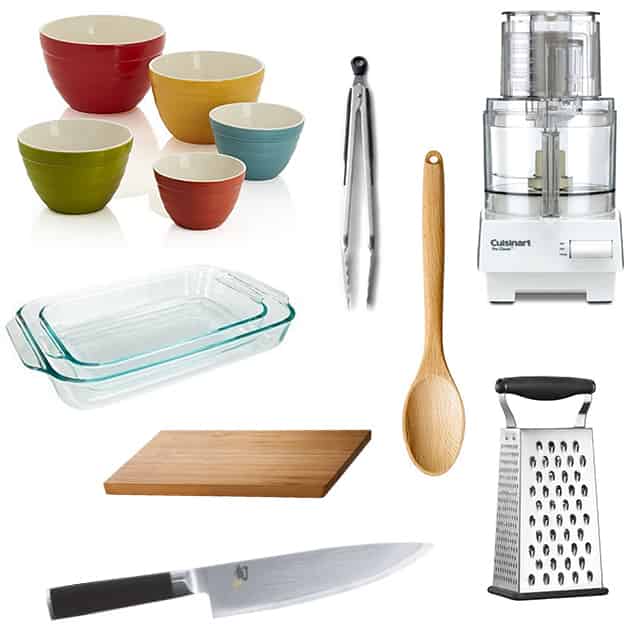 Cutting board (x2)
If you're going to cook at home, you're going to need a couple of cutting/chopping boards for chopping, dicing, and mincing. I recommend having at least two — one for meat and the other for produce. A nice big wooden cutting board can be displayed as a piece of art in the kitchen but you can find a perfectly affordable one. I also love the thin plastic ones Ikea sells — they're cheap enough that you can replace them often.
Measuring cups and spoons (1 set of each)
Most cooking requires measurement and I think everyone should own a basic set of measuring cups and spoons. You'll need them if you want to follow virtually any recipe. You're not looking for beautiful heirloom pieces here; these are purely functional.
Spatulas (1-2)
While I probably own close to a dozen spatulas, I could probably make do with just a handful. Silicone spatulas are great at getting getting into the nooks and crannies and they clean so easily. I also like to have one flexible spatula and one hard one for flipping, tossing, and turning.
Wooden spoons (1-2)
You can get all fancy with your wooden spoons but you don't have to. I use wooden spoons to stir soups and stews and find that they're usually the first thing I reach for when I am cooking.
A basic skillet (1)
If you're going to cook vegetables, meat, fish, eggs, chicken, or tofu, you will likely be doing it on your stovetop, in a skillet. A super basic one (I recommend non-stick) will get heavy rotation.
Small saucepot (1)
For sauces, oatmeal, melting butter, or warming up leftovers, a small stockpot is definitely a kitchen essential. Bonus: if you choose not to invest in a tea kettle, you can use it to boil water.
Large stockpot (1)
We use our large stockpots to cook soups and stews. If I'm going to cook something that requires transferring to an oven (or a really long, slow braise), I recommend investing in a Dutch oven, but it's certainly not a necessity.
Knives (1 large chef's knife, 1 small paring knife)
A good knife set is essential to a home cook but I'd argue that you could really get by with two really good knifes. A large chef's knife (this is the one I reach for most often…we actually have two of them because of just how much use they get, especially when both of us are cooking together) and a paring knife (great for coring and peeling vegetables and getting a small, precise cut). If you find yourself peeling often, I would suggest you purchase a peeler.
Whisk (1)
A whisk is a great, basic kitchen utensil that I find hard to live without. Use it to whisk eggs, to make pancake batter, and to make simple salad dressings.
Tongs (1)
In the last few years, I've realized just how much I love my tongs and can't live without them. We use ours to flip meat, chicken, and fish, for taking waffles out of the waffle maker, and for creating an arms reach between us and scary crustaceans.
Colander (1)
A big colander should definitely be on your essentials list. Use it to drain noodles, wash berries and vegetables, and strain broths. If you have room, I'd recommend getting one large one and one small one.
Grater (1)
We have at least 4 different shredders/graters that we use for different things but the old-school flagship boxed grater will go a long way. You can use it to grate cheese, shred carrots and zucchini, and even zest lemons. As you get more adept in the kitchen, I would recommend buying a few different zesters/shredders/graters that are made specifically for each use but the basic grater is a great place to start.
Mixing bowls (1 set of 5, different sizes)
One of the things I quickly realized when we moved is how hard it is to cook without mixing bowls! I need to toss vegetables with olive oil, or mix batter for pancakes, or toss together meatball ingredients. These are my two favorite mixing bowl sets — and I'd recommend getting the set or sets, since I promise you'll end up using them all.
Glass/ Pyrex baking dish (2)
If you're going to use your oven, you're going to need at least one baking dish. My favorite is this set from Pyrex, which we use to bake fish, chicken and vegetables, to make cinnamon rolls, and more. They come in a bunch of different sizes but I think this set of two will suit most needs.
Food processor
There are a lot of kitchen gadgets I feel like I can't live without (my stand mixer is definitely one) but when push comes to shove, I believe that the food processor is the jack-of-all-trades that could be your key kitchen appliance. If you factor in the attachments your food processor comes with, you can use it to puree, shred, blend, and even make pizza dough.
Pepper grinder
A lot of our recipes call for freshly-ground pepper because, let's face it, it's way better than the pre-ground stuff that might as well be 10 years old. There are tons of beautiful and basic pepper grinder options out there. Trust me on this one.
Potholder (x2)
You can definitely do the fold-over towel technique but for holding hot things — and especially for pulling stuff out of the oven — I believe everyone needs at least 2 potholders. Safety, guys!
Baking sheet
Even if you're no Martha Stewart, I encourage you to buy a baking sheet. You'll use it to make an essential batch of cookies, sure, but you'll also reach for it when you want to roast a piece of fish or vegetables, and if you're into making your own granola.
Salt
Ok, you might be thinking: salt? Yes, salt. Virtually everything you cook will require salt. Your kitchen is not complete without it.
Nice to have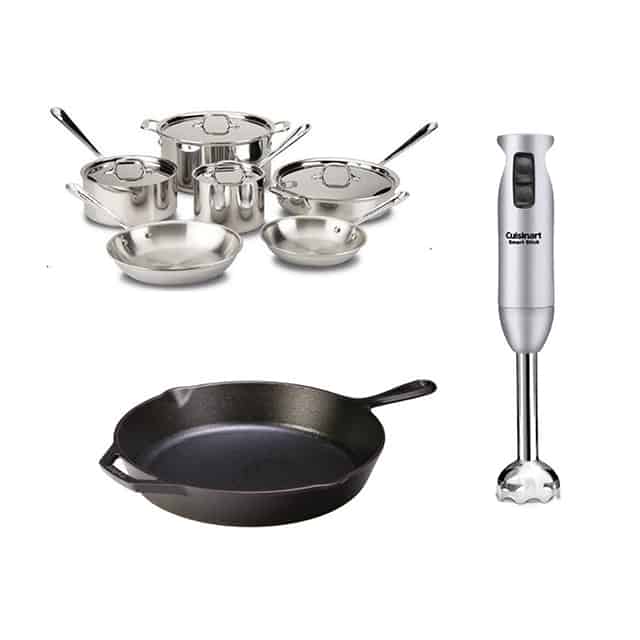 Extra large stockpot (1)
This comes in really handy for making large-batch recipes but also for preparing chicken stock, and cooking crab and lobster. I've also found them to be great for frying since the oil is further away from the top.
Cast iron skillet (1)
This falls in the 'nice to have' category but I'd argue, is quite essential in our kitchen. A cast iron skillet is surprisingly affordable and allows you to achieve an enviable browning on all sorts of things — potatoes and hash browns, french toast, and peppers.
Hand blender
If counter space is an issue, a hand blender is an excellent (and affordable) option for pureeing. A lot of hand blenders come with an attachment cup making it easy to make smoothies and salad dressings.
Cookware set
If you want a one and done deal, you'll probably save yourself money and time in the longterm if you invest in a cookware set, as opposed to buying pans and skillets individually. You can start with a 5 piece set or go big with a 10 or 14 piece collection. If you want to go REALLY big, you can get yourself a copper cookware set like this one from Matfer Bourgeat.
For baking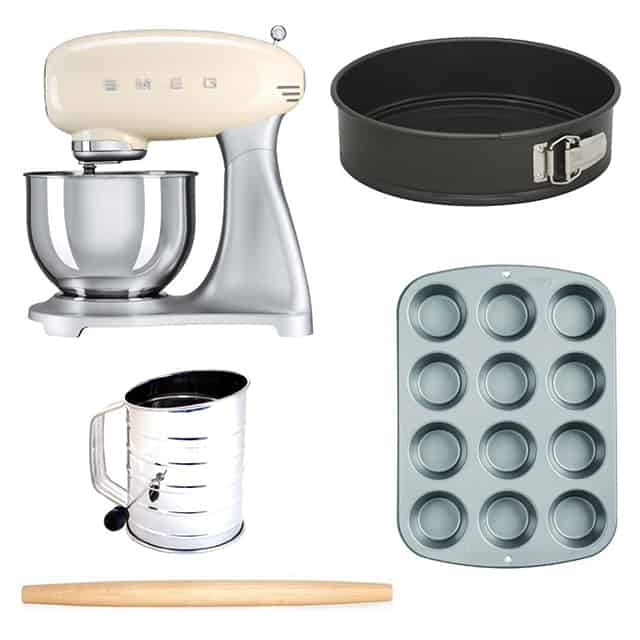 Muffin pan
You might question the 'essential' nature of a muffin pan but I can tell you it is one of the most versatile pans you'll use. In addition to making muffins, you can use it for baking eggs, and use it in place of any 'specialty' pan when recipes call for it. You can also use it for making cupcakes!
Round and loaf pans
Most of your baking needs with be accommodated by just two types of pans: a standard 9" or 10″ round pan and a loaf pan, which you can use to bake breads.
Rolling pin
If you're going to make dough, you'll probably need a rolling pin. Sure, in a time of need, you can just use a wine bottle, but it's really nice to have a rolling pin on hand.
Sifter or strainer
Many baking recipes will call for sifting flour with baking powder, baking soda, and salt. I actually don't own a sifter; I use a strainer, which happens to serve multiple purposes.
A mixer
If you're doing a lot of baking (at least once every two weeks), I think it's worth buying a mixer. If you want to go 'big,' get yourself a stand mixer. I love mine more than probably any other household appliance. Don't have the money or the need? A handheld mixer is what my mom's been using since before I was born, and it serves me just fine when I'm baking at her house.
Do you have your kitchen all set up? Check out our Home Bar essentials — everything you need to set up a home bar.
A few notes
We don't have any kind of paid/sponsored relationship with OXO, but you'll notice a lot of their products on our list. We simply love and use a ton of their products.
You'll notice that I didn't include recommendations for glasses, plates, and serving ware simply because I think everyone looks for different things here and there is so much variety, it really comes down to personal preference. 
You might say to yourself, "But my toaster is ESSENTIAL!" I get it. My waffle maker is somewhat essential, too. "Essential' is a really gray area. I've tried to provide the most paired down, minimalist list of items that I truly think everyone needs to just get cooking. I'd love to hear your essentials list, or learn about hacks and workarounds that don't require some of the items I've recommended. I'll try to update this list here and there so that it stays a current and relevant resource.
Lead photo credit (with permission): The Faux Martha
Be sure to check out the 13 kitchen tools we can't live without!