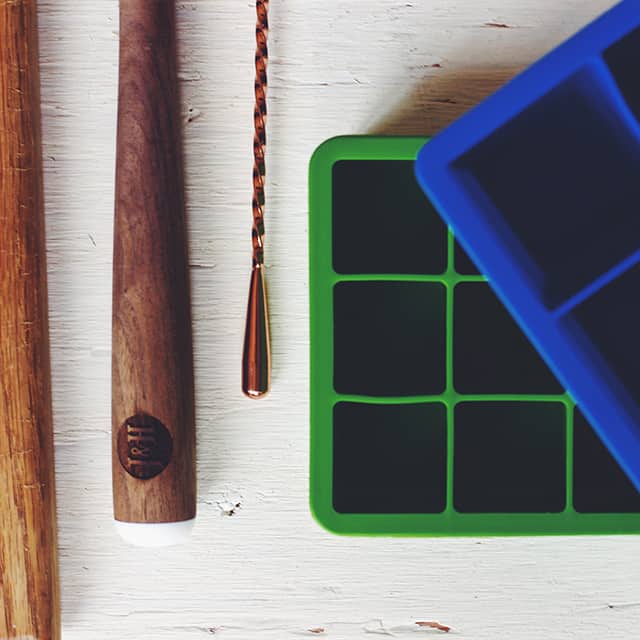 Over the years, I have amassed more tools and bottles than I might care to admit to. At the same time, each tool serves a specific purpose. Most people don't pay attention to the details while their drinks are being made, but having the right tools will lead to much better drink quality overall.
I don't necessarily recommend that everyone go out and buy each of these items, but some of the tools are critical to exploring the world of cocktails. When possible, I'll suggest ways that you can use the tools you probably already have at home.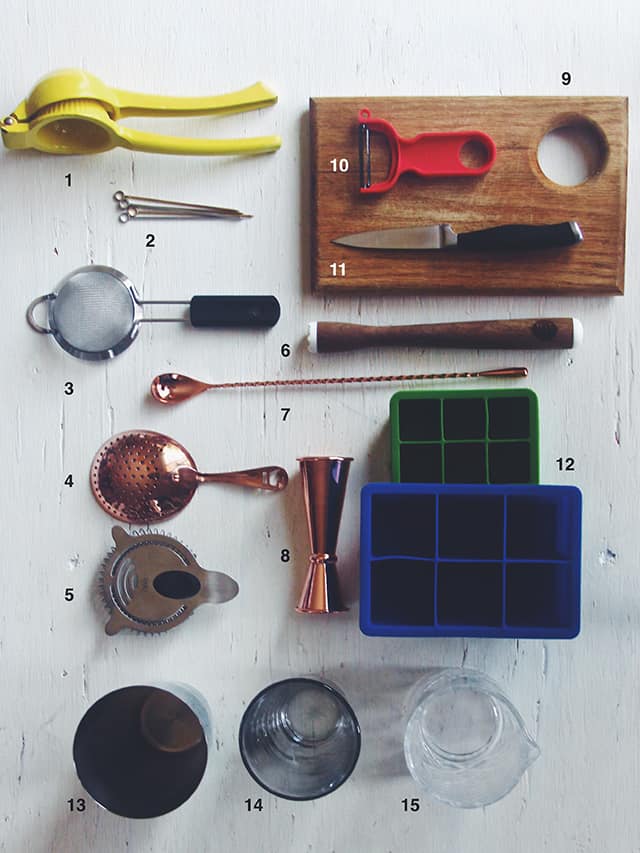 Juicer: An old-fashioned hand-squeeze will do the job, but if you're serving friends or don't enjoy getting citrus juice all over your hands, I'd recommend a juicer that can squeeze lemons and limes like this one. You won't often need to squeeze anything larger, and when you do, you can do it by hand. Unless you're building a professional bar, you probably won't need a fancy electric juicer, but if you fancy yourself a frequent host of cocktail parties, you might explore a simple, low-cost juicer like this one from Cuisinart.
Cocktail picks: If you have toothpicks on hand already, those will do just fine. However, metal picks won't get soggy like classic toothpicks and are also a bit longer so that it's easy to grab the garnish from the cup without dipping your fingers inside. Check out this awesome arrow-shaped pick from Umami Mart. Or try these packs of different finishes from Cocktail Kingdom.
Tea strainer: If you are ready to make serious shaken drinks, you'll need to learn about the double-strain, which remove all pulp. A deep bowl strainer like this one may be desirable, but I've never had any issues with my OXO tea strainer.
Julep strainer: Bartenders prefer this style of strainer for stirred cocktails made in mixing glasses like the Yarai to keep the ice out of drinks. It's also really attractive, if you ask me. Check out this fancy copper version from Cocktail Kingdom or a simple one like this.
Hawthorne strainer: This style of strainer is used when straining cocktails shaken with fruit juice in order to catch some of the pulp. If you were only to get one strainer, this one is your best bet. My favorites are from OXO and Cocktail Kingdom.
Muddler: From time to time, you're going to need to muddle fresh fruit or herbs for a delicious cocktail. You could use the blunt end of spatula or some other kitchen tool, but it's definitely a lot more effective to have a muddler on hand. Personally, I find that a metal or rubber muddler is best since you can throw it into the dishwasher. If using a metal muddler like this one from OXO, you might prefer one with a rubber bottom so that you don't scratch your glassware when muddling. Or if you're looking for something a little more personal or to send as a gift (like Kasey sent to me recently), check out these awesome personalized muddlers from AHeirloom.
Barspoon: You could just use a regular spoon or knife to stir a drink, but an ideal stirred cocktail is done with minimal agitation, which is best performed with a classic bar spoon. I prefer the style which is known as the teardrop barspoon for easy stirring, or one like this one with a heavy end that I can use in place of a muddler.
Jigger: It's crucial to have consistent pours as you make your favorite cocktails. My favorite jiggers have multiple measurements (.25 oz, .5 oz, etc.) on the inside so that you only need one jigger for each drink.  My favorites are from OXO and Cocktail Kingdom.
Cutting board: You should probably already have one of these, but I like to keep a smaller sized one handy in my drawer with the rest of my bar tools. Makes for easier access compared to reaching for the bigger sizes.
Peeler: You probably already have a peeler at home, or you could even use your paring knife to extract the zest of your citrus for garnish. However, the Kuhn Rikon Original Swiss Peeler is a favorite among great bartenders. It'll save you time from removing the pith (white flesh) of the citrus, which adds bitterness to cocktails.
Paring knife: This utilitarian knife works for many different uses. It's primarily used in the bar for cutting citrus before squeezing the juice or for garnish. You probably have a sharp knife that can get the job done, but if you're looking for a precision knife and one that's built to last, check out these beautiful paring knives from Umami Mart.
Ice cube trays: If you've read my previous posts, you'll recall how important ice is an ingredient in every cocktail. My favorite molds are the Perfect (1 inch) and King (2 inch) ice cube trays from Tovolo; I use them on a daily basis for stirring and serving drinks.
Shaker: There are two popular options when it comes to shakers. One is the Boston shaker, which includes a heavy pint glass (which may be your mixing glass – see #13) and a metal tin (or two metal tins). The Boston shaker will require a strainer (see #5). The other popular style is the cobbler shaker, which includes three pieces: a metal tin, a tapered top with built-in strainer, and a cap to cover the strainer. Over time, these styles can lead to spillage. My favorite is this weighted 28 oz tin paired with my mixing Anchor Hocking (#14) mixing glass (I have only ever used my family heirloom copper cobbler shaker, and it tends to have some spillage, but I have always enjoyed OXO products if you'd prefer the cobbler.)
Mixing glass: Dilution and chilling are two of the most important factors in making cocktails. You'll be stirring your cocktails with ice to get this done. A heavy, tempered pint glass will do the job, but my favorite is the Yarai mixing glass. It's the most beautiful bar item that I own. A scientific glass beaker is a fun, cheap alternative as well. My favorites are from Anchor Hocking, Yarai, and Pyrex (1L tall version is great for mixing 3-4 drinks at a time!)
Wine key (not pictured) – If you don't already own a wine key, you're not an adult and therefore shouldn't be drinking. I grew up with parents that loved the Rabbit wine opener, but I personally believe that the simple, double-hinged style is the best. Plus, it doubles as a beer opener.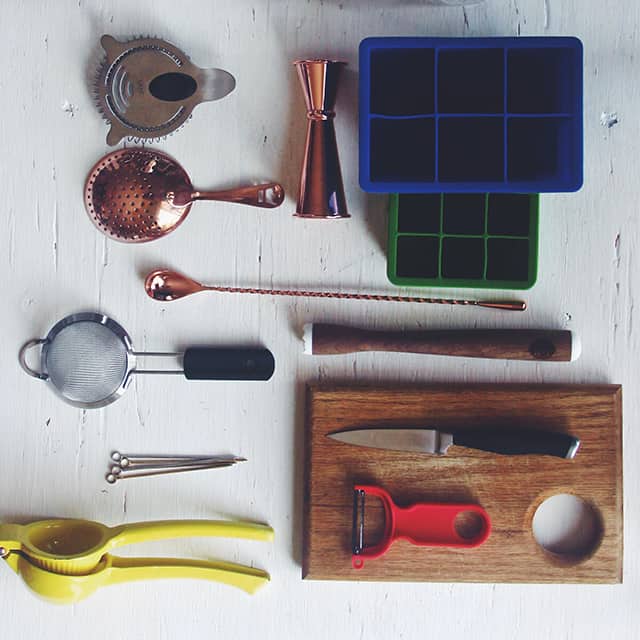 Recommended places to buy:
Amazon: Not your mom and pop shop, but variety, cheap prices, and quick shipping make this easy to rely on.
The Boston Shaker: Specialty shop in Boston with online ordering available. They have everything you'd need for your home bar and more.
Cask: Limited supply, but they cover the staples for home bartending.
Cocktail Kingdom: These guys actually make most of their wares with their own line of products. All of my copper products were purchased here. They primarily sell wholesale to the industry, but you can pop in to their New York store and check out their goods inside of their office or shop online.
Umami Mart: They maintain a gorgeous selection of hand-curated items from Japan. If you're in the Bay Area, stop by their shop in Oakland to check out their amazing Japanese beer selection or shop online.