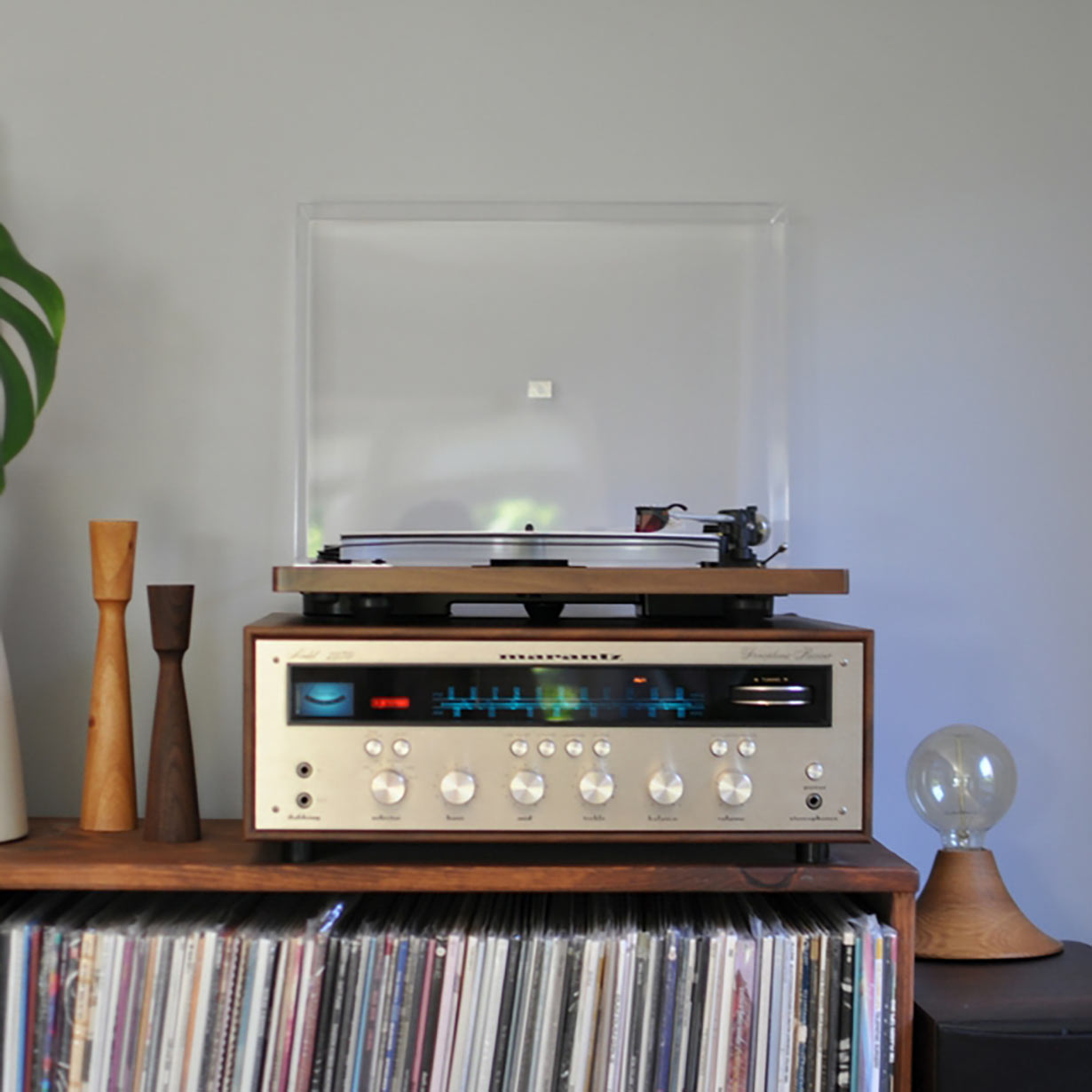 Update: Updated on February 16, 2022. We now also have a 2022 guide for the Best Turntables and Record Players for Any Budget
---
Building The Perfect Turntable Stereo System
Building a stereo system around a turntable from scratch can be tough. There's a lot to know and, if you've never done it before, there's a lot to learn. Several years ago we put together a guide to selecting the best turntable for a beginner. We discussed the differences between belt drives direct drives. We talked about built-in preamps versus stand alone preamps. But it left a lot of questions unanswered.
That's at least partially because there is more to building a stereo system than simply buying the best turntable. You need to consider phono-ins, amps, preamps, speakers, and so on. You need to know how to set up a record player sound system. To make matters worse, in the years since we first put together our recommendations for record players the market for audiophile turntables has changed. In fact, several of the best turntables for beginners that we had recommended have been discontinued or replaced.
As a result, we decided to build a new bigger and better guide to selecting the best turntable for your home. Instead of just listing our recommended turntables, this guide is intended to walk you through the process of building a system from scratch with many options and reviews for turntables, speakers, and more.
Starting with our recommended turntables, I've listed out six great systems with great turntables that you could build. Each of the systems are generally listed in this order Turntable > Phono Stage > Integrated Amp/Pre Amp > Speakers = Total Price. However, as you'll notice, some of the products include built in phono stages and amps therefore saving you money on your system and the total number of products you need to get started (but often at the expensive of overall sound quality).
Here are the recommended turntables and setups with explanations for each recommended component following below. Beneath our summary, you'll find a more in depth discussion of the individual parts. And, of course, if you already have some of these components, you can just skip to the sections you need.
Before we move on, it's worth remembering that it's possible to upgrade your system over time. That's what we did. If an audiophile turntable is going to be the centerpiece of your stereo system, I particularly like any of the setups that begin with a Pro-Ject T1 turntable and a good set of audiophile speakers as your core and then upgrading the other components over time. Meanwhile, if you're looking to start with the best turntable for a beginner on a budget to slowly build your stereo, we recommend the AT-LP120.
The Turntable
For me, my vinyl record collection came first and the decision to buy a record player followed sometime afterward. I'd picked up my first few vinyl records as nothing more than collectibles purchased to support my favorite artists. But then, as my collection grew, so did my interest in both buying an audiophile turntable and building a stereo system for listening to those vinyl records.
If you're like me and you're looking for audiophile quality equipment to play your records then you'll have to spend a little money on a good turntable. At $479 we consider the U-Turn Audio Orbit Plus to be an excellent (and stylish) entry-level component at a good price. We own one in our own home and use it daily. It receives our highest recommendation as a beginner audiophile turntable.
It's available at Amazon for $479 with a preamp or $399 without.
If you're looking for a step-up, we also love the Rega Planar 1 which is always dominates best of lists and is available for $595 from Amazon.
Meanwhile, if you're looking for a recommended turntable for beginners on a cheaper budget (no shame – this stuff isn't cheap), we recommend the Audio Technica AT-LP120-USB. It's a little cheaper and it's a great option for anyone who wants to start their system without nudging up to the $1000 range for an initial budget and/or who'd rather make bigger investments in speakers and integrated amps than in the turntable.
It's available at Amazon for $299.
If you're looking to purchase a used piece of vintage equipment, or just want to see a few other options, you can check out Turntable Kitchen's Top 5 Recommended Turntables (and Tips for Selecting Your Own).
The Phono Stage
Unless you're using a receiver or integrated amp with a phono-in (which will be clearly marked as 'phono' on the back of the component) then you'll need to purchase a phono stage. If you've tried setting up your turntable and you're experiencing the problem where your turntable's volume is too low – this is probably the reason. You need a phono stage. This is because the signal from a turntable isn't as powerful as the signal from a digital source and also (due to the physics of turntables and vinyl records) needs to be re-equalized. Vintage equipment from vinyl's heyday would normally include phono-ins, but contemporary receivers and amps typically do not (although the Cambridge Audio Topaz AM10 we recommended below does). That means if you try to connect your turntable to a receiver or amp without a phono stage, the volume of your turntable will be too low.
At $99, I like the Pro-Ject Phono Box DC. It's a good price and a good piece of equipment. Since this is a great piece of equipment at a price point that isn't going to bust your budget, it's our only recommendation for a phono stage. Do note, however, that some of the equipment we recommend includes a built in phone stage.
The Pro-Ject Phono Box DC is available at Amazon.
The Integrated Amp/Pre-Amp
An integrated amp/pre-amp is the control center for your stereo system. It's where the sound from your components will be amplified; where all of the components will be connected together; where you'll select which components you want to use (the turntable, the CD player, etc); where you'll turn down the volume, adjust the balance, and so on. In other words, a typical integrated amp combines a two-channel or multichannel amp (which provides the power to your speakers) with a pre-amplifier (the amp where all the different parts of your system are connected and controlled).
The Cambridge Audio AXR100 is a great option because it provides balanced, full sound quality and includes it's own phono stage (which means you wouldn't need the Pro-Ject Phono Box we mentioned above), bluetooth, and even AM/FM.
It's $600 and you can find it on Amazon.
The Speakers
Your stereo system, including your turntable, is only as good as your speakers. If you're going to splurge on one area of your system, I'd recommend selecting a pair of audiophile speakers.
With that said, when it was time to begin building our own hi-fi setup we were on a budget. For that reason, we started with the predecessor to the PSB Alpha P3s. And, you know what? We LOVED them. They are bookshelf speakers (so they're relatively small) but they have big sound for their size. They offer beautiful clarity and a well defined soundstage alongside beautifully crisp and clean highs and mids. They aren't as punchy (read: bassy) as a pair of full range speakers, but in most instances they'll be all you need to produce a clean, clear sound.
You can find them on Crutchfield (they're strangely $200 more expensive on Amazon).
Meanwhile, the Audioengine A5 Speakers are a great value at $399-469 a pair. They're a nice pick if you're on a budget because they include a built-in amp, meaning you could skip the integrated amp/pre amp (although you'd still need a phono pre-amp to use a turntable). As your system grows we'd definitely recommend eventually upgrading to a higher quality integrated amp, but the one built-in to this system would do the trick while you're getting started.
You can find them on Amazon.
Want to go really big with your sound? We loved PSB's Image T6 Tower. Unfortunately, they're no longer producing that model, but most critics agree that the PSB Imagine X1T are a fine replacement at an even better price tag. They'll add the rumble to your James Blake records.
You can find them on Amazon (they're sold per speaker – not as a pair).
For more information about buying speakers (including a recommendation for a potential splurge worthy upgrade) check out our guide to Turntable Kitchen's Top 3 Audiophile Speakers.
Recommended Turntable Extras / Upgrades
Pro-Ject Speed-Box ($129)
It allows you to easily change between 45 rpm and 33 rpm at the push of a button. Just as importantly, it provides precision speed regulation and gives your turntable a little more bump on the low end. It's available from Amazon.
PSB M4U-1 Headphones
Some of the best headphones on the market. Available from Amazon.