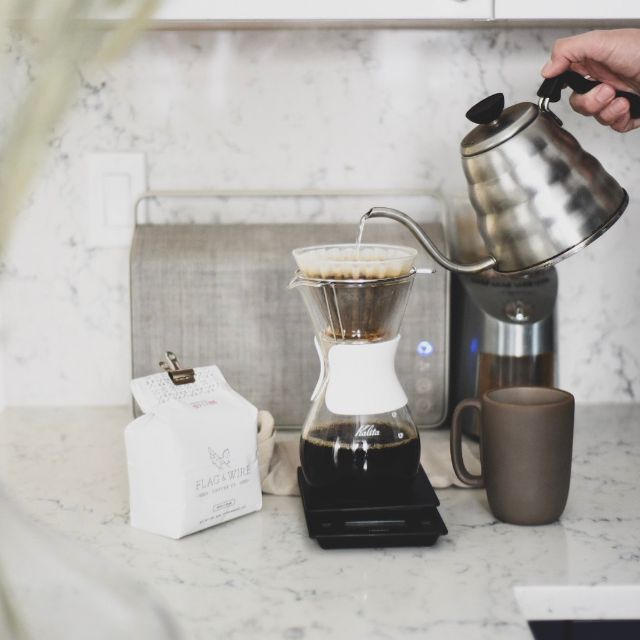 It's gift guide season! Over the last decade, we've shared gift guides for vinyl lovers, kitchen and cooking enthusiasts, kids, and coffee lovers. This year, we've updated our most comprehensive gift guide for your favorite coffee drinkers.
It's true. We love coffee. We love it so much, we even launched a monthly Coffee & Vinyl Pairings subscription service featuring some of our favorite roasters from around the country. We've featured San Francisco's Sightglass Coffee and Lady Falcon Club, Charleston's Second State Coffee, Seattle's Slate Coffee Roasters, Bellingham's Camber Coffee and more. Needless to say, we think our Coffee & Vinyl Pairings would make an extra unique coffee gift for a coffee lover (shameless plug!).
Here are 17 gifts that we think any coffee lover would appreciate.
---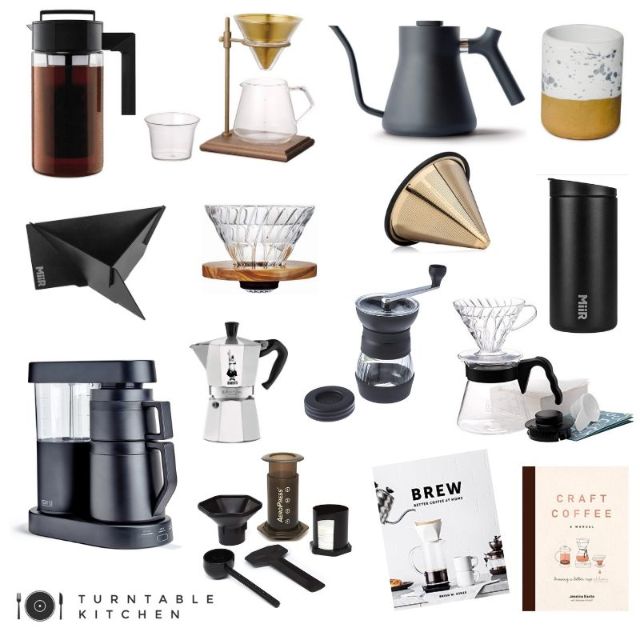 Fellow Stagg Kettle, $85
For craft coffee lovers, a kettle with a swan neck style spout is essential. Temperature also matters and the built-in thermometer makes it easier than ever to achieve the optimal brew temperature. But the real highlight of the Fellow Stagg Kettle is the swoon-worthy design. An easy upgrade for the coffee-lover who has everything. Just ask us: Kasey recently gifted one for a very appreciative Matthew. A perfect coffee lover gift!
Clay Imports Poco Ceramics Set, $14 – $46
Every coffee lover needs a set of go-to cups and mugs in various sizes. Made from reclaimed clay and glazes from Clay Imports' tile factories, each piece is unique, dishwasher and microwave safe. We fell in love with Clay Imports' tile (which we'll be featuring in our upcoming renovation project!) and were stoked to hear that they were releasing home goods shortly before the holidays. Stay tuned for more IRL photos of these!
Ratio 6, $339
Ratio is following up their cult-ish Ratio Eight with a lighter (and more affordable model) for those who love their morning pour over, but prefer to take the guesswork out of it. The Ratio 6 is currently available for pre-order. We're guessing it's worth the wait. Once again, this is a product we can recommend from personal experience.
Chemex, $50
We have a pantry full of coffee makers and tools. Nonetheless, the Chemex has continued to be the most enduring part of our morning routine. Its stylish design is considered a classic for a reason and it never fails to deliver.
Reusable Stainless Steel Drip Cone, $35
Speaking of the Chemex, this titanium stainless steel drip cone is reusable and allows you to you to skip the paper filters, making it more economical and arguably, more eco-friendly.
Maestri House Pour Over Coffee Scale, $30
Making perfect pour over at home means getting your ratios of ground coffee to water right, which means that a digital scale is essential. The Maestri House Pour Over Coffee Scale offers everything you need to brew the perfect cup.
Aeropress, $30
Indestructible and incredibly easy-to-use, the Aeropress is a great choice for making coffee while traveling, camping, or simply for an afternoon pick-me-up.
Miir Travel Tumbler, $28
We love Miir. The Seattle-based company not only designs stylish, beautiful products (like this sleek Travel Tumbler), but every MiiR product sold helps fund *trackable* giving projects. You can find a code at the bottom of your slick new thermos and identify how a portion of the money you spent is helping people.
Miir Pourigami, $35
Did we mention we love Miir? Well, not only are they a stylish mission-driven company (as noted above) but they're also dishing out some innovative devices like their new Pourigami. It's a portable coffee dripper made from three stainless steel panels that can interlock, giving you the freedom to make pour over anywhere you go.
Manual Conical Burr Mill Coffee Grinder, $25 – $50
Speaking of making coffee on the go, a coffee mill is a great option for grinding coffee away or at home. It offers conical burrs which offer fairly uniform grinding and a high degree of control over the size of your grinds.
Takeya Cold Brew Coffee Maker, $20
The Takeya Cold Brew Coffee Maker is a perfect gift for the cold brew lover in your life. It's easy to use, easy to clean, and produces great-tasting coffee.
Craft Coffee: A Manual: Brewing a Better Cup at Home, $15
No matter how long you've been brewing coffee at home, there's always room for improvement. Whether you're into Chemex or French Press, Craft Coffee will give you all the know how you need to up your coffee game.
Brew: Better Coffee At Home, $18
The title says it all: Brew will help you make better coffee at home. Described as "an indispensable and accessible guide for any specialty-coffee lover who wants to make better coffee at home," this would make a nice addition to any coffee lover's bookshelf (or coffee table).
Bialetti Moka Express Stovetop Maker, $25
For the friend or family member who can't stop raving about their trip to Italy, get them a Moka coffee maker. This coffee maker makes rich, dark coffee that's a lot more concentrated than drip coffee and is the perfect thing for a small kitchen.
Hario V60 Coffee Dripper, Olive Wood, $43
The Hario V60 Coffee Dripper is easily one of the most well-known and beloved tools in the world of pour over coffee and this version, with that gorgeous olive wood base, is sure to impress any coffee lover.
Kinto Coffee Brewer 5 Piece Stand Set, $174
Have we mentioned that we love pour over coffee? This beautiful stand set is on the pricier side, but would surely be appreciated by someone who loves to look at their coffee maker as much as they enjoy using it. It's not just a tool, it's an object.
Coffee & Vinyl Pairings, $30 – $180
Okay, we're biased, but we think our very own Coffee & Vinyl Pairings are the perfect gift for any coffee lover. Each month we feature a unique artisan coffee from one of our favorite domestic roasters, paired with an exclusive, limited edition vinyl record by a new band or artist to fall in love with. We've featured exclusive releases from Ben Gibbard, Local Natives, Arlo Parks, No Vacation, and many more! All for about the same cost as most other standalone coffee subscriptions.
We'd love to hear your feedback. What are your favorite holiday coffee gifts, or other unique coffee gifts, for the java lover in your life?