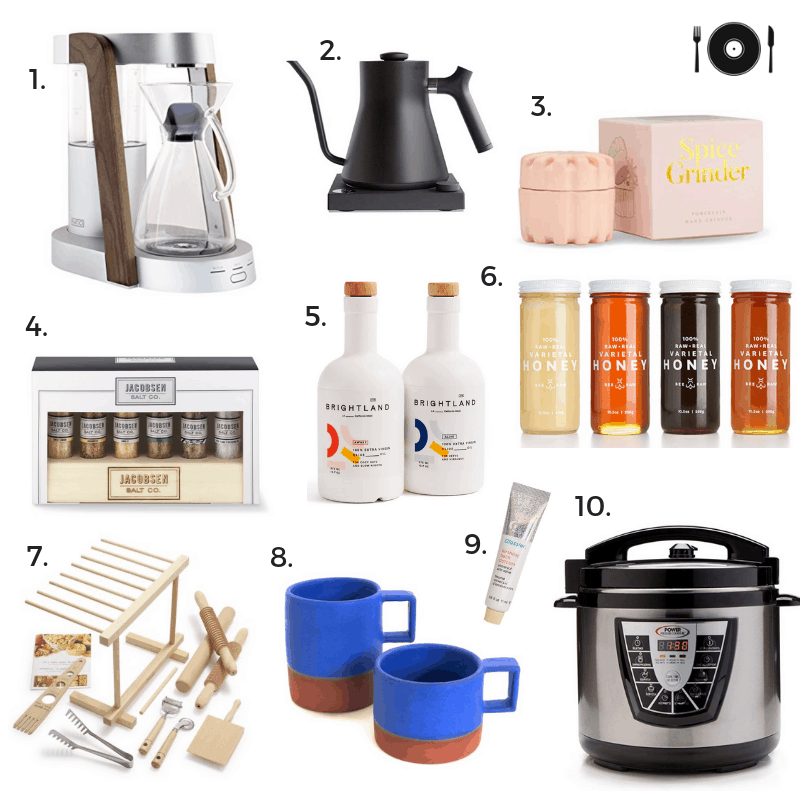 When it comes to kitchen gifts, I like a mix of practical and beautiful and I think that this gift guide has a pretty good variety of both (plus a few wild cards). I tried to incorporate ideas for every type of gift recipient:
The foodie who loves cooking adventures
The coffee connoisseur
The design-obsessed
The busy parent
The person who seemingly has everything
The kid at heart, whose favorite ice cream flavor is birthday cake
Of course, I am biased, but I think that any of these items will pair beautifully with Turntable Kitchen's Pairings Box and Coffee & Vinyl Pairings 😉
1. Ratio Eight Coffee Maker – Bright Silver We've had our eye on this coffee maker for quite some time now, and if I had to choose a big ticket kitchen gift to get someone this year, this would be it. Not only is it beautiful enough to display on your kitchen counter, but it makes pour over coffee without all the hard work and mess. I'm all about function + design these days.
2. Fellow Stagg EKG, Electric Pour-over Kettle For Coffee And Tea, Matte Black, Variable Temperature Control, 1200 Watt Quick Heating, Built-in Brew Stopwatch Another "buzzy" coffee gift, this electric pour-over kettle comes with a built-in stop watch so you can make coffee (and tea) to precision. While we've had our Hario for years, this kettle is one I've been hearing a lot of great things about. If you need tips for making better coffee at home, we've got those in a handy guide.
3. W&P WP-GRINDER-PE Stylish Modern Spice Herb Grinder, Porcelain, Ideal for Nutmeg, Peppercorns, Sea Salt & Other Whole Spices, Peach Admittedly, there are more powerful spice grinders on the market. In fact, the one I reach for most is electric. That said, this porcelain one would be great for small batches of cardamom for granola, and is the sort of thing that would make a great gift for a girlfriend or coworker.
4. Jacobsen Salt Co. Vial Set, Set of 6 We love the clean flavor and flaky texture of Jacobsen Salt Co. and this sampler is a lovely collection that includes a variety of salts for cooking, finishing, and cocktails. It's gender-neutral, and is also a good gift for someone whose taste (pun intended) you might not know so well.
5. Brightland Alive and Awake Olive Oil Set I stumbled upon this olive oil on Instagram and was instantly attracted to the packaging. But the more I read about the Los Angeles-based company (and their mission), the more I was intrigued. After doing an olive oil tasting in Italy earlier this year, I am a believer in really good olive oil, and everything else. Splurge on someone else if you won't do it for yourself.
6. Bee Raw Honey Four Terroir gift set We are a honey household. We stir it into yogurt, slather it on toast, add it to our pancakes, and eat it with a spoon. I'm obsessed with different types of honeys; they vary in taste and fragrance SO MUCH. Take someone on a trip across the country (from East to West) with this collection.
7. Eppicotispai Pasta Starter Set Matt and I have been making pasta together at home since we practically met. There's something so fun and romantic about working the dough, stringing spaghetti over chairs to dry, and making the butteriest sauce while you sip on wine. There is nothing better than homemade pasta and homemade ice cream. Teleport someone to Italy with this very affordable set.
8. Wolf Ceramics: Blue Mugs I swear coffee just tastes better when you're drinking it out of a beautiful mug. We collect ceramics both for form and function and the cerulean blue of these mugs is just so eye-catching. I discovered Oregon-based Wolf Ceramics a few Renegade Craft Fairs back, and been following the brand ever since.
9. Glossier Birthday Balm Dotcom All right, this is a bit of a wild card, but felt like a fun one to include. My favorite lip balm, inspired by Milk Bar's cake, not only tastes like birthday cake, but has a little bit of shimmer that's the perfect holiday accent.
10. Pressure Cooker XL If you're looking for a practical gift that will keep on giving, this is it. We use ours all the time to make rice, oatmeal, chicken, and so much more. For anyone who dreads weeknight cooking and craves a one pot solution, give them the gift of time.
Browse more gift guides.