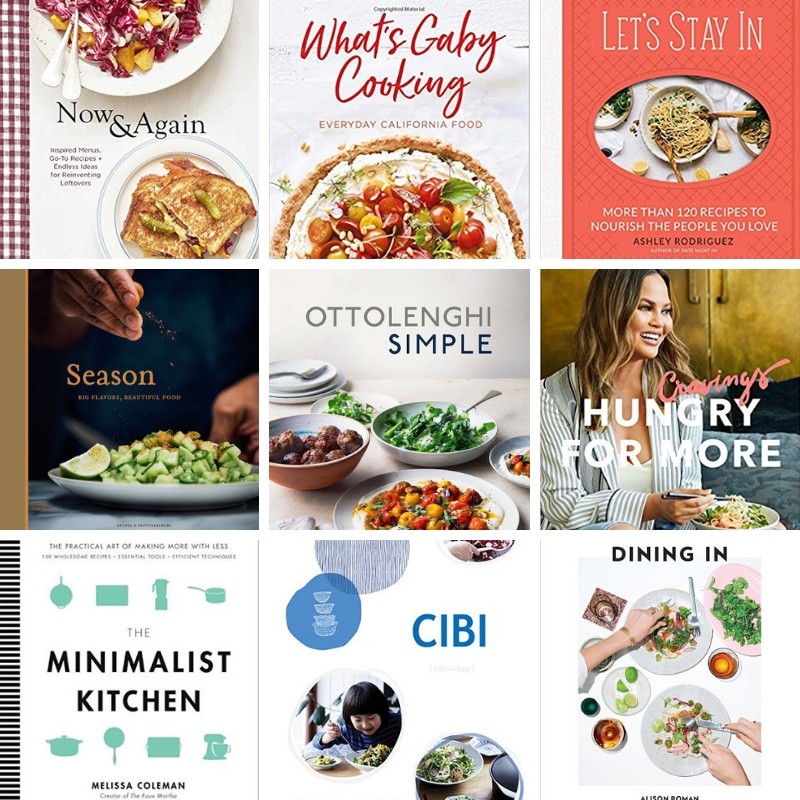 I've shared a cookbook gift guide for years, skipping only the year I gave birth to my first child. I love cookbooks because they're utilitarian, inspiring, and beautiful. When I receive a new cookbook, I tend to do the quick scan, then a deeper dive, then another quick scan, then selective reading, and then another deep dive.
In the end, I usually have about 3-5 recipes I'm dying to make and, depending on the book, endless inspiration for my own cooking for years to come. That's what a great cookbook gives you. It is one of those gifts that surely keeps on giving.
So without further ado, here are 9 cookbooks I think are worth gifting this holiday season.
Now and Again
Julia's first cookbook, Small Victories, gave my family raspberry chocolate cake  and turkey-ricotta meatballs. It made my 2016 cookbook gift guide. Her second book is a love letter to leftovers: how to make food stretch. It's never boring, always on point, and equally as delicious as her first book.
What's Gaby Cooking
Gaby's bubbly personality has deservedly drawn in fans. But it's her casual-cool approach to cooking: not over-styled, and after this California girl's heart. She's also wild about avocados, and the perfect cheese plate. This is a book for your stomach and your eyes; I mean, look at that cover!
Let's Stay In
Ashley has been someone I had long-admired from afar and, since we moved to Seattle, someone I'm honored to call a friend. Her first cookbook, Date Night In, hasn't left its premier spot on my cookbook shelf. And I imagine this one won't either. Because Ashley's food is made with love and care, and it shows through every recipe she shares.
Season
Nik Sharma is one of those food bloggers whose visual style has long set him apart from the rest. His cookbook, which has gotten rave reviews, is everything I love in a cookbook: inspired by a culture brimming with flavor, made accessible to a home cook. His drinks section, in particular, has me on the hunt for tamarind paste.
Ottolenghi Simple
Every once in a while, a cookbook will come out that makes me want to cook EVERYTHING from its pages. This cookbook is it for me this year. Case in point: this rice noodle salad is already on rotation, as is the red lentil soup and as of tonight, simple apple cake. Get one for your mom, your sister, your dad, your brother, your boyfriend/girlfriend, your friend, and most importantly, yourself.
Cravings: Hungry for More
I'm not usually one for celebrity cookbooks but Chrissy Teigen has proven us all wrong. Turns out, the woman loves to cook. And her food is delicious. It's also insanely rich and flavorful (no healthy shortcuts, here). Don't get this for anyone on a special diet, but do get it for someone you might want to make you breakfast in bed.
The Minimalist Kitchen
This cookbook from my lovely friend Melissa (The Faux Martha) is a crowd-pleaser for so many reasons: it's warm and inviting, practical, and written in Melissa's approachable voice. Melissa's cooking is clean and flavorful, and, as promised, everything is set to a minimalist tune. I trusted her with our family's Thanksgiving turkey, so I pretty much trust her with everything else.
Cibi: Simple Japanese-Inspired Meals to Share With Family and Friends
This cookbook is an inspired introduction to Japanese cooking, including an authentic miso soup, that's surprisingly easier to make than you might think. I think it would make a particularly nice gift for someone either planning a trip to Japan, or just returning from one. Because once you've been to Japan, you'll find yourself craving authentic Japanese food.
Dining In
Alison Roman gave us THE COOKIES and countless other recipes we've now been making on the regular (hello farro chicken with vinegar!). Her style is chic and effortless and bold. Get this book, stat. I'm eagerly awaiting her second cookbook, too! In the meantime, I'll keep devouring her cookbook and New York Times column.
More Holiday Gift Guides
2017 Cookbook Gift Guide
2016 Cookbook Gift Guide
2015 Cookbook Gift Guide
2014 Cookbook Gift Guide
2012 Cookbook Gift Guide
Kitchen Gifts for Him and Her
P.S. Our top 15 Christmas albums to own on vinyl...because it's never too early or too late to start 😉