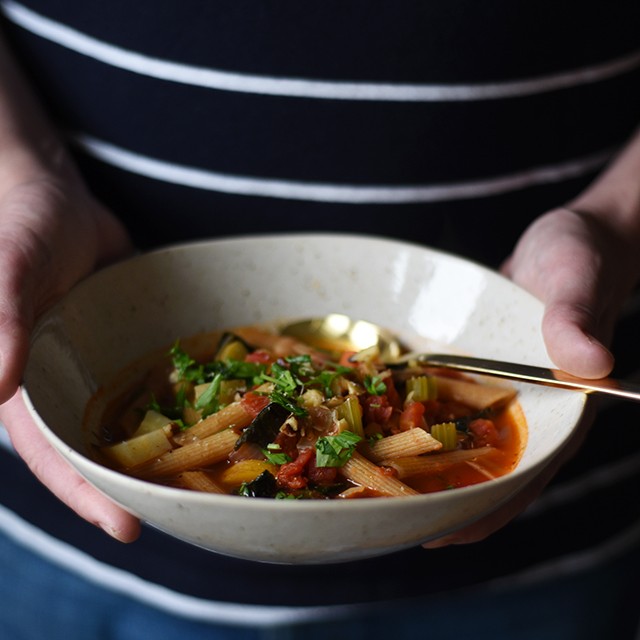 It's soup weather! And yes, I did make this recipe before we took our tree out, but aren't those twinkly lights so pretty? I don't know about you, but I feel like 2018 just blew the front door open. Not in a bad way, just in a I-can't-keep-up-way.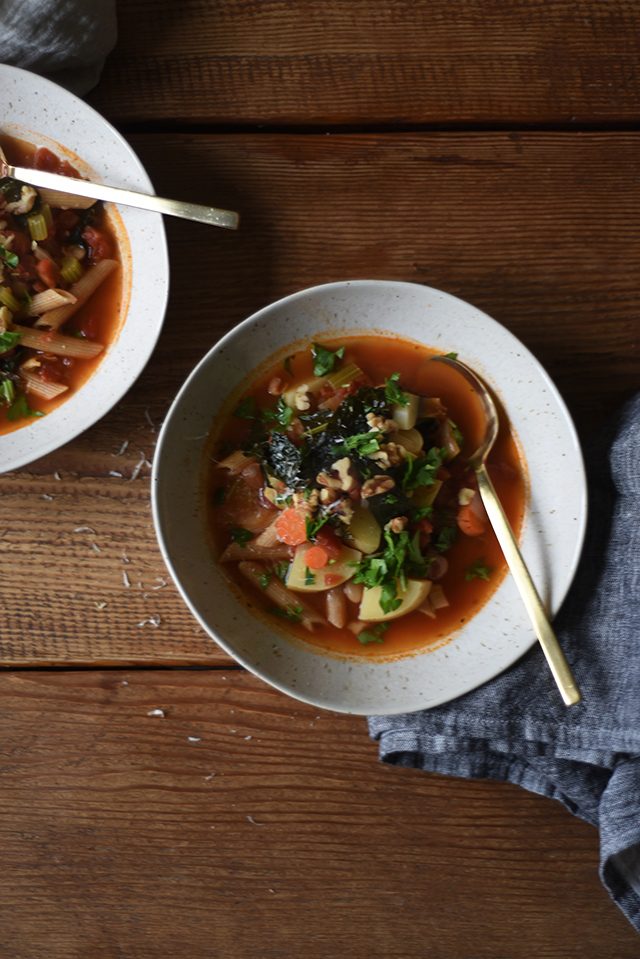 I spent a good amount of time during the last week of 2017 sorting through piles of stuff, collecting huge bags to bring to Goodwill, and throwing things away. If you haven't read Marie Kondo's book on tidying, I highly recommend it. I cannot emphasize enough just how good it feels to remove clutter from your life. I'm not 100% done yet, but at least now, the spices that are 6 years old are gone from my spice drawer, and most of our recycling is temporarily out of our laundry room / room where we store record boxes.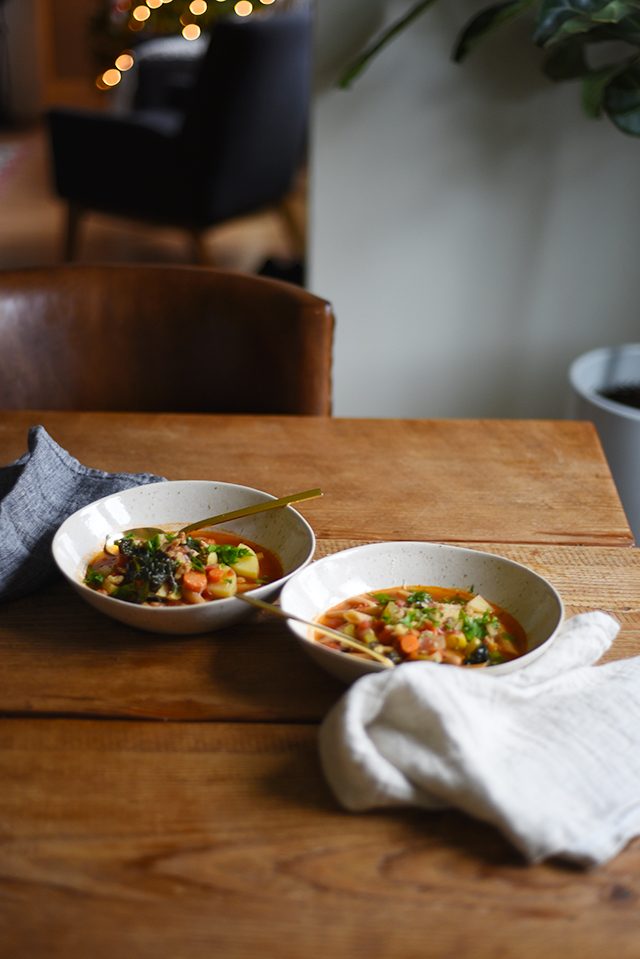 Inadvertently, I've made soup 3 times over the last week and a half, which my family has decided was too much (there was a boycott!). But I, for one, love a one pot meal that's re-heatable, and doesn't require a ton of planning or grocery shopping. When it comes to soup-making, I tend to go almost stew-like (more chunk, less broth). Really, this is how I feel about most foods (including nut butters, jams, and salsas). Since soup is intended for hearty weather, I like to load mine up with vegetables, beans, noodles, and bold flavors. Sometimes, this means throwing in a bunch of fresh herbs, other times, tinkering with spices.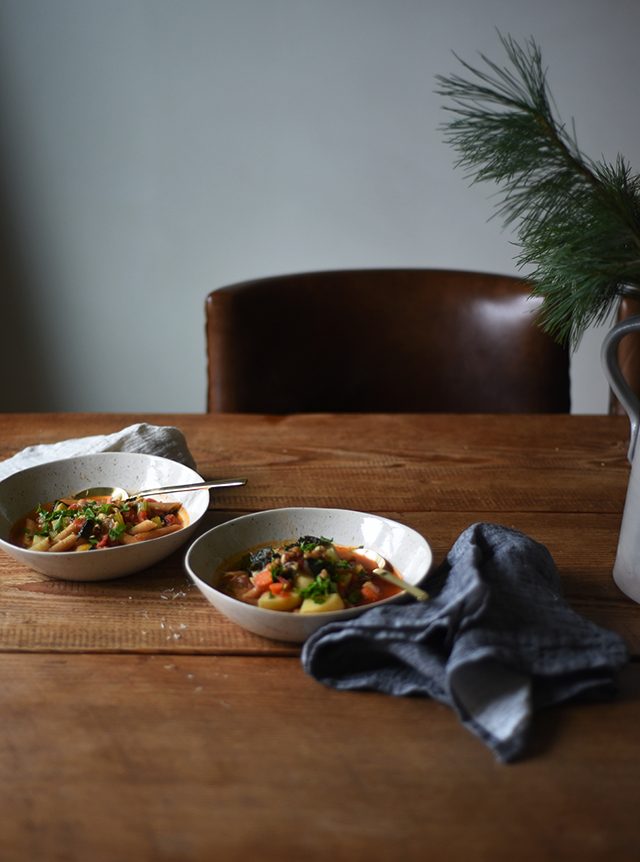 A few years ago, I got super hooked on smoked paprika, to the point where I added it to virtually everything we cooked. I got a little tired of it but recently rediscovered my love for it, and decided to add it into this minestrone soup recipe that I'm sharing today. Minestrone is good, even if it's just mediocre. You know what I'm talking about! But when you jazz it up with accoutrements, I think it can really sing. I could literally eat this stuff all week long (even if it means reheating noodles in a microwave until they're soggy). Are you still with me?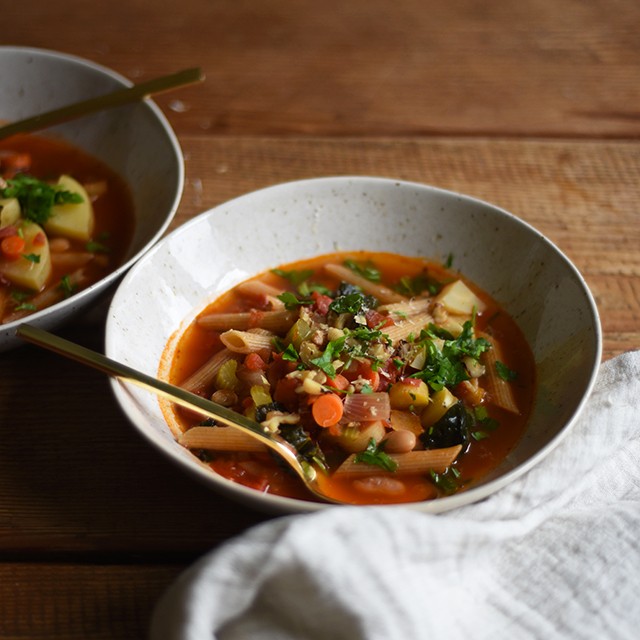 I highly recommend you eat this with a side of baguette, but I understand if you're on the Whole 30 train and want to use legume noodles and skip the potatoes. I still love ya. And so does this minestrone.
Minestrone Soup
serves six
1 small onion, diced
2 garlic cloves, minced
2 tablespoons of olive oil
1 teaspoon of smoked paprika
1 teaspoon of dried fennel
1 teaspoon of dried marjoram
4 large carrots, diced
3 celery stalks, cut into 1/4 inch thick slices
1 28 ounce can of diced tomatoes (we like fire roasted)
1 tablespoon of tomato paste
6 cups of vegetable or chicken broth, plus more, if needed*
5 small potatoes, diced
1/2 cup of dried noodles (we like macaroni or penne)
kosher salt
freshly ground pepper
1 handful of kale, roughly chopped
For serving: chopped walnuts, grated Parmesan cheese, finely chopped flat leaf parsley
*You can also thin the soup out with water
1. Add the olive oil to a large stock pot and heat over medium-high. Stir in the onion and garlic. Cook, stirring occasionally, until the onion is softened, about 5 minutes. Next, add the carrots, celery, smoked paprika, dried fennel, marjoram, and tomato paste. Cook for another 5 minutes or so.
2. Pour in the diced tomatoes (and their juices) and the vegetable or chicken broth, and bring the mixture to a slow boil. Add the potatoes, season with salt and pepper and cook, uncovered, for about 15 minutes. Next, add the kale and noodles and cook until the noodles are done (another 10 minutes, or so, depending on the type of noodles).
3. Adjust seasonings to taste. Top soup with chopped walnuts, freshly chopped flat leaf parsley, and a dusting of grated Parmesan cheese.