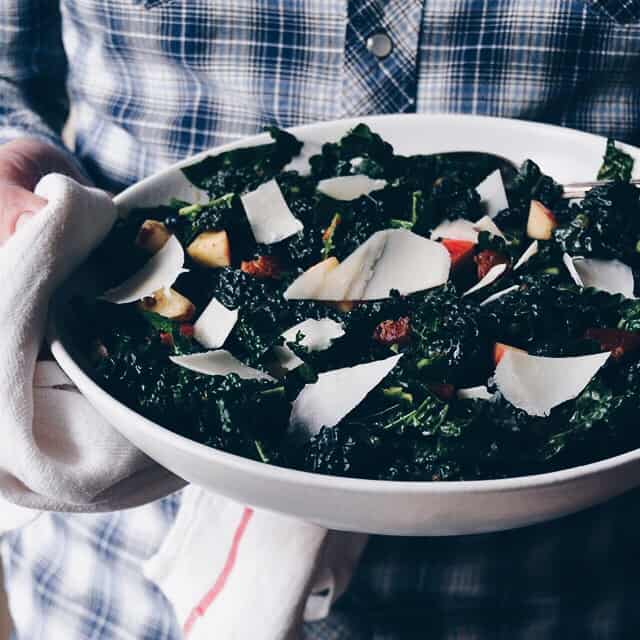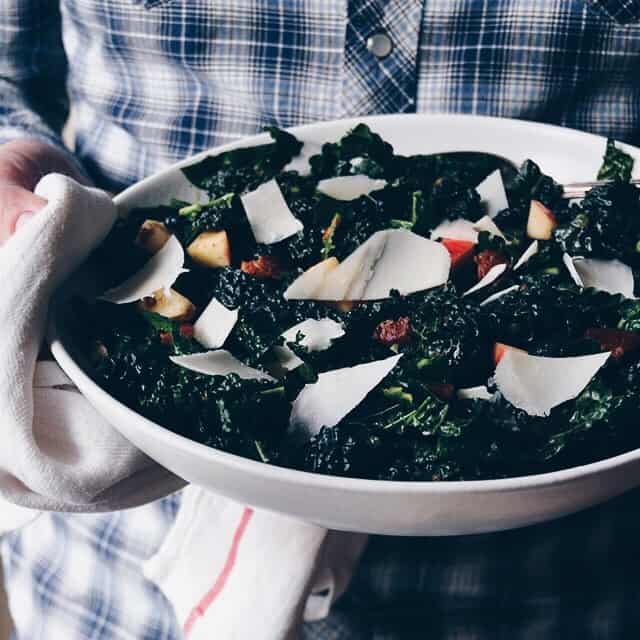 We arrived home to our city, eerily empty. Albeit, it was one o'clock in the morning, but ragged as we were, I couldn't help but notice the absence of cars, and the quiet. Moreso than in years past, my city felt different in the stretch between Christmas and New Year's. There's a chill in the air (it was 47 degrees the other day!) and the sight of people bundled in hats, scarves, and winter coats is a rarity.
But, just like that, in the days following the first of the year, the streets were full again. The energy, rebounding. Filling up the city that was hollowed out by the holidays. We're just a few days into the new year, and already (or should I say, still?) my feeds are filled with articles on resolutions, cleanses, productivity, and the like. And me? I baked cookies the other day. And feasted with friends on sushi and fried tofu — celebrating the opportunity to stroll outside my house and be swept up in a sea of people, young and old.
Perhaps because I do not feel guilt this year about eating or celebrating, or because I feel acutely aware of the need to celebrate more, and feel guilty less, I'm not going to be posting diet recipes here (not that I ever have!). I won't tease you with things that look like carbs but aren't. And I won't be holding back on the muffin or cookie recipes I have up my sleeve. Because that's just real life. We made buttermilk pancakes for breakfast this weekend, and went for a drive/ walk along Stinson Beach, followed by a big bowl of warming pasta and pizza with potato and nettles at Stellina in Pt. Reyes Station.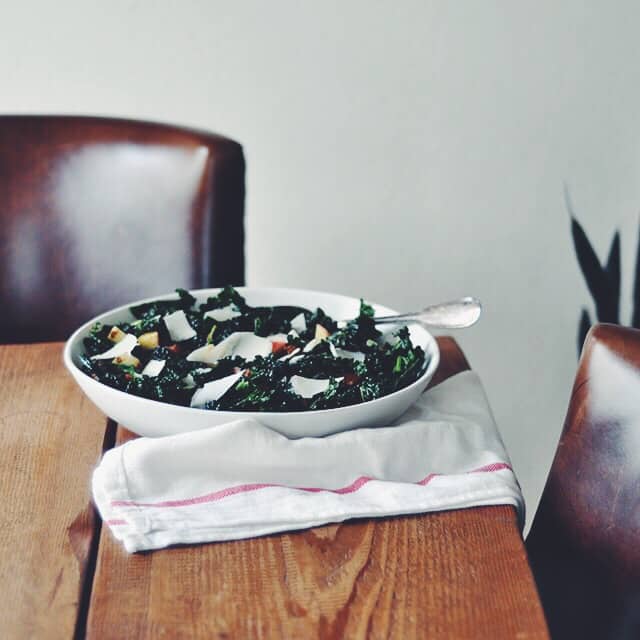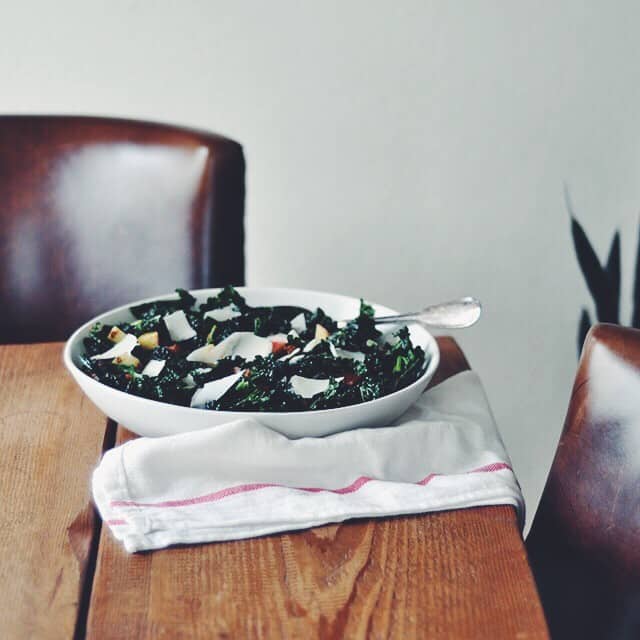 Like last year, I'm determined not to make any specific resolutions, though I have hopes. I have hopes of finally moving out of the apartment I've lived in for nearly 10 years. And maybe even leaving our neighborhood, though who knows. I have hopes of being happy with what I have, rather than wishing I had something others had. I have hopes of maybe taking some risks, personally and professionally. And hopes of spending ever more time with my family and friends. I have hopes of reading more, especially when given the choice of that or putzing around on the internet.
This past weekend, I got back into doing what I love: cooking. We recipe tested Pairings Box recipes, and I cooked a lot from my friend Ashley's new book, which I was excited to get home to. If you are unfamiliar with Ashley, let me tell you: she's a gem. A few years ago, she graciously contributed original recipes to the Pairings Box, and she has been an incredible mentor to me — both in how she has managed to grow her blog, as well as be a wonderful mother to her three kids. Ashley's new book, Date Night In, just speaks to me. It is a tribute to carving out cherished time with your partner, and it is a book that I am finding myself reading before bed, and flipping through whenever I happen to be sitting on my couch. I am no fortune teller, but I predict it will be a runaway success, and one that is so deserved by a human being so humble, so authentic, and so lovable.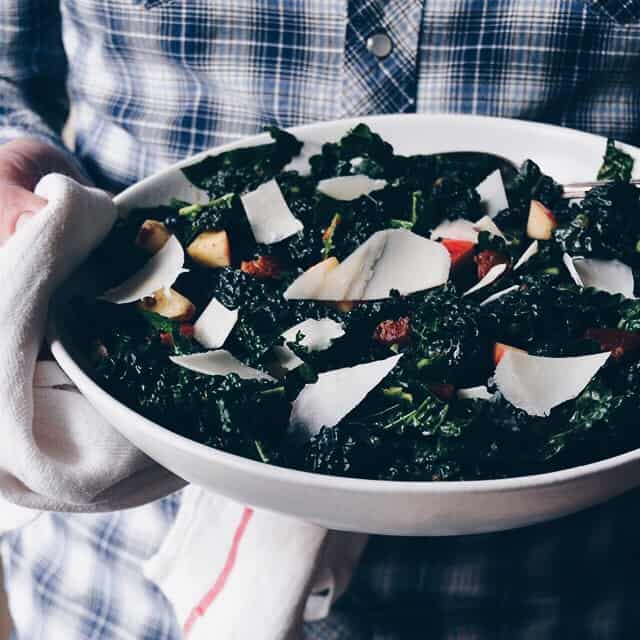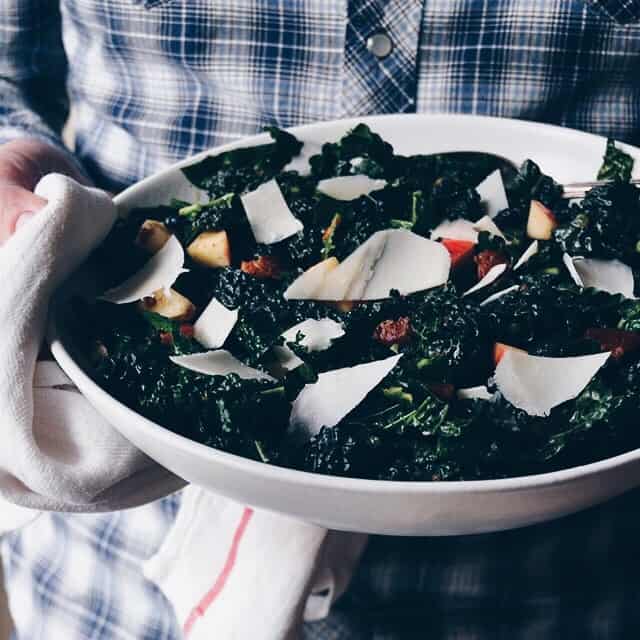 I chose to share this kale salad from Ashley's book because it reminds me of this little place in San Francisco called Darwin Cafe — which unapologetically serves a giant bowl of kale topped with a generous portion of crispy pancetta and a mountain of Parmesan cheese. It is the stuff of legend. Ashley's salad, tossed with a mustard-y, pancetta-laden sauce, is no apology. She suggests tossing in some currants, but I swapped in some chopped Medjool dates. I don't think Ashley would apologize, and I won't either.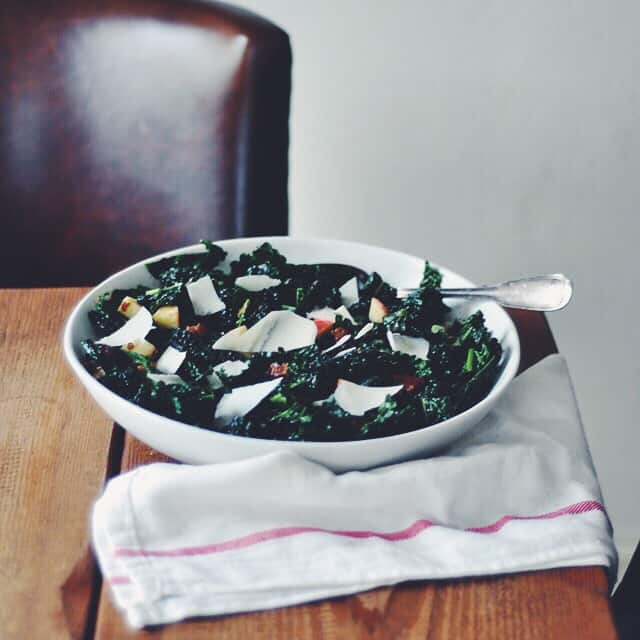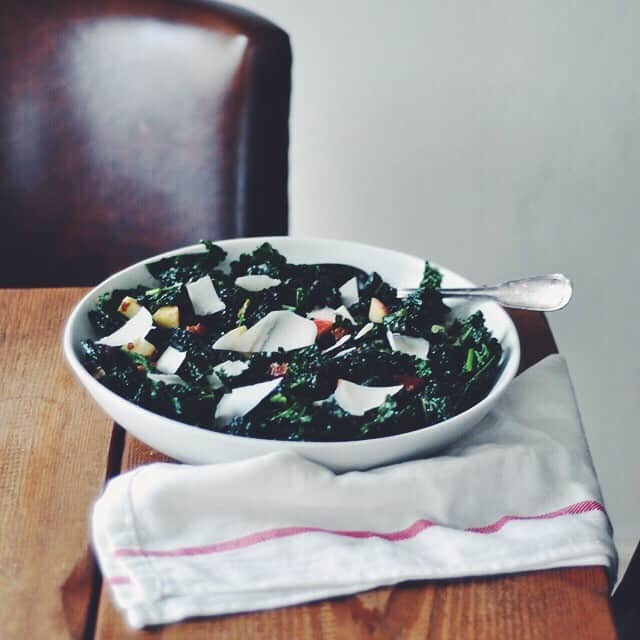 Kale Salad with Apples, Dates, and Warm Pancetta Vinaigrette
adapted, slightly, from Date Night In
4 ounces of pancetta, cubed
1 bunch of Lacinato (Dino) kale, cut into 1 inch ribbons
2 tablespoons of olive oil
1 shallot, minced
1 teaspoon of Dijon mustard
2 teaspoons of red wine vinegar
1/2 pink lady apple, diced
1/4 cup of roughly chopped dates (Ashley's recipe called for currants)
2 teaspoons of fresh squeezed lemon juice
shaved Parmesan, for serving
1. Add the pancetta to a large skillet over medium-low heat and cook until browned (about 10 minutes).
2. Once the pancetta is browned, add 1 tablespoon of olive oil and shallot and cook for another 5 minutes or until the shallots have cooked through and begun to turn golden on the edges.
3. Remove the skillet from the heat and whisk in the rest of the olive oil, mustard, and vinegar.
4. Add the kale to a large mixing bowl and pour the warm vinaigrette over the greens.
5. Add the rest of the ingredients (save the Parmesan) and toss to coat. Shave thin strips of Parmesan over the top of the salad and serve immediately.