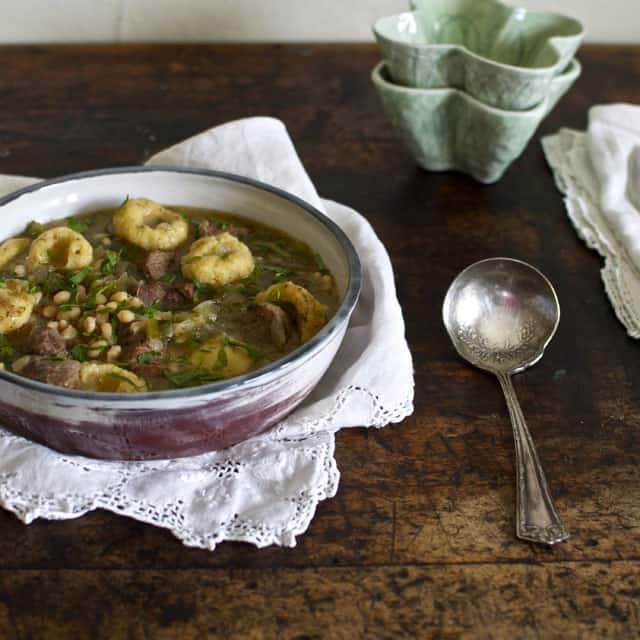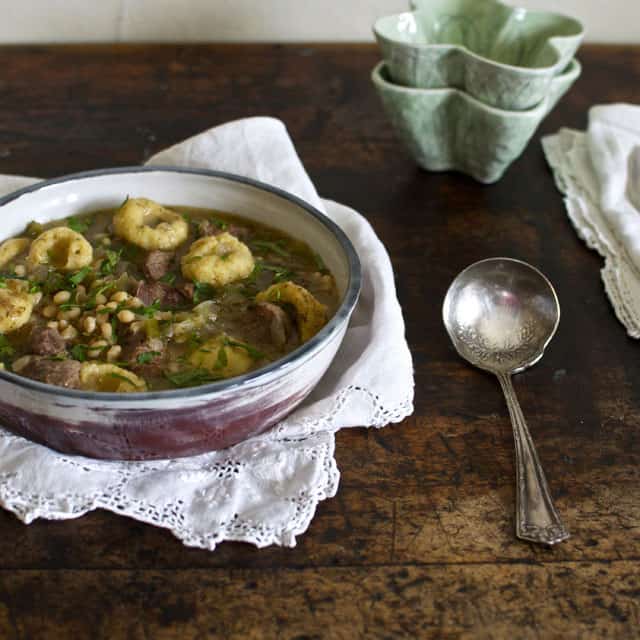 One of my favorite things about food writing is getting to know so many wonderful people through it. Matt and I joke that whenever we travel, we tend to meet up with our 'Internet friends.' I particularly enjoy getting to know women I admire — who pave their own paths, and bring so much wisdom to the table. I was lucky enough to meet Kate in person about two years ago, and we've kept up with each other's lives through our sites (and Facebook). She is an incredibly talented chef and recipe developer with a fresh and unique perspective; I'm always blown away by her creative and inspired twists on traditional Latin cuisine. I'm thrilled to have her guest posting today! Be sure to check out her site ¡Hola! Jalapeño, and some of her most popular and gorgeous recipes.
Kasey and I first met a couple years ago in San Francisco. She had just given birth to her gem of a daughter and our dinner was the first time she had left the house sans baby — I've been there before, it can be a nerve-racking situation. I was taken by how composed she was I'm not sure I'm that put together now and I've been a mother for over 6 years.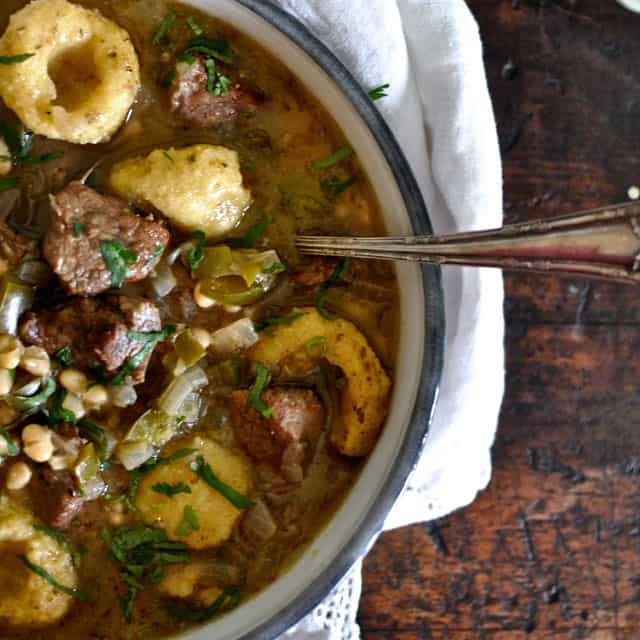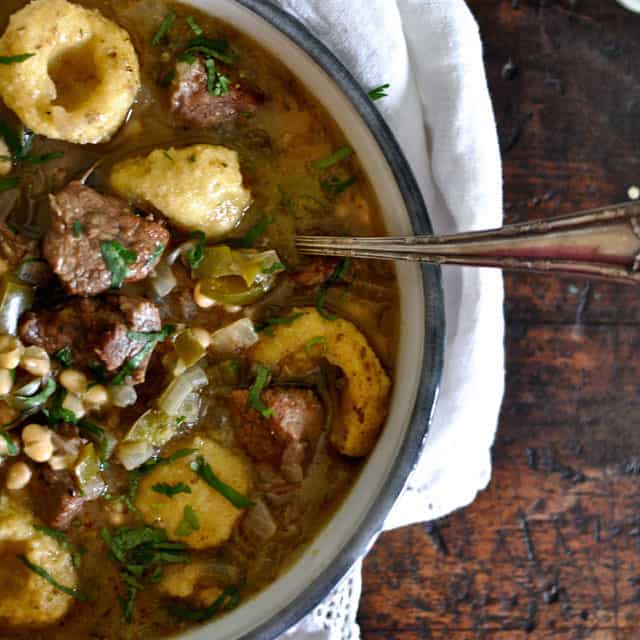 We didn't get to talk much that night (there were a lot of people and tons of catching up to do) but from that night on, whenever I get a quiet moment I always pop over to Turntable Kitchen to see if she's posted anything new. I feel like I've gotten to know her through her beautiful writing and gorgeous recipes. I love the feel of the site, it is comforting and interesting—a combination that always keeps me coming back for more.
When I got the opportunity to share a recipe on Turntable Kitchen those were the first things I thought of when trying to decide what to create. I wanted to make something warm and comforting for the winter but also something interesting that would reflect the unique nature of the blog. I came up with this Lamb and White Bean Chili because, really, can you have enough chili recipes in January? I think not.Lamb is not that easy to come by in my neck of the woods but luckily there is a family raising lambs in Kathryn, about a 30-mile drive from here. They bring them up to be butchered at our local meat market, but not all that often. I got word from my Bulgarian friend who shares my affinity with lamb that they had slaughtered some over the weekend and I went as soon as I could before all the meat was bought up. Not much was left but a few pieces of leg and some ground meat. I bought the bone-in leg and butchered it myself, but if I were you I'd buy either lamb stew meat or boneless leg meat and cut it up into 1-inch pieces.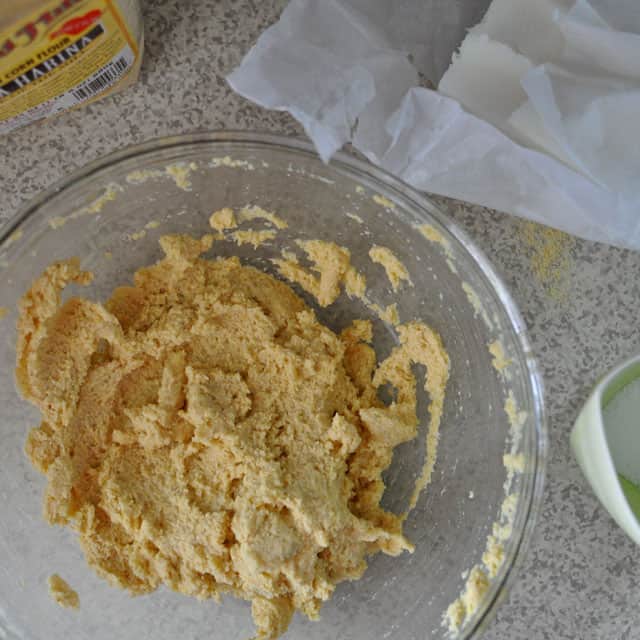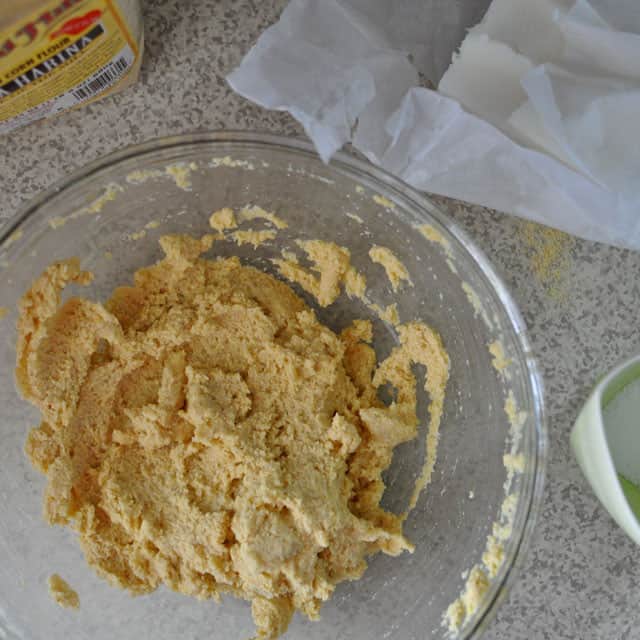 The masa dumplings are something I've been playing around with for awhile. Normally I would just scoop the dough by the spoonful right into the simmering stew but I recently came across a recipe on Pati's Mexican Table for chochoyotes, basically a corn flour masa dumpling like the ones I've been making but with a dimple on one side where all the flavorful broth can nestle as it cooks. I love the look of these precious, delicate pillows and that little indentation ensures a mouthful of delicious sauce with every bite.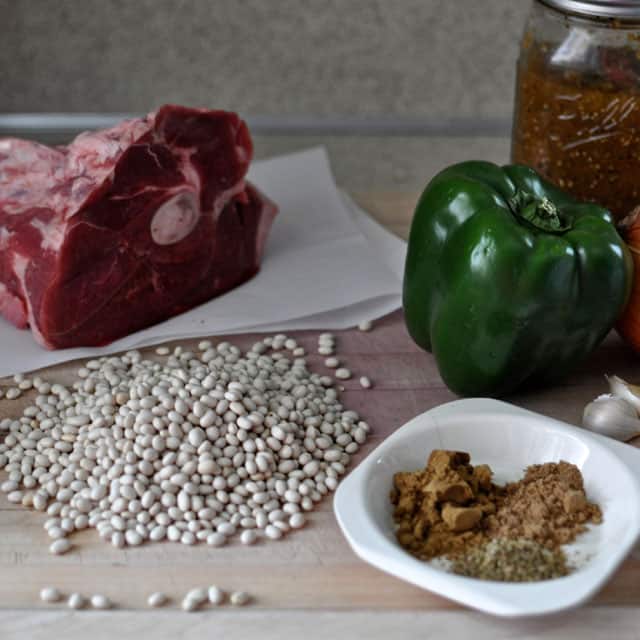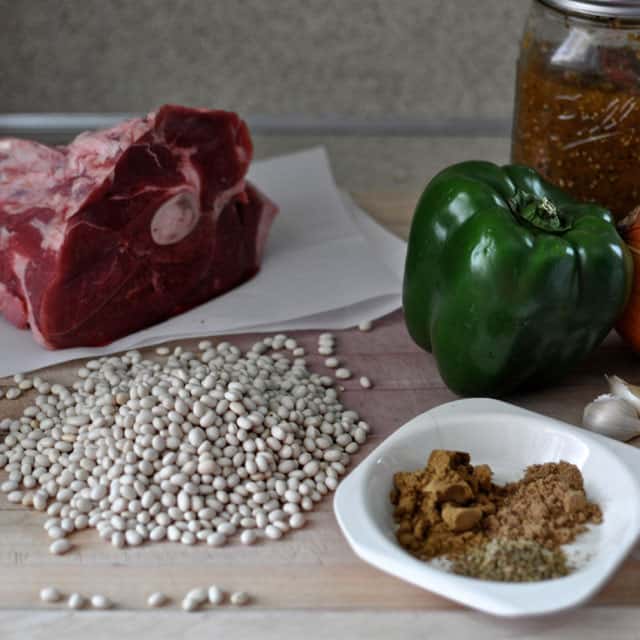 Lamb and White Bean Chili with Masa Dumplings Recipe
Dumpling recipe adapted from Pati's Mexican Table
For the Chili:
1 cup dried white beans
2 tablespoons vegetable oil
2 pounds lamb stew meat or boneless leg of lamb cubed into 1-inch pieces (fat and sinew removed)
1 large onion, chopped
1 green bell pepper, stemmed, seeded, and chopped
2 jalapeños, stemmed and chopped, seeds removed if you'd like it less spicy
4 cloves garlic, minced
2 teaspoons ground cumin
1 teaspoon ground coriander
1 teaspoon dried oregano
2 cups tomatillo salsa, homemade (link:http://www.holajalapeno.com/2013/11/charred-tomatillo-salsa-giveaway.html) or store-bought green enchilada sauce
Chopped cilantro, for garnish
For the Dumplings:
1 cup masa harina corn flour
¾ cup water
2 tablespoons lard
1 teaspoon kosher salt
For the Chili:
1. Rinse beans and remove any dirt or rocks. Cover with cold water by a couple of inches and let soak overnight.
2. Generously season lamb all over with salt and pepper. Heat oil in a large pot over medium heat. Once shimmering add lamb and cook, stirring occasionally until brown, about 5 minutes. Remove lamb with a slotted spoon or tongs to a plate.
3. Add onion, bell pepper, and jalapeños to the pot. Cook, stirring occasionally until softened, about 8 minutes. Add garlic and spices and let cook another 2-3 minutes.
4. Drain the beans and add them to the pot along with the lamb, salsa, and 6 cups of water. Bring to a boil, then reduce the heat to a gentle simmer. Cover and cook until meat and beans are tender, about 2 hours. Season chili with salt and pepper.
To make the Dumplings:
1. Once chili is ready, combine all the dumpling ingredients in a medium bowl and mix together until smooth.
2. With moist hands roll dough into walnut-sized balls and make a small indention with you thumb.
3. Gently place dumplings into the simmering chili (do not let it boil, or the dumplings will break up) cover and cook for 15 minutes.
4. Serve immediately sprinkled with cilantro.