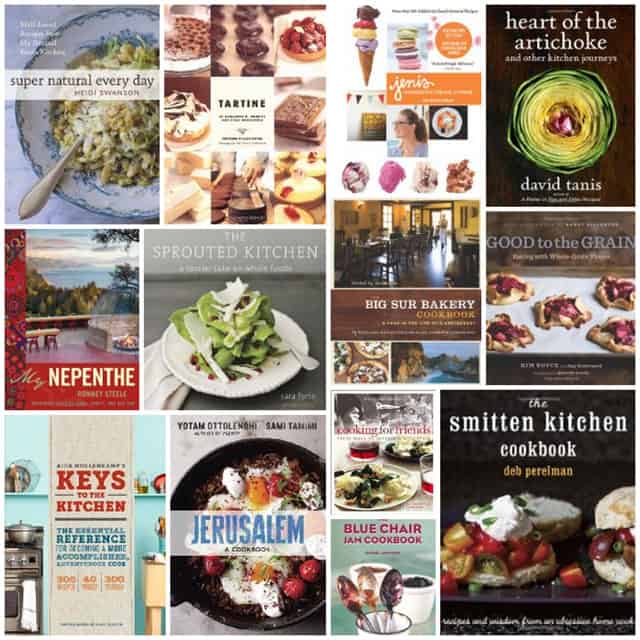 I don't know about you, but I'm a firm believer in having a house full of good books that don't just live in my iPad or eReader. I have always loved the feel of a hard cover, the smell of paper and ink, and the way that a physical book looks on a bookshelf. Even though I hardly write anything down on paper, I desperately hope that print never dies, which is why I love gifting and getting getting books.
When I receive a new cookbook, I find myself as engrossed as I would be in a thrilling novel or a truly compelling film. The first thing I do with a new cookbook is leaf through each page, making mental notes of recipes that I know I'll need to revisit. Then, I'll often read the introduction. From there, I'll re-browse photos, and start reading personal essays, if there are any. And finally, I'll start making plans.
My favorite cookbooks are those I open frequently, even if I'm not necessarily intending to cook anything from them. I flip through for instant inspiration, to remind myself of ingredients and flavor combinations I want to riff off of, or to re-familiarize myself with cooking techniques or food styling.
This holiday season, I recommend giving someone you love a book. Below is a list of a few of my long-time and new favorites. Happy gifting!
1. For your favorite vegetarian: Super Natural Every Day: Well-Loved Recipes from My Natural Foods Kitchen
2. For the ambitious baker/would-be pastry chef: Tartine
3. For the ice cream addict (gift this along with an ice cream maker!): Jeni's Splendid Ice Creams at Home
4. For the man in your life or Alice Waters devotee: Heart of the Artichoke and Other Kitchen Journeys
5. For the bohemian cook and someone who wants a cookbook they can 'read': My Nepenthe: Bohemian Tales of Food, Family, and Big Sur
6. For the friend who loves the farmer's market and living a healthy lifestyle: The Sprouted Kitchen: A Tastier Take on Whole Foods
7. For the seasonal cook who enjoys seafood, bacon, and Meyer lemons: The Big Sur Bakery Cookbook: A Year in the Life of a Restaurant
8. For those interested in whole grain baking (and the recipe for the best chocolate chip cookie there is): Good to the Grain: Baking with Whole-Grain Flours
9. For the newbie cook or someone who wants to quickly find the answer to a lot of cooking questions: Aida Mollenkamp's Keys to the Kitchen: The Essential Reference for Becoming a More Accomplished, Adventurous Cook
10. For the travel enthusiast/adventurous home cook (lover of hummus and za'atar): Jerusalem: A Cookbook
11. For the entertainer/host with the most: Williams-Sonoma Cooking for Friends: Fresh ways to entertain with style
12. For the home canning enthusiast or favorite hipster: The Blue Chair Jam Cookbook
13. For your food blog-obsessed friend/lover of roast chicken and cinnamon rolls: The Smitten Kitchen Cookbook
14. For your favorite cooking couple who's not afraid of breaking down a whole chicken: Ad Hoc at Home
15. For your (potentially) single girlfriend with a sweet tooth: Joy the Baker Cookbook: 100 Simple and Comforting Recipes
Check out our other holiday gift guides:
Turntable Kitchen's Coffee Lover's Gift Guide
Turntable Kitchen's Vinyl Record Collector's Gift Guide
Don't forget that the Turntable Kitchen Pairings Box makes a great holiday gift. Subscribe here.