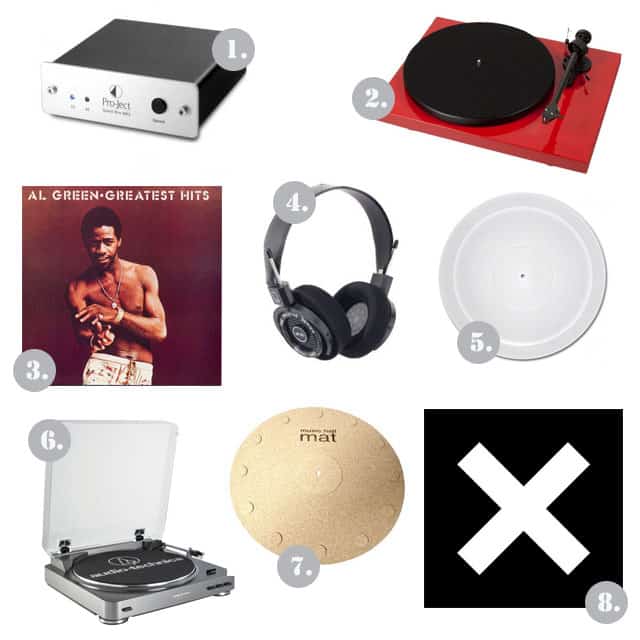 Pictured: 1) Pro-Ject Speed Box; 2) Pro-Ject Debut Carbon in red; 3) Al Green's Greatest Hits LP; 4) Grado SR80i headphones; 5) Acryl-it Platter; 6) Audio Technica AT-LP60; 7) Music Hall Cork Mat; 8) The xx – xx LP. 
In the past few years, vinyl records have made a well-deserved comeback. They are collectible, they have weight, and they come packaged in beautiful 12×12 cover art — all of which make them the perfect counterpoint to our increasingly large and disposable digital music libraries. You probably know a few people who are already collecting records or at least a few people who are interested in starting a setup for their home. Whether you're buying for a novice or an experienced audiophile, this list is intended to help you pick out some goodies for the vinyl record collector in your life.
Record Players
Playing vinyl LPs obviously starts with a good record player. There are countless options on the market — many of which aren't worth their price tag. We previously prepared an in-depth guide to selecting your first turntable, so you should stop there for more information, but we've distilled the list to our top three for this guide.
1. Audio Technica AT-LP60 ($129) — This is our pick for a good, no-fuss beginner's turntable.
2. Music Hall USB-1 ($249) — Music Hall makes good audio equipment and, at $250, this USB turntable is a steal.
3) Pro-Ject Debut Carbon ($399) — This turntable offers a great entry point into the world of high-end audio (and happens to be the record player we own). It sounds unbelievably clear and warm. It's also easy to upgrade (mine is more tricked out than the Millenium Falcon at this point). Highly recommended.
Other Audio Equipment
Once you buy a high-end turntable you can upgrade it piece by piece if you'd like. As I mentioned above, I've customized mine to provide the best possible sound. Here are a few of the pieces I've purchased to customize my Pro-Ject.
1) Pro-Ject Speed Box ($129) — This was the first upgrade I bought for my Pro-Ject. It allows you to easily change between 45 rpm and 33 rpm at the push of a button. Just as importantly, it provides precision speed regulation and gives your turntable a little more bump on the low end. If you or your vinyl lover already has a Pro-Ject without automatic speed-adjustment, this is a huge upgrade.
2) Pro-Ject Phono-In ($189) — If your pre-amp doesn't include a phono-in, you'll need to buy one to connect your turntable to it. This one, like all Pro-Ject products I've tried, provides an excellent option for high end performance.
3) Music Hall Cork Mat ($50) — This "upgrade" was one of the more surprising purchases I made for my Pro-Ject (though it'll work with any turntable). It came highly recommended by the folks at my local hi-fi shop. It provides better isolation, better grip, and better tracking. In short, it makes your records sound better.
4) Pro-Ject Acryl-It Platter Upgrade ($125) — Every piece of your turntable affects the quality of sound reproduction. The platter is no different. This acrylic platter not only looks cool, but is designed to provide "a stable support for the vinyl" while eliminating unwanted resonance.
5) Rega Elys 2 Cartridge ($295) — This cartridge upgrade is designed to provide better sound separation between various musical instruments. For the price alone it may be one of the last pieces you'll upgrade but the right cartridge can make a huge difference in the sound you'll get out of your turntable.
A Few Classic LPs
There are a few classic artists that are essential to any collection. While those records will vary slightly from person to person, there are a few that I think any music lover should have in their collection. You can find some of these in $1 bin at your local record store,  but I opted to shell out good money for pristine copies to listen to in our home; I appreciate the clarity. Here are a few of my top picks.
1) Otis Redding – Otis Blue — Redding's brand of deep Southern soul is warming and cozy — a perfect pairing for any cold night.
2) Al Green – Greatest Hits — I've probably played my copy of this more than any other record in my collection. It's sexy and fun.
3) Jorge Ben – Forca Bruta — This record never fails to scratch that itch for something a little different.
4) Neutral Milk Hotel – In The Aeroplane Over The Sea — This one is a contemporary classic.
5) David Bowie – Rise and Fall of Ziggy Stardust — I'm a David Bowie fanatic and this (along with Hunky Dory) are my two favorite Bowie records.
6) The Rolling Stones – Exile On Main Street — Classic honky-tonk rock n' roll for a good time any time.
7) Miles Davis – Bitches Brew — This record will melt your mind. In fact, it's so forward thinking, it will still melt your children's children's minds.
8) The Beatles – Abbey Road — If you own one record by The Beatles, it must be this one. Or Revolver. Or Rubber Soul. Or The White Album…
9) Joao Gilberto – Joao Gilberto — The perfect record for when you want some serious chill time.
10) Radiohead – OK Computer — If you don't know why you need this record in your collection, then what are you doing here anyways?
11) Joni Mitchell – Blue — Let's be honest, I could have easily listed Court And Spark here as well. The point is that I'd think any music lover would want Mitchell in their collection.
A Few Contemporary Favorite LPs
Your record collection shouldn't look like it was transported from the 70s. If you're a fan of contemporary indie music, then you'll want to own these modern masterpieces as well.
1) Beach House – Bloom — One of my favorite records from the past few years. "Lazuli" sounds so good spinning on your turntable.
2) The National – High Violet — You could easily go with Boxer or Alligator, but you should own at least one record by The National. I own them all.
3) Radiohead – In Rainbows — Listening to tracks like "Faust Arp" and "Reckoner" on my record player is guaranteed to send shivers down my spine.
4) Spoon – Gimme Fiction — This was the first record that convinced me I needed a good turntable. Play it on a high end deck to remember why you spent your money on an audiophile turntable. The production provides for some great demonstrations of sonic separation.
5) Jay-Z – The Blueprint — So many great hip hop albums aren't available on vinyl (or were only briefly available). Thankfully, you can score this one quick and easy.
6) Grizzy Bear – Veckatimest — This record set this band on the path to being considered one of indie music's top bands.
7) The xx – xx — Beautiful die-cut packaging and a beautiful record. This is definitely a modern classic in my book.
8) Iron & Wine – Shepherd's Dog — A beautifully textured album by Mr. Sam Beam and another "great anytime" record.
9) Cat Power – You Are Free — It was this or The Greatest, but either way, I'm often glad to find some Chan Marshall in my collection.
10) Ryan Adams – Gold — This record's a classic.
Limited-Edition Records
Without question, record collecting is partially about building an awesome library — but it's also about snagging those rare, hard-to-find collectibles before they are gone. Obviously, most limited edition records that I'd recommend won't last very long before they are sold out (that's the nature of limited edition records), but here are a few suggestions available at the time of writing. You can also follow our new Limited Edition Vinyl board on Pinterest for more ideas.
1) Turntable Kitchen's Pairings Box Subscription — Clearly, I'm biased but I think I've put together a pretty great collection of artists in our subscription 7″ service. These sell out pretty fast and the only way to guarantee your copy is to subscribe.
2) Beck – Sea Change — Interestingly enough, Beck records have historically been hard to come by after their initial release. Sure, they are occasionally repressed, but you need to jump on them while you can. Sea Change is currently available in numbered, limited edition format. SOLD OUT
3) Atoms For Peace – Default — This record is limited to 3,000 copies and features Thom Yorke and Flea. Those 3,000 copies will go relatively fast. SOLD OUT
4) Yo La Tengo – Fade (plus bonus 7″) — A deluxe numbered edition on rainbow foil with a bonus 7″ of cover songs. This is a pretty rad pick up for any collection. SOLD OUT
4) Ryan Adams – Love Is Hell — This 2LP repress of the otherwise out-of-print Love Is Hell EP is remastered by Mobile Fidelity Labs and is limited edition and numbered. SOLD OUT
5) Small Plates Recs Crack Pack — Our friends at Small Plates Recs are up to some great things and this "Crack Pack" includes all of the music they've pressed to vinyl for a low, low price. In fact, their entire catalog will set you back less than that Ryan Adams 2LP above.
6) Records from Father/Daughter Records — The folks at Father/Daughter believe in great limited edition records featuring great up-and-coming artists. As a result, we believe in buying their records. Get Pure Bathing Culture, Levek, and more before they are all gone.
7) Records from Gold Robot Records — Our friend from across the Bay. Their records tend to sell out pretty quickly. Get what you can before it's gone.
8) Records from Analog Edition —  You'll find ultra-limited records from Lands & People, Teen Mom, and more in this boutique label's store.
Headphones
Headphones are not specifically required to enjoy your turntable. In fact, although I do listen to my records with headphones occasionally, I prefer to use my speakers. As a result, my headphones really get the most use when I'm on the go. With that in mind, the first three pairs of headphones I listed each fall in under $100 range. The Westone 3's, which sound amazing, are less cost-effective.
1) Thinksound ts02 — Made with eco-friendly materials, Thinksound's ts02's look good and sound good. These are my favorite earbuds at the $100 and under range. Read our review for more info.
2) Sol Republic Tracks Headphones — I bring these sturdy over-the-ear headphones with me to cafes and on public transit. They offer good sound and exceptionally sturdy construction.
3) Grado SR80i — Grado is one of the most well-respected companies in hi-fi. Their products can range from a few hundred bucks to a few thousands bucks. This pair of over-the-ear headphones are a great value for the price.
4) Westone 3 Headphones — These are my favorite headphones/earbuds I've ever used. They sound amazing and I bring them with me everywhere. For more info, you can read our review here. Be warned: they also are not cheap (just under $400 on sale).