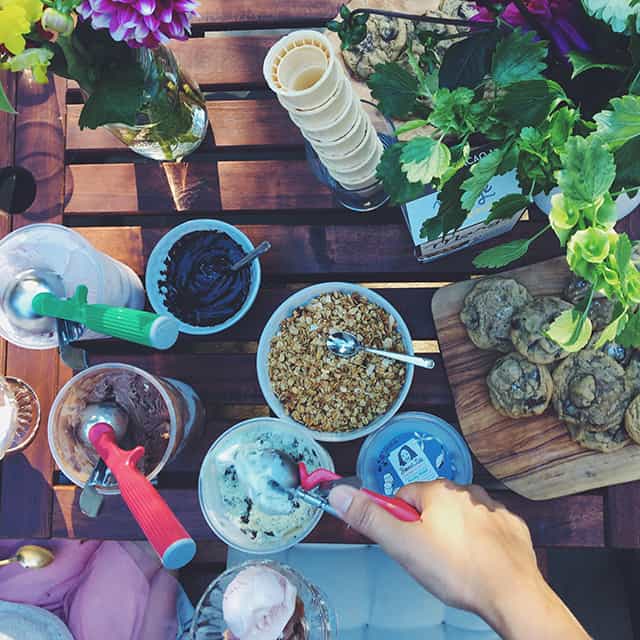 A few weeks ago, we got together with a few friends for an epic gathering in our backyard: an ice cream social! The backyard is what really sold us on our house and it has been a dream being able to enjoy it so much this summer. That said, we haven't had nearly enough parties at our house, so I was thrilled to play host, finally.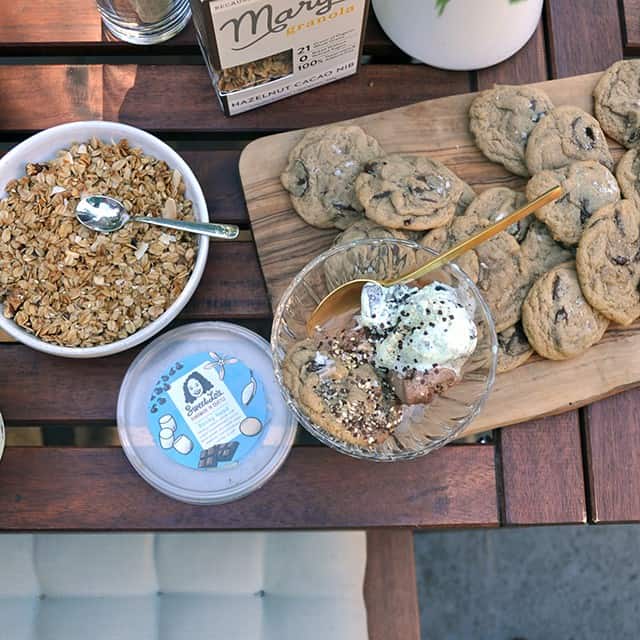 We're pretty lucky to live really close to some pretty amazing food entrepreneurs: Megan, the founder of Marge Granola, Ashley, the lady behind the Salted Chocolate Chip Cookie Mix and now salty sprinkles (!!), and Lauren, the brilliant woman behind Sweet Lo's Ice Cream. Lauren pretty much lives up to her name as she is one of the sweetest people I've met. She happens to be Joy the Baker's sister, but she's carved her own name out for herself here in Seattle, where she churns out every ice cream flavor imaginable and delivers it to hungry people like us.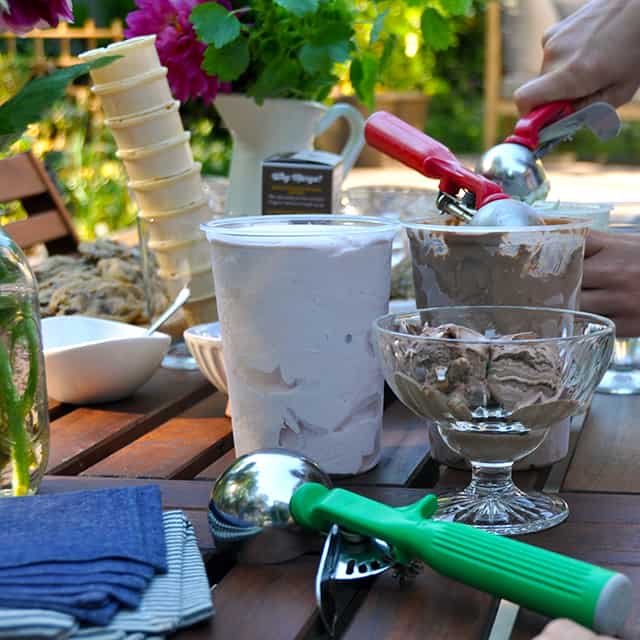 Hosting an ice cream social is pretty much a great idea if you:
Love ice cream
Love hanging out with people who love ice cream
Have kids
Have friends with kids
Want to feel like a kid
Want to eat ice cream for breakfast, lunch, or dinner
Want to be beloved by your friends
I know not everyone has a friend like Lauren or lives in Seattle where you can special order her mind blowing ice cream. I know we're pretty lucky over here, but that doesn't mean you, too, can't host an ice cream social. So today, I'm coming at ya with a few tips, and some gratuitous photos from our get together.

Everything you need to host a killer ice cream social
First thing is obviously first: the ice cream. Lauren came with my favorite flavor, Rocky Road, as well as Mint Chip and Strawberry. Since we had a mix of kids and adults, the flavor combinations were really well-received by everyone.
The ice cream flavors. When you're choosing flavors for your ice cream social, I would definitely recommend at least one chocolate flavor, one straightforward fruit flavor (like strawberry, which is great for kiddos!), and then a wild card — something nutty is always my preference. Know your people: if they're all traditionalists, make sure to have a simple vanilla on hand; if they're adventurous, don't be boring.
The toppings. Again, you'll want to gauge your people and your theme but even if you aren't hosting kids, it's fun to feel like a kid. Don't skip the rainbow sprinkles, but offer up something for adults, too. Our friend Ashley's Salty Sprinkles are bomb, and they're the perfect 'adult' alternative to traditional sprinkles. Granola is also a crowd-pleaser, and great for snacking when you can't eat any more ice cream. I love chopped toasted nuts (peanuts, hazelnuts, and walnuts are great), and if you're so inclined, mini marshmallows or candy.
The hot fudge. It doesn't have to be chocolate, but something luscious and rich that can be drizzled over your ice cream is a must. Our friend Megan has the perfect homemade recipe for you.
The ice cream vessels. Give the people choices! La Rochere kindly sent us some glasses of theirs to check out, and they were perfect for big old sundaes. But we also pulled together a variety of ice cream glasses, and had cones on hand, too.
Cookies. Ok, cookies are not a must for an ice cream social but have you ever had an ice cream sandwich? Or a pizookie? I trust that you'll trust me on this one. If you're looking for a shortcut, Not Without Salt's Salted Chocolate Chip Cookie Mix is the perfect thing to whip up before an ice cream social.