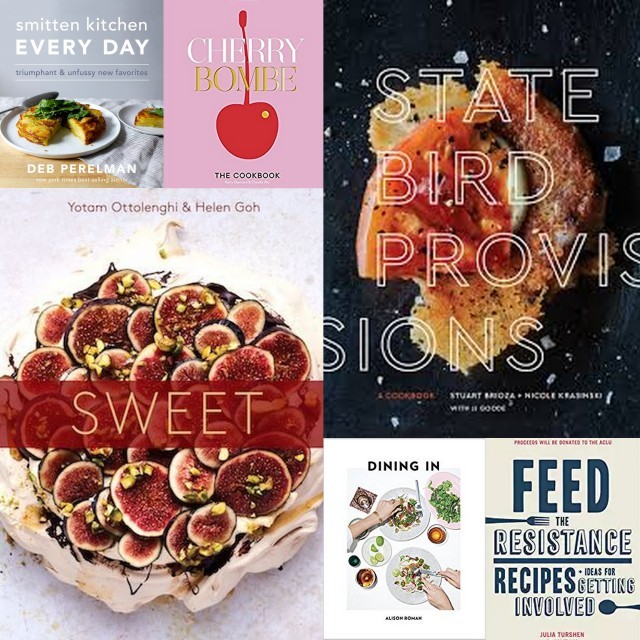 See also:
Creative Gifts for Guys
Gifts for the Cool Girl
8 Perfect Gifts For Vinyl Lovers
---
The Kindle might be here to stay, but I'm still a big believer in books you can hold in your hands. And there's no better example of a book you have to touch and feel than a cookbook. I won't quit cookbooks; in fact, I have a bookcase in our dining room devoted just to cookbooks. Since my cookbook collection is ever-growing, I usually rotate in new favorites, but there are a handful that have really stood the test of time.
I've included some cookbooks in other gift guides already (see links above), but here are a few more (fresh) ideas to add to your list.
Smitten Kitchen Every Day: Triumphant and Unfussy New Favorites Deb's blog (Smitten Kitchen) was the first I ever read and her second (highly-anticipated) cookbook is sure to be a crowd-pleaser. Deb is known for endless tweaking and a love for home cooking, so I have no doubt that her recipes are fail-proof, and delicious.
State Bird Provisions: A Cookbook State Bird Provisions has been the site of many a memorable meal for Matt and I in San Francisco, and I couldn't be more excited to cook from this. If only we could eat fried burrata bread with every meal.
Dining In: Highly Cookable Recipes This cookbook has been on virtually every cookbook list out there so I'd be remiss not to include it here. Author Alison Roman writes, "here you'll find a collection of recipes that's neither obnoxiously aspirational nor so obvious that you'd wonder why you bought this cookbook."
Cherry Bombe: The Cookbook When one of the coolest print publications around comes out with a cookbook, your ears perk up. Cooking is often a communal activity and I love how this book brings together so many incredible female chefs, entrepreneurs, and creatives in one gorgeous place.
Sweet I'm addicted to Yotam Ottolenghi's cookbooks, which often focus on Middle Easten flavors, but are largely comprised of savory recipes. Dessert books are some of my favorites to gift, and this one is sure to find a spot on the coffee table.
Feed the Resistance I've raved about Julia Turshen's Small Victories since it first came out. This book (her second) would make the perfect gift for anyone inspired to take action over the last year. Bonus: proceeds benefit the ACLU!
P.S. Even more cookbook gift ideas (over the years).