See also:
Create Gifts for Guys
8 Perfect Gifts For Vinyl Lovers
My mother-in-law is the queen of holiday shopping. She starts collecting lists early and I have yet to be disappointed by any of her gifts. But when it comes to shopping for my husband, I often find myself wanting to go beyond his list which, let's be honest, is usually just a bunch of vinyl records.
Leaning on my own intuition, as well as years of husband-made gift wishlists, I've compiled what I believe to be the guide for creative gifts for the guy (or a guy) that you love (or like). I've included a mix of items, in a range of budgets to suit everyone's needs, but ultimately focused on the theme of a cozy night it.
When I think of the holidays, I think of bundling up by the fire, mixing a cocktail, lighting a candle, and throwing on a record. With that angle in mind, here are some ideas for perfect presents for guys. Choose one big ticket item, or mix and match.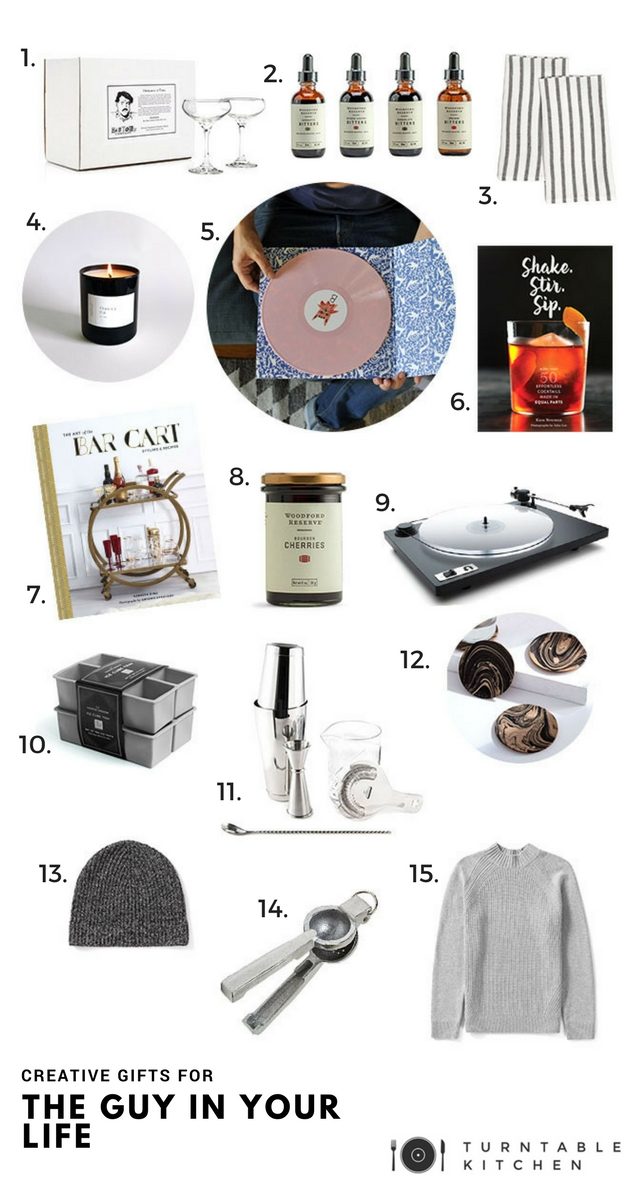 1. The Ritz Paris Cocktail Coupe (Gift Box Set of 2) | 2. Bourbon Bitters Bundle | 3. Linen Tea Towels | 4. Lightwell & Co. Candle | 5. SOUNDS DELICIOUS subscription | 6. Shake, Stir, Sip | 7. The Art of the Bar Cart: Styling and Recipes | 8.Woodford Reserve Bourbon Cherries |9. U-Turn Audio Turntable | 10. Cocktail Kingdom 2″ Square Ice Cube Tray (set of 2) |11. Cocktail Kingdom Essential Cocktail Set | 12. Leather Coaster Set | 13. Wool-Cashmere Rib Beanie |14. Cocktail Kingdom Beehive Juicer | 15. The Wool-Cashmere Rib Mockneck