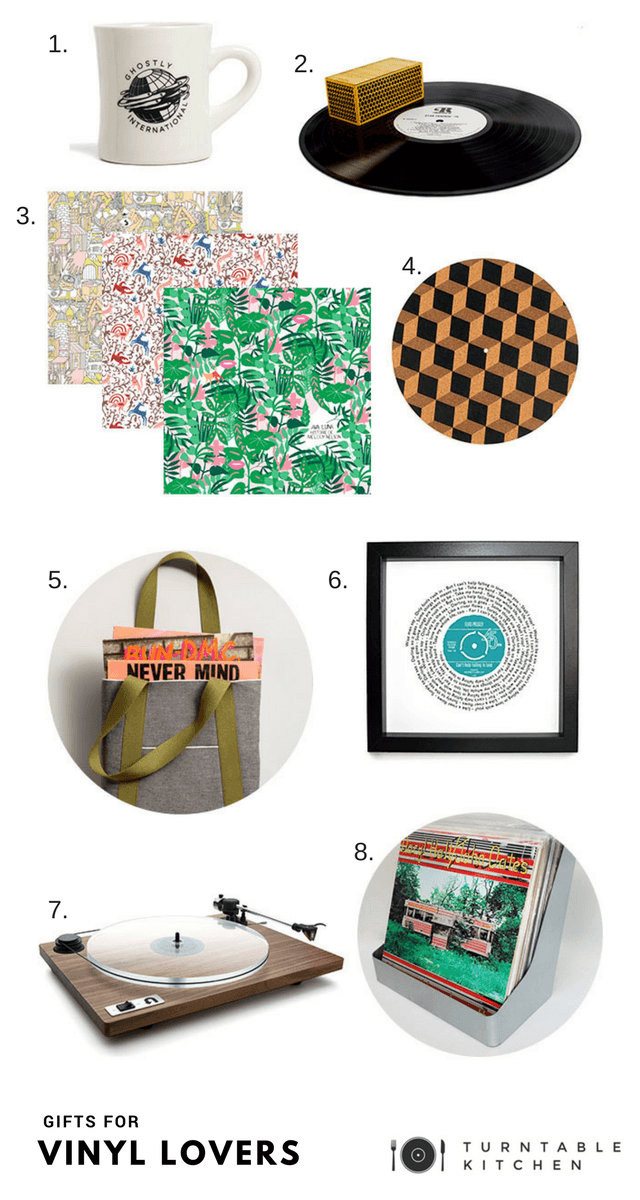 See also:
Creative Gifts for Guys
Gifts for Cool Girls
---
Not sure what to get for the vinyl lover in your life? Have no fear. We've picked 8 of our favorite gifts that are sure to please any record collector.
1. Ghostly International Coffee Mug
We love coffee and we love the good folks at Ghostly International so what could be better than a Ghostly International coffee mug?
2. RokBlok
The RokBlok is a portable record player with a speaker built-in. What's more, it's completely wireless with built-in bluetooth. We're definitely intrigued!
3. Subscription to SOUNDS DELICIOUS
Sure we may be biased, but we did design our SOUNDS DELICIOUS vinyl record subscription to be the perfect addition to any vinyl lovers collection. After all, what's not to love? Exclusive, limited edition, highly collectible colored vinyl featuring some of your favorite artists covering landmark albums. This is a no-brainer for the record collector in your life.
4. Turntable Slipmat – Specially designed Cork.cubes
You can never have too many slipmats, and this cork one is definitely on our gift list. There are tons of other styles from this Etsy vendor (many of them on sale!).
5. The Record Tote from Koeppel Design
Koeppel Design offers a number of great products for record lovers but we particularly love their stylish new record tote. They're designed to hold up to 15 LPs making them perfect for crate digging.
6. Personalized Song Lyric Poster
These personalized song lyric posters are really a fun idea for any music lover. The creators will take the lyrics from any song you choose and create a cool print designed to look like a vinyl record.
7. U-Turn Orbit Special turntable
We use a U-Turn Orbit Special in our home and couldn't be happier with it. If the vinyl lover in your life wants a record player upgrade, this is the way to go. U-Turn turntables come in a variety of different colors but we went with the walnut wood base for a classic look.
8. Flipbin Model 33 vinyl storage bin
The good folks at Flipbin found a convenient and stylish way to both store and display your records. We have both a Model 33 and a Model 45 put to work in our home and have no hesitation recommending one for any vinyl lover.
Bonus: The Beatles Christmas Record Box Set
Years and years ago members of the Beatles' fan club received a number of exclusive Beatles Christmas singles. These vinyls are being repressed for the first time and will drop right before Christmas on December 15th. You can pre-order them now.