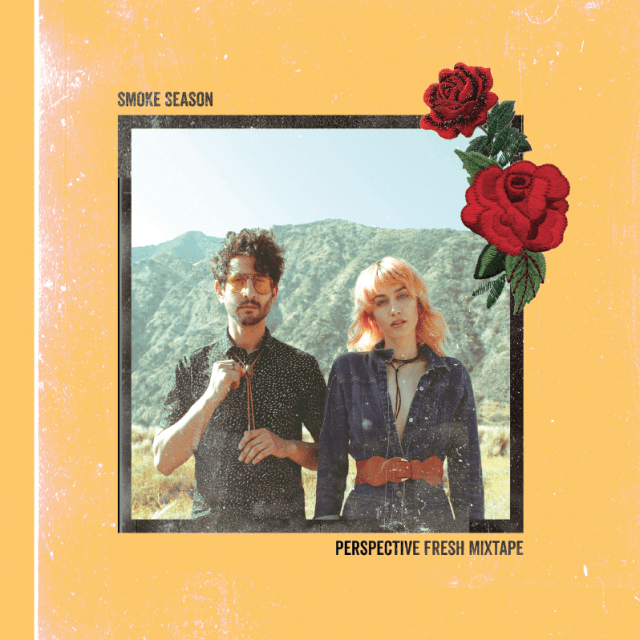 "Where all the good days have gone." You'll probably notice the lack of a question mark. That's because it's not a question posed by Gabrielle Wortman, who fronts LA-based duo Smoke Season, but a place: "Its time to go where all the good days have gone."
There are a lot of ways for a listener to read that message – particularly in a time of depressing headlines in the news – but I like to interpret it as a suggestion to live everyday as if it were one of the "good days." In other words, the good days are now if we allow ourselves to live that way.
Either way, the good days do seem to be right now, for Smoke Season (Wortman and musical co-conspirator Jason Rosen) who has been blowing up over the past year. Their live shows have been described as "insane," "energetic," and "explosive." Music publications far and wide have been raving over their singles including praise in The Line of Best Fit, Nylon, The New York Times, Clash Magazine and so on. And, judging by the more than 5 million plays their singles have seen on Spotify, they're music is connecting with fans too.
This month's 7" kicks off with their catchy, booming hit "Good Days." It's bright and clean with layered rhythms and hooks for days and days. If you like a little (or even a lot of) pop with your indie, you're going to love this. It's been one of our favorite jams of the year.
It's followed up with the slick and bubbly "Low" which features none other than Beastie Boys DJ Mix Master Mike on turntables. Wortman's vocals are bright, clean and agile as she croons, "and you built me up and you broke me back down." It all just clicks.
Meanwhile, the b-side kicks off with the hypnotic, trip hop-tinged groove "Wolves." It's a smooth jam with an infectious flow that, as always, hits for the rafters: think Florence & The Machine meets Ibeyi. It's a jam that manages to shift effortlessly between unexpectedly shifting rhythms and melodies while maintaining a logical coherence. In other words, it's a fun ride.
The collection closes out with the simmering electro r&b of "You." Wortman is breathy and smooth as she "you melt me like butter and crush me like boulders" amid visceral rhythms and soaring synth.
So, yeah, this is a pretty special collection and we're excited to put these tunes together on wax for the first time ever.
We've pressed 350 standard copies on red vinyl alongside a special edition of 175 copies on white and red a-side/b-side vinyl exclusively for gold club members. To get one you just have to subscribe to either the Pairings Box or our coffee and vinyl subscription service.