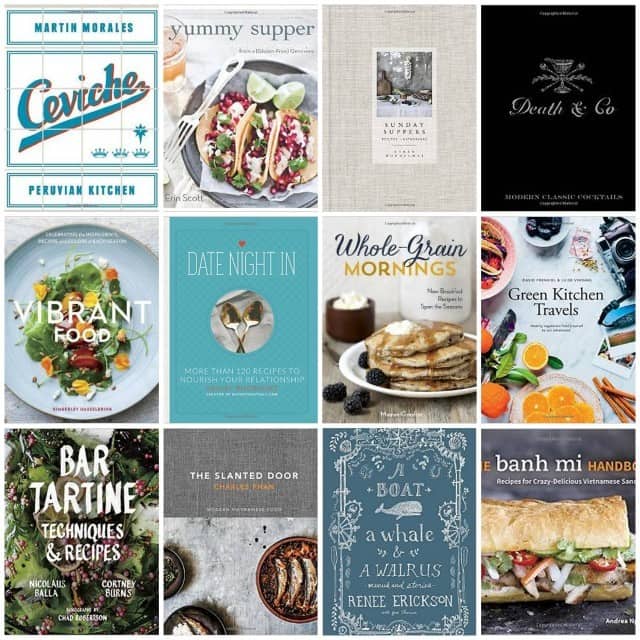 In no particular order, here are a few of my favorite cookbooks from the past year, as well as a few I'd love to add to my bookshelf.
1. Ceviche: a beautiful collection of Peruvian recipes, both traditional and modern. This book is the sort you'd want to have laying on your coffee table.
2. Yummy Supper: Blogger Erin Scott's book, like her blog, has quickly become a favorite around these parts. We've shared a few recipes from it here.
3. Sunday Suppers: The Brooklyn-based blog, cooking school, and studio came out with a cookbook just as lust-worthy as the photos on Karen's site (and Instagram). We recently made Apple Cider Cakes from its pages.
4. Death & Co.: A good (and thorough) cocktail book is a great addition to any cook's bookshelf. This one has our cocktail contributor's stamp of approval.
5. Vibrant Food: Blogger Kimberley Hasselbrink has made a name for herself in the Bay Area and beyond with beautiful and colorful twists on fruits and vegetables. Her cookbook is organized by seasons. Check out the Grilled Halloumi with Strawberries and Herbs from its pages.
6. Date Night In: Blogger (and Pairings Box guest contributor) Ashley Rodriquez's food is unfussy, real, and bursting with flavors and emotion. I pre-ordered her cookbook the second it went on Amazon and think it would make an excellent gift for a cooking couple.
7. Whole Grain Mornings: my friend Megan's breakfast book is my go-to on Saturday and Sunday mornings, and her recipes have been featured and loved here and here.
8. Green Kitchen Travels: I constantly draw inspiration from this couple's beautiful site, which aims to bring out bold flavors through healthy cooking techniques and ingredients. Their world travels with their young daughter inspired this book and I think it would make a lovely gift.
9. Bar Tartine Techniques & Recipes: an institution in San Francisco, Bar Tartine is known not only for its bread, but unique menu (and dreamy selection of pickles and preserves). This book is on my list.
10. The Slanted Door: Another restaurant with an enormous reputation, The Slanted Door, located in the Ferry Building in San Francisco, is an inspiring place to dine and since receiving this book, I've bookmarked numerous recipes. This one's for cooks who like to play in the kitchen.
11. A Boat, a Whale, and a Walrus: I have heard nothing but rave reviews about this book, from the co-owner of Seattle's The Walrus and the Carpenter. We celebrated our 5th wedding anniversary with dinner at this phenomenal restaurant and I can't wait to get my hands on this book.
12. The Banh Mi Handbook: Who doesn't love a banh mi? After making the Oven-Baked Chicken Katsu Banh Mi from the pages of this book, I can't wait to try more. Bundle this book with a jar of your favorite Vietnamese condiment.
More ideas:
The Forest Feast (for the vegetarian)
The Homemade Flour Cookbook (for the make-it-all-yourself cook)
Weelicious (for families with young children)
Best Lunchbox Ever (for families)
Heather Christo's Generous Table (for entertaining)
Absolutely Avocados (for your favorite avocado lover)
Joy the Baker: Homemade Decadence (for the baker)
Last year's cookbook lover's gift guide.