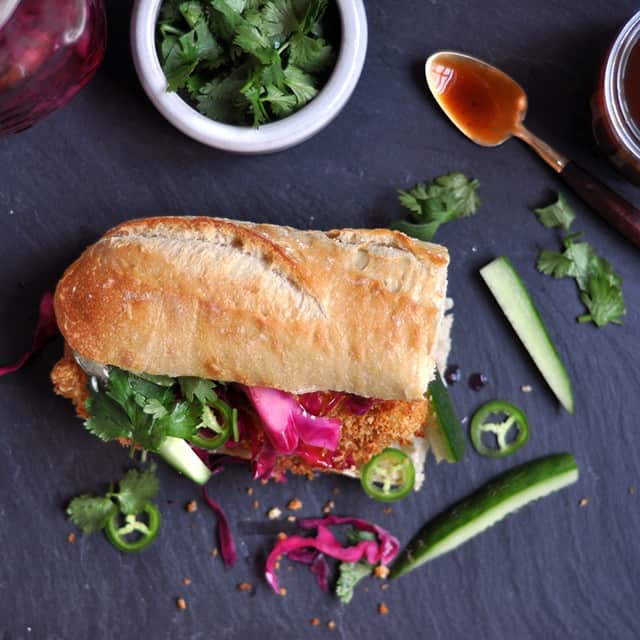 Matt and I had a raised voices sort of argument about this sandwich, of all things, last weekend. The kind where you wonder, fifteen minutes after you've both stopped yelling, why your face is hot and you're still feeling combative. About a sandwich. It was, looking back, the stupidest thing we may have ever argued over (aside from the time I threw out each and every one of his pens and pencils to make room for 'something' in our console table–I was on one of those 'let's throw everything away' cleaning streaks that hits me on Saturday mornings or Friday nights). The thing is, he warned me, that some of you would claim this is not a proper banh mi but just a sandwich. While I argued 'what the hell makes a banh mi a banh mi?!" (I'm no good at arguments). Matt is always looking out for me, and this occasion was no exception.
We never really called it truce, but I'm pretty sure we've put it behind us (especially after said sandwiches were devoured by a wildly enthusiastic audience). Turns out, a banh mi is defined by no more than the bread it is traditionally served on: a simple French baguette, typically, which was introduced to Vietnam during French rule in the 1940s.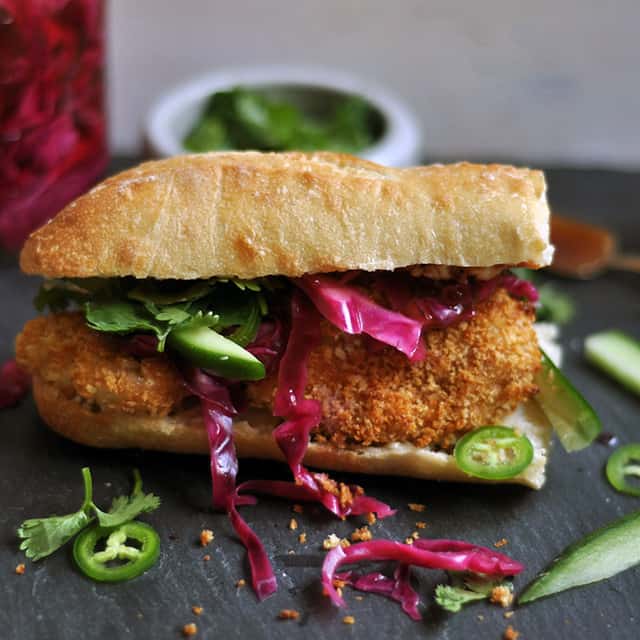 In America, the term banh mi refers to a very specific kind of Vietnamese sandwich: "an East-meets-West combination of cold cuts stuffed inside baguette with canned French butter or fresh mayonnaise, pickles, cucumber, cilantro, and chile." I've had my fair share of bahn mi; after all, I have the luxury of living in an area with a rich tradition of Asian cuisine. And yet, I'd never even considered making banh mi at home. Maybe it was the variety of condiments and pickles — there's an intimidation factor associated with building a sandwich vs. making a sandwich.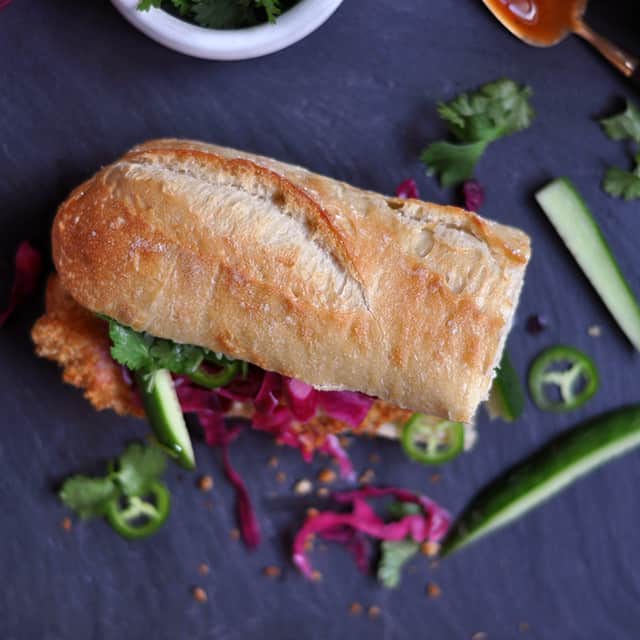 Author Angela Nguyen does a beautiful thing with her new cookbook, The Bahn Mi Handbook. She highlights the accessibility of all those fixin's. She plays with flavors and makes them fun, approachable. She arms the reader with all the elements, but gives us options: you can make your own banh mi bread, or purchase basic French bread. Make your own mayonnaise, or use store-bought. What I love most about the cookbook, though, is the out-of-the-box twists on what I've always associated with the term 'banh mi.' Go traditional, go veggie, go po'boy style. The possibilities in the book seem limitless.
This recipe, a healthy-er twist on fried Japanese chicken, really caught my eye. There are a few components that need to be prepped in advance (the pickle, specifically) but the sandwich itself is simple. A tower of cultures and flavors. And that's something I don't think anyone could argue with.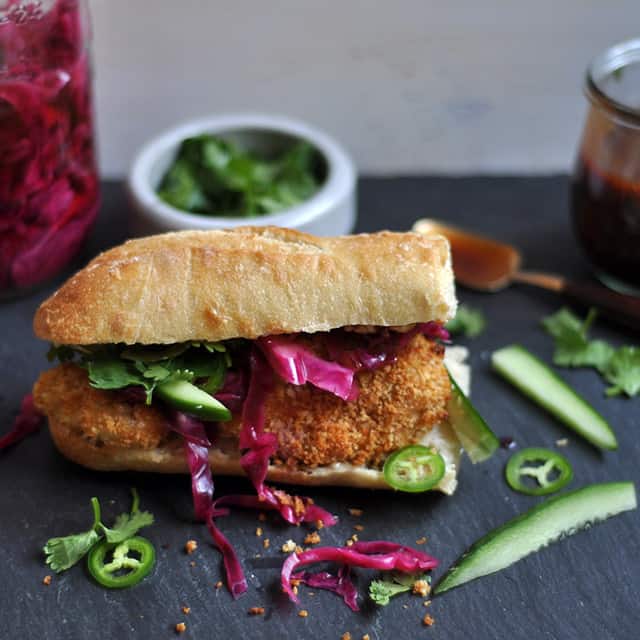 Oven-Fried Chicken Katsu Banh Mi
Adapted from The Banh Mi Handbook
*Makes 6 banh mi
2 cups of panko breadcrumbs
1 1/4 pounds of boneless, skinless chicken breasts
salt and freshly ground pepper
2 large eggs
1/4 cup of canola oil
all-purpose flour, for dredging the chicken
French bread or banh mi rolls
mayonnaise (store-bought or homemade)
Spicy Hoisin Sauce (recipe below)
Citrusy Red Cabbage Pickle (recipe below)
Thinly sliced jalapeño pepper
Cucumber slices or matchsticks
Cilantro
1. Preheat your oven to 475 degrees F and place a rack over a baking sheet.
2. Add the panko to a large skillet and heat it over medium-high heat. Toast the panko, stirring it frequently and lowering the heat if needed, until it is golden brown (about 4-6 minutes). Remove the skillet from the heat and let the panko cool.
3. Cut the chicken: first, remove the long breast tenderloins, then cut each breast cross-wise. Cut each breast half horizontally into 1/3 inch slices by holding your knife at a 20-30 degree angle and cutting 'on the base.' Angela claims this helps you achieve more tender results. Lightly pound out each slice using a meat tenderizer, then generously season the chicken with salt and pepper.
4. Add the eggs, oil, and 1/2 teaspoon of salt to a bowl and whisk to combine. Add about 1/2 cup of flour to a small bowl.
5. Dredge each slice of chicken in the flour, shaking off any excess, then dip in the egg and roll in the panko, gently pressing the breadcrumbs into the chicken.
6. Place the breaded chicken on the prepared baking sheet in a single layer and bake for about 8-10 minutes, or until fully cooked. Wait five minutes before transfering the chicken to a cutting board.
7. To arrange your sandwich: slice your bread in half, then spread a generous layer of mayonnaise on both cut sides of the bread. Follow with a thin layer of spicy hoisin sauce (add more later, to taste). Working from the bottom up, layer your fillings: chicken, pickle, cucumber, jalapeño slices, and cilantro.
Spicy Hoisin Sauce
6 tablespoons of Thai Sweet Chile Sauce
2 tablespoons of rice vinegar
2 tablespoons of regular soy sauce
1. Add all ingredients to a medium bowl, then whisk to combine. Add more vinegar, if needed, to taste.
Citrusy Red Cabbage Pickle
3 1/2 cups of packed, shredded red cabbage
1 1/4 teaspoons of kosher salt
1/4 cup of light brown sugar
2/3 cup of water
3/4 cup of distilled white vinegar
2 strips of lemon peel
1. Pack the cabbage into a large glass jar with a lid.
2. Next, add the salt, sugar, water, and vinegar to a saucepan and bring it to a boil. Stir, dissolving any solids, then remove from the heat.
3. Add the lemon strips to the cabbage then pour the brine over it, using a spoon to submerge it in the liquid.
4. Leave the jar, uncovered, on the counter until it cools. The cabbage will keep in the fridge for up to two months.