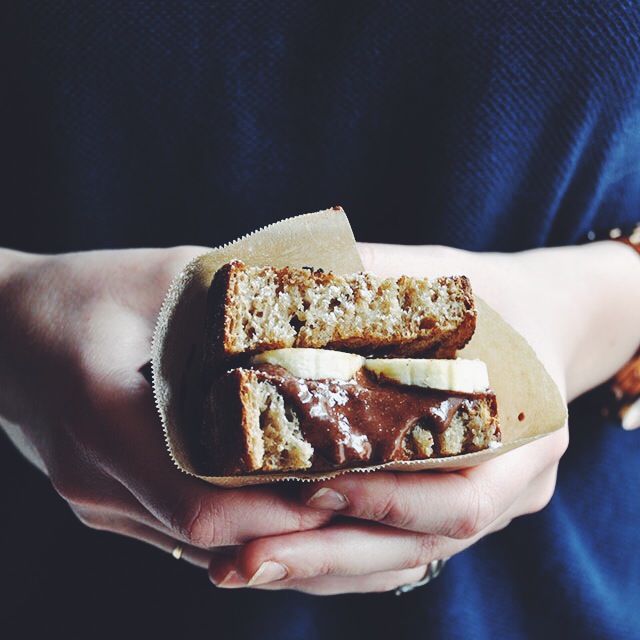 We all lie to ourselves on a daily basis. Whether it's a little or a lot, about the small stuff or the big stuff, these lies get us through our day-to-day. And if you don't believe it, you're lying to yourself.
You might not think of it as lying, your moral soul, you. You tell yourself you'll be in the office by 9 am even though a shower and a long commute await and the clock already reads 8:30. You might say to yourself: this muffin is healthy! Or argue that you absolutely need a new pair of jeans. And you might tell yourself you're ok, even when you are not.
My lies usually involve things I should do but know I won't do. I have good intentions, as most of us do. Where things get messy is when we end up making promises to ourselves that we just can't keep. We're no longer able to convince ourselves of our own little white lies, the ones that are healthy and normal.
After a recent frustrating day with my daughter, I realized for the first time that try as I might to mold her life around mine, for the next few years (at least), it's going to be more about her than about me. Said event was my first-ever trip to the Alameda Antiques Faire where Neko proceeded to fuss the entire time and after some stressed-out, uninspired browsing we got back in the car to go home. I always sort of knew this was how life with young kids was. No laid-back strolling. No middle of the day, spontaneous cocktails. No spur-of-the-moment decisions. One day is brilliant, magical. The next, forget about whatever plans you made.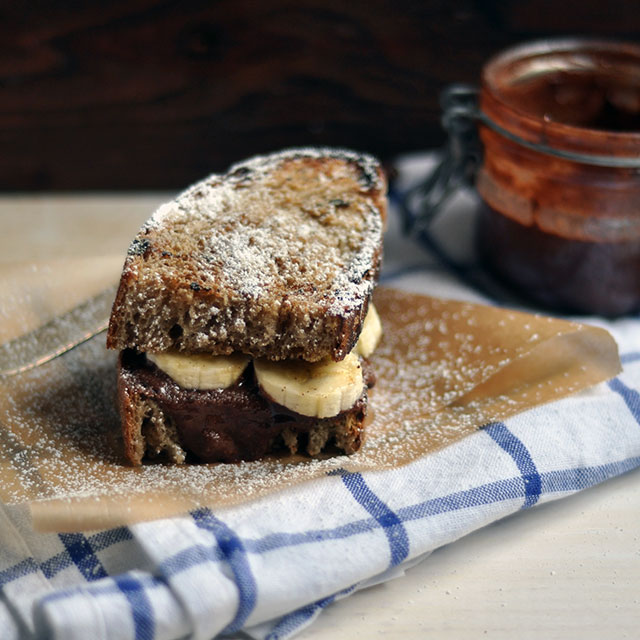 Maybe it's because I don't have any siblings, or I have some seriously cool mom friends who seem to be able to handle motherhood with much more finesse, but I had convinced myself that my life didn't have to change one bit.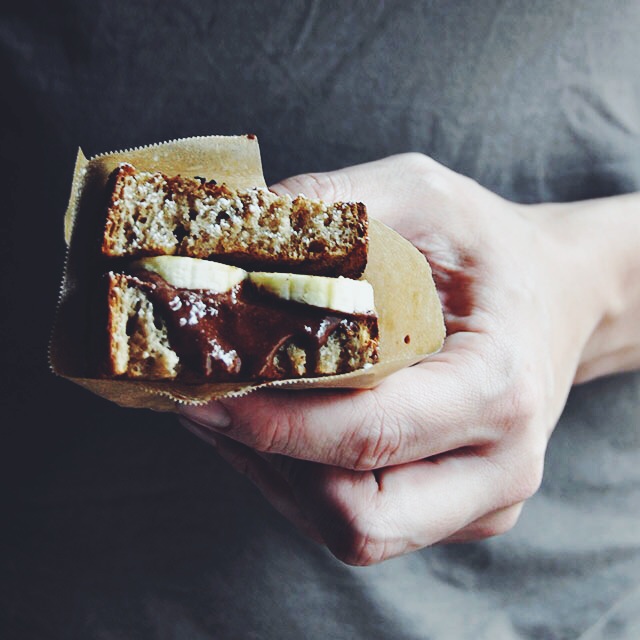 I've been telling myself little lies for months now. I can still be friends with every single friend I've had since junior high. I can still keep up with all the phone calls and emails. I can still post a new recipe here 3 times per week. I could totally be a mom full time, if I wanted to. I won't feel guilty, like those other moms do.
I was one of those women who, prior to having a child, wondered, how could you not have 10 minutes to call someone? How can you say you're 'busy' on maternity leave?
I swallowed a humble pill, and a lot of toast with (homemade) nutella.
Sky High Banana and Homemade Nutella Sandwich
*Homemade Nutella recipe adapted from Whole Grain Mornings
serves 1-2
2-4 slices of thick-cut country style bread (we love Josey Baker bread, made here in San Francisco)
plenty of butter
1 banana
homemade Nutella (recipe, below)
powdered sugar
For the homemade 'Nutella':
1 cup of hazelnuts, toasted + skinned
1/4 cup of dark cocoa powdered (not sweetened)
1/2 cup of powdered sugar
pinch of kosher salt
3/4 teaspoon of pure vanilla extract (or seeds scraped out from 1 vanilla bean)
2 tablespoons of canola oil
1. To make the homemade Nutella: add the hazelnuts to a food processor and blitz until the nuts make a smooth butter. This should take about 3 minutes. Scrape down the sides of the food processor bowl, as needed.
2. Add the cocoa powder, powdered sugar, vanilla extract or seeds, salt and oil. Process until creamy (about 1 minute). Store homemade Nutella in an airtight container in the refrigerator for up to six weeks (betcha it won't last that long).
3. To make the sandwich: melt 1-2 tablespoons of butter and generously grease both sides of each piece of toast. Heat a skillet or grill pan over medium-high and toast bread for a few minutes on each side until golden (or grill marks develop, if you're using a grill pan).
4. Cut the banana into 1- 2 inch thick slices. Generously spread homemade Nutella on one side of toast. Top with 4-6 banana slices (you want to cover the entire piece of bread with the spread and banana). Top with second piece of toast and dust with powdered sugar. Eat warm.
Musical Pairings: Musical Pairings: Wooden Shjips – Back To Land + Sky High Banana and Homemade Nutella Sandwich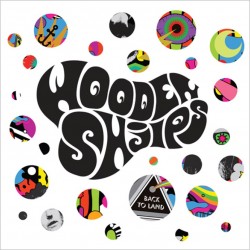 More on the Turntable.