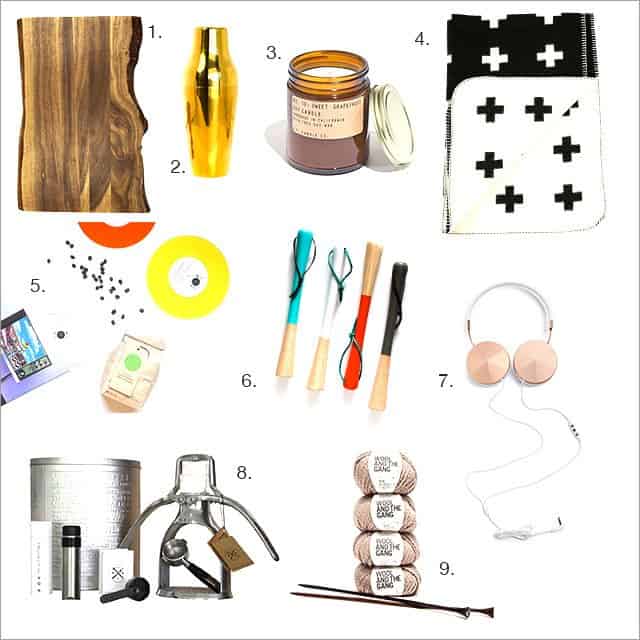 1. Architec Barewood Cutting Board I love the raw edge look of this cutting board, which looks expensive but is actually only $29 from Target!
2. Stainless Steel Cocktail Shaker Cocktail connoisseurs and newbies can both appreciate this stylish shaker, which comes in silver, gold, and copper.
3. Pommes Frites Teakwood and Tobacco Candle This is the second year in a row a Pommes Frites candle is on my gift guide, but I just can't quit the Teakwood and Tobacco scent. It's unisex and oh-so-sexy.
4. Pia Wallen Cross Throw Blanket More of a decorative piece than something you'd necessarily sleep under, this throw fits the aesthetic of a minimalist, modern home (and a friend who appreciates those sorts of things!).
5. Curated Coffee & Vinyl Pairing Our newest product mashes together our love of good coffee and music, making it original and something to please anyone on your list.
6. Colorblock muddler I love the fun design of this muddler, and appreciate the leather strap, so your favorite cocktail drinker can hang it from his or her bart cart.
7. Frends Layla Headphones If you're looking for a pair of headphones to make a fashion statement (for the subway-riding, open-office dwelling, or jet-setting gal), these are it. If you're looking for the very best headphones on the market, we've got recommendations for you, too.
8. ROK Presso Manual Espresso Maker I've had my eye on this stylish espresso maker for months now. For the girl or guy who's got every coffee gadget imaginable (hello: my husband), this would make a wonderful gift/ new toy.
9. Wilson Beanie Knit Kit It's winter after all. If you know someone who's crafty beyond the kitchen, why not get them a gift that puts them to work, and keeps on giving? A beanie feels like the right place to to start learning how to knit.
Want more gift ideas? They're on the way. In the meantime, here's our 2014 music lover's gift guide.
Have a safe and happy Thanksgiving, friends!