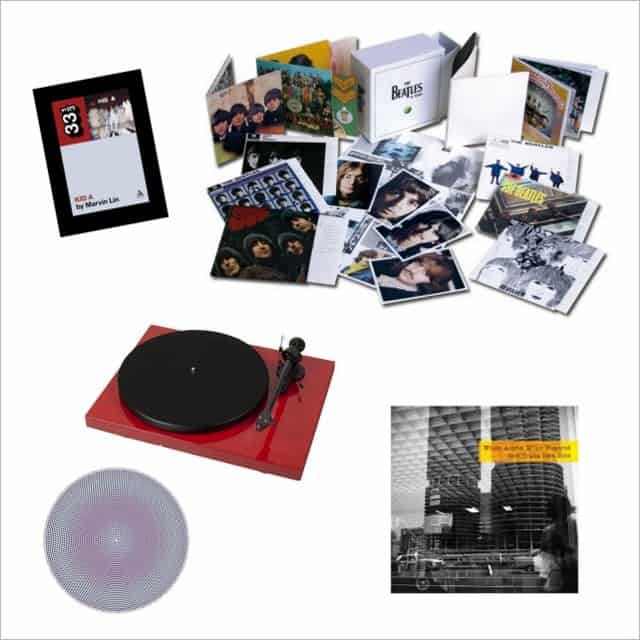 Looking for that perfect gift for the music lover in your life? We've got the goods. Below we've listed out some of our favorite gadgets, box sets, books and more:
01. The National – Slipmats + digital downloads ($30 for all three)
These slip mats are simply beautiful and – best of all – they each come with a digital download of one of The National's early records (Cherry Tree in particular is an often overlooked masterpiece in my book). You can nab them here.
02. The Beatles in Mono Boxset ($336.50)
The Beatles the way The Beatles were meant to be heard: in mono. Each of their mono albums were painstakingly remastered and lavishly packaged in this beautiful box set. I just received this recently and I'm happy to say it's worth every penny. It's one of the jewels of my collection. You can get them at about $60 off the regular price from Amazon.
03. 33 1/3 books (about $12 each):
The 33 1/3 series features some of the very best in writing about music. There are tons and tons of books in the series already – each focusing on a single album. You'll find everyone from J Dilla to Radiohead to Aretha Franklin covered. Several of these are on my wish list this year. Scan through the options here.
04. Curated Coffee and Music Pairings ($25.99 a month)
Yes, I know, this is our product, so I'm biased. Still, I'm a prototypical coffee and vinyl nerd and I can say with certainty I'd love to receive exclusive, limited-edition vinyl and artisan, hand-roasted coffee delivered together to my door month after month. Order here.
05. Pro-Ject Carbon Turntable ($399)
For as long as we've been reviewing audio gear, the Pro-Ject Carbon continues to be our top choice for an entry level audiophile turntable. It's sleek, it's sexy, it's high quality, and it excels at making your music sound awesome. Get one in your favorite color.
06. Audio Technica AT-LP60USB Turntable ($103)
Looking for a quality deck that won't break the bank? Audio Technica offers the perfect solution with the USB enabled AT-LP60USB turntable. It includes a built-in preamp and USB outputs that let you plug it directly into your turntable. Amazon offers it at nearly half off it's regular price.
07. A Subscription to the Pitchfork Review ($49.99)
Pitchfork's quarterly publication includes print versions of Pitchfork's best long-form music features, photography and so forth. It also commonly includes a 7" vinyl record. I'm a satisfied subscriber. You can subscribe here.
08. Sufjan Stevens – Silver & Gold 6xLP Christmas Collection ($129)
Sufjan Stevens tackles all of your favorite Christmas tunes (plus a few of his originals) with the help of his friends including The National, My Brightest Diamond, and more. We've already broke out our copy to help ring in the holidays in our home. From Amazon.
09. Vers 2Q Bluetooth Speaker ($154)
You have no idea how handy it is to own a great sounding bluetooth speaker until you own one. It's perfect for listening to your favorite music when traveling or chilling with friends at a picnic or in the park. It's the gift they didn't know they wanted. We use ours all the time. Get one here.
10. Pairings Box Gift Subscription ($25 a month)
The Pairings Box has been the perfect gift for your favorite music loving foodie. Every month they'll receive an exclusive, limited-edition vinyl record from one a hot new emerging artist; a collection of seasonally appropriate original recipes; a premium spice, herb, or other ingredient they can use to make the recipes; and a digital mixtape of the best new music. You can buy them here.
11. Sennheiser IE80 Earbuds ($349)
Kasey bought a pair of these for me as a gift and they are simply incredible. I personally prefer in-ear buds over regular headphones and these are the best I've heard yet. Get em here.
12. PSB M4U 1 Headphones ($249)
I've reviewed and tried out a LOT of headphones in my time, and these are easily some of the best over-ear headphones on the market. Beautiful bass response with clear sounding music reproduction. These are the headphones I use for reviewing albums and I highly recommend them. You can get a pair here.
13. Wooden Record Dividers by Kate Koeppel ($150)
Beautiful and stylish, these beautiful wooden record dividers are the perfect way to organize your growing vinyl collection. You can pick up a set here.
14. Wilco – Alpha Mike Foxtrot: Rare Tracks 1994 – 2014 
A collection of rare Wilco b-sides, live tracks, demos, and alternate versions. Do I really need to say more? It's probably worth it for the live and demo versions of "Passenger Side" alone. Find them here.
15. Keep In Touch 7″ playable postcard subscription service ($65)
Keep In Touch is a year long subscription service that delivers a 7″x7″ playable postcard to your door featuring artists such as Mutual Benefit, TOPS, Cloud Nothings, Ricky Eat Acid, Ava Luna, Sadie Dupuis of Speedy Ortiz, and way more. Sign up here.
16. Limited edition records from B3SCI Records.
I'm a big fan of B3SCI's entire catalog. They've released debuts and essential releases by artists including Jungle, Zella Day, AQUILO, OCEAÁN, and more. Pick up some wax from them here.
17. Underworld – Dubnobasswithmyheadman (Deluxe remastered reissue)($43)
This is easily one of the greatest albums from the mid '90s having inspired countless other artists (including Radiohead who claimed to have found inspiration for Kid A from an Underworld performance). After Dubnobasswithmyheadman, dance music was arguably never the same again. Definitely a great addition to any collection. Pick up a copy here.
18. Limited edition colored-vinyl reissues from Newbury Comics
Boston's Newbury Comics has been slowly building an incredible selection of exclusive colored-vinyl reissues including records from The Black Keys, Bon Iver, Belle & Sebastian, Jeff Buckley, Foxygen, Al Green, T. Rex, A Tribe Called Quest, and way more. Take a look at their current offerings here and grab some before they sell out.