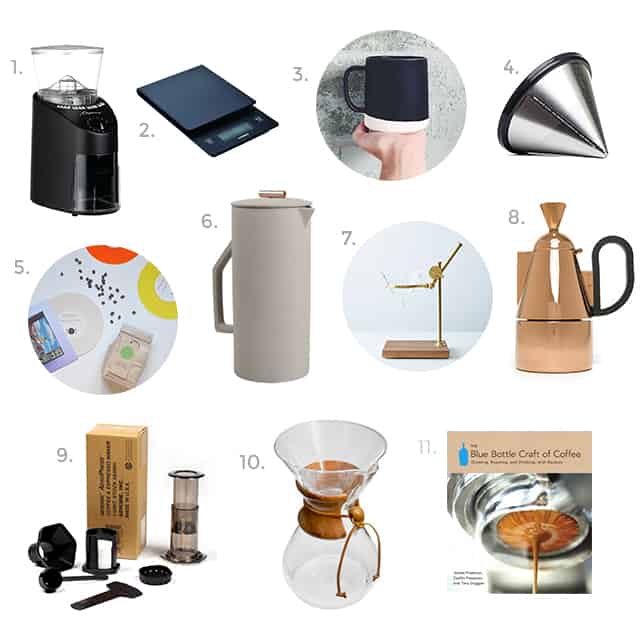 This is the gift guide for your favorite coffee lover. The one who seeks out the best cup of coffee in every city he/she visits. The one who has a million little gadgets to ensure that every cup is smooth and strong. The one who knows the difference between light and dark roasts.
1. Burr grinder: Up your coffee game! A clean, consistent grind is essential to brewing the perfect cup of joe. We're huge fans of this grinder's ability to do just that.
2. Hario Coffee Drip Scale and Timer: Making a perfect cup of coffee is science. This scale will let you accurately measure every aspect of your brewing process.
3. Coffee Mug from Paper & Clay: Everyone needs their signature mug and we love the shape, design, and colors of these mugs made by hand in Memphis (image from Paper & Clay's Instagram account).
4. Able Brewing Kone Coffee Filter: A reusable stainless steel coffee filter for your Chemex. Turntable Kitchen tested and approved (we use one every morning in our home).
5. Curated Coffee & Vinyl Pairing: An exclusive, limited edition 7″ vinyl from Turntable Kitchen paired with 12 ounces of delicious artisan-brewed coffee from Sightglass in San Francisco.
6. Ceramic French Press: This one demands to be displayed on your table. Breakfast in bed, anyone?
7. Brass & Walnut Pour Over Coffee Stand: For the coffee lover who wants to show off his or her coffee equipment, this beauty is made of brass and walnut.
8. Brew Stove Top Coffee Maker: This copper finish stovetop coffee maker is yet another beautiful yet functional gift.
9. Aeropress: One of the easiest and tastiest ways to brew artisan coffee at home.
10. Chemex: Our go-to carafe for brewing our morning coffee (see How to Make Pour Over Coffee: With a Chemex).
11. The Blue Bottle Craft of Coffee: A great book for your bookshelf or coffee table.