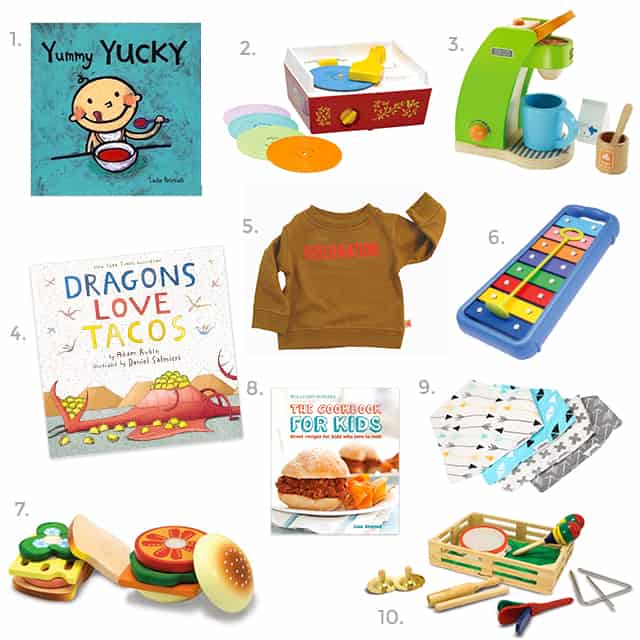 I love the holidays but I've finally realized that they're the most fun when either you're a kid or you have a kid. Neko is finally at the age where she gets ridiculously excited about new toys, games, clothes, and books and buying her stuff isn't just about me anymore (let's face it, all those adorable onesies and rattles we get for our babies are really just for us). This year, I've decided to put together a short list of items I think would be fun to gift a child. Most of the items skew towards the toddler age which (in my opinion) is one of the most fun ages to give gifts.
1. Yummy Yucky: We discovered this book in our pediatrician's office (we have the Potty board book at home by the same author). It's a cute guide for what should and shouldn't go in your mouth (meatballs = yummy, crayons = yucky).
2. Fisher Price Classic Record Player: No joke, when Neko turned two we received not one but three of these as birthday gifts for her. It shouldn't be a surprise since Daddy is a record fanatic and his little girl is quickly taking after him. She's since learned to play her records (which include Twinkle, Twinkle Little Star) on her own.
3. Hape – Playfully Delicious – Coffee Maker Play Set: We're coffee people and while our kid isn't allowed to drink coffee, we're happy to let her pretend to serve us our morning Joe. Whenever we're brewing ours, we ask her to brew us a cup and add sugar and milk and she loves it.
4. Dragons Love Tacos: This was a gift from Grandma that's become a household favorite and whenever we read it, Neko especially loves to tell the story of how she once ate a jalapeño pepper. Let's just say, it was 'crazy.' Dragons are her favorite…we're still working on the tacos.
5. Hibernation Sweatshirt: My friend Maia recently opened up a curated online kids shop called Bitte filled with sustainably-made children's items and this sweatshirt is on my holiday wishlist. I only wish they made one in my size, too.
6. Hohner Kids HMX3008B Toddler Glockenspiel: This was one of Neko's early musical instruments and it remains one that comes out often, particularly when we're trying to play records 🙂
7. Melissa & Doug Wooden Sandwich-Making Set: We love Melissa and Doug toys — they promote curiosity and play, and I appreciate that they're made of wood and not plastic. Anytime you can put a kid to 'work' is a good time for all.
8. The Cookbook for Kids (Williams-Sonoma): Great Recipes for Kids Who Love to Cook: For older kids who can do more in the kitchen that just make a mess. We're looking forward to cooking with all of our kids.
9. Matimati Baby Bandana Drool Bibs: A fashion statement and a functional item in one? Scarf bibs are our go-to whenever we're out and about — they're particularly good for teething babies who tend to otherwise drool all over their onesies.
10. Melissa & Doug Band in a Box: Another favorite from Melissa & Doug, this one is for the kid who wants to pretend that he/she is a rockstar.