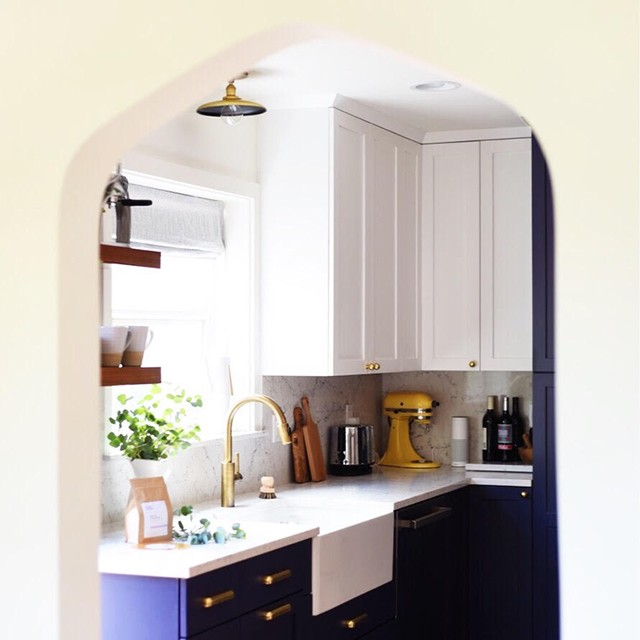 Nearly two years ago, we shared our list of 28 kitchen essentials for the home cook. Fast forward to this fall, we had a new kitchen, with a lot more room and storage space, and a fresh slate (Clean drawers! Empty cupboards!).
Giving our kitchen a new life made me go back to my list of essentials, and think about how I would narrow it down to the kitchen tools we truly can't live without.
Coffee Grinder
If you know us, you know we can't start our day without coffee. Of course, we even have a Coffee & Vinyl Pairings subscription! We only buy our coffee beans whole (this keeps them fresh and allows you to get the most flavor out of your cup of coffee). This coffee grinder has been a staple in our house and we use it to grind coffee for the Chemex, Aeropress, and for a perfect cup of espresso. I know, I'm sneaking in all our coffee gadgets 😉
Read about our favorite methods to make coffee:
KitchenAid stand mixer
We got our yellow KitchenAid stand mixer as a wedding gift from the company I was working for. I am eternally grateful to my friend Lindsay, who spearheaded the selection of the gift, as this is one my most beloved and most-used kitchen tools. I rely on it for all of my baking (including whipping up pasta and pizza dough) and making perfect homemade whipped cream.
NutriBullet
I know that some of you reading may be devoted to the Vitamix, but the NutriBullet is cheaper, takes up way less room, and is super easy to clean. It's powerful enough to blitz nuts, ice, and dates into perfect smoothies, and is a go-to for salad dressings. I love it for its convenience, flexibility, affordability, and small size.
Spice Grinder
A spice grinder might sound like an usual choice, but hear me out. It's a relatively affordable and space-conscious little workhorse. Spices can lose their potency over time, but buying them whole and throwing them in the spice grinder can bring out their flavors. You can grind whole peppercorns, sugar, and even turn stuff like star anise into a powder. You can also use it to mill down nuts and oats to make flour, adding a nutritious boost to baked goods.
Whisk (x2)
One whisk is a must. Two whisks is a nice to have. A whisk is one of our most-used kitchen tools: for mixing pancake batter, making a simple salad dressing or marinade, and whisking up perfectly soft scrambled eggs (among other things). You don't need a fancy one, but you might be glad to have two, especially if you're making a multi-step recipe that requires whisking wet and dried ingredients separately.
Wooden Spoons
We have a collection of wooden spoons and somehow, it still never feels like enough. I use them for virtually all stirring and tasting, and boy do the heirloom ones look beautiful on display. They range in price, but I recommend having a few super utilitarian ones that you're not afraid of damaging, and a couple that are reserved for display and more special occasions.
Wine Opener
Most nights, you'll find us having a glass of wine (or a beer) so a wine opener was a non-negotiable for this list. We've had a range of wine openers over the years, but the minimalist in me has gone back to the simplest one. The caveat here is that we've actually started buying a lot more twist-top wine bottles. I'm hoping we get to a point where the wine opener becomes irrelevant. Until then, wine opener!
Cast Iron Skillet
A cast iron skillet will last generations (just ask your grandmother) and it's the secret to the yummiest pancakes, crispiest potatoes, the best Dutch babies, and most delicious fried eggs. If you don't already have one, do yourself a favor and get one ASAP. It might just be the best $20 you've ever spent.
Two everyday skillets
I was recently reading this interview with a professional organizer in Lonny who suggested that we might be wasting money by buying entire sets of pots and pans because, inevitably, we end up finding just a few we like. I found myself in this predicament (and the owner of a ridiculous collection of lids that take up so much space, but never get used). I've realized I really only need two great skillets. One twelve inch and one nine inch. I really like these affordable non-toxic non-stick ones from Green Pan, but when I'm feeling fancy, I break out the beautiful Mauviel ones.
Microplane
Whenever I find that the microplane is in the dishwasher, I start to freak out. I reach for it for nearly every meal. A microplane lets you get that perfect dusting of Parmesan cheese over your pasta, but it's also a go-to for zesting citrus, grating spices like nutmeg, and roots, like horseradish and fresh ginger.
Cheese grater
Quite honestly, the microplane has become more used in our house than the cheese grater with ONE MAJOR caveat. When you want thick, luxurious, cheese gratings, you need a cheese grater. A cheese grater is key to the best grilled cheese, and the most satisfying topping for chili and nachos. This one is my favorite.
Measuring cups
A measuring cup is one of the first things I reach for when I'm cooking. Unless you've got a really good eye (or don't bake a lot), you'll probably need to measure out ingredients. I have two sets: one metal and one plastic. One thing I've noticed is that the slanted scoops work better if you store a lot of ingredients in glass jars. Another great option is an angled measuring cup.
Chef's knife
Ok, if I had to live with just one knife, it would be this one. I do love my pairing knife, but anything you can do with a pairing knife, you can also do with a chef knife, and so much more. Lately, I've been really loving the Misen knife (they also make a pairing knife!)
Lastly, while they're not kitchen "tools," per se, I have to say that there are two cookbooks I've found myself reaching for over and over again these last few months. They both rely on a minimalist approach, which I think aligns well with this restrained list. They are Dining In by Alison Roman and Small Victories by Julia Turshen. I included them in my 2017 and 2016 cookbook gift guides, respectively.
I'd love to hear: what are your must-have kitchen tools?