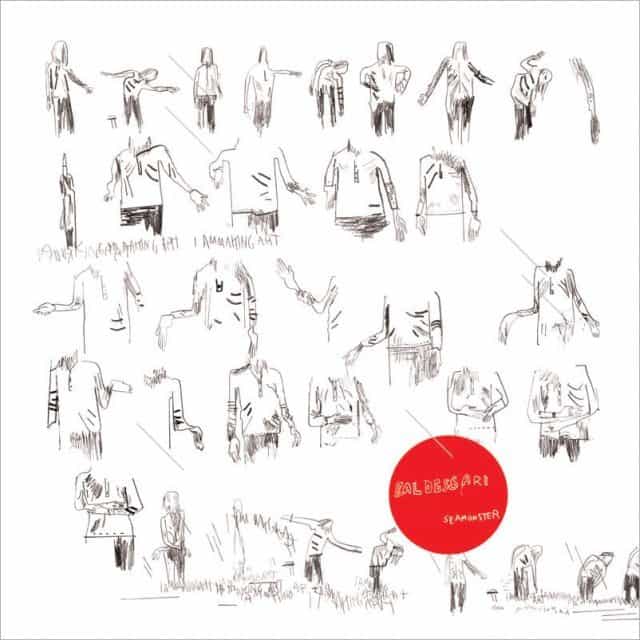 If you've been with us for awhile, you'll remember Virginia Beach artist/musician Adrian Todd Webb who records under the moniker Seamonster. Back in early 2010 he released his Two Birds EP which was as enchanting as it was concise (it was released on limited-edition 7″ format). A little over two years later he's lovingly stitched together a new full-length of fuzz-toothed and computer-transmuted folk titled Baldessari.
Since Webb is as well known for his work as an artist as he is for his music, it should probably be no surprise that Baldessari was not inspired as much by other musicians so much as it was by other visual artists. Indeed, like many well known fine artists, Webb's proven to be a conceptual songwriter who enjoys working forward from a concept instead of writing songs for their own sake. For example, this latest LP is named after conceptual artist John Baldessari whose "creative appropriation of discarded materials to make new and interesting art" is cited as specific inspiration for Webb's creative process here (Webb used a toy Casio keyboard, a thrift-store appropriated Yamaha PortaSound, a used Ipod that he bought from a friend for $50, etc.).
Not only that, each of the songs on the album are either titled after, or specifically reference, artists or paintings by Paul Gauguin, Pierre Bonnard, Arthur Dove, Raoul Dufy, Vincent van Gogh, Henri Matisse, Georgia O'Keeffe, Franz Kline, or Howard Finster. In fact, Keefe and van Gogh are referenced twice. Webb further built upon the concept through a freeware program called AudioPaint which he used "to convert the images of paintings referenced throughout the record into sounds that were then incorporated into the songs to make something new and different out of the old and familiar." Further, lyrics from the track "Georgia 1931" borrow from a letter Georgia O'Keefe wrote to art critic Henry McBride in 1931.
Musically, Webb balances elements of traditional songwriting against his conceptual musical explorations. For example, there are clear sonic road signs pointing to his Elephant 6-inspired background (especially Neutral Milk Hotel and early Apples In Stereo). Throughout, lo-fi psych gives way to fully textured compositions and delicately threaded instrumentation. "Vincents Chair" opens with deep humming synths accompanied by swirling chirp-like tones before crashing into a cacophony of shattered computer bleeps and bloops before smoothing out to seamlessly return to the original melody.
Likewise, the album's first single "Normandy Landscape" unfolds smoothly with lightly layered harmonies opening into sparse synth-set melody built along a flinty, skipping rhythm as Webb sings: "The Normandy Landscape is the color of your eyes . . . I'm lost in your eyes." Much of Baldessari unfurls upon repeated listens, slowly revealing nuance and layered, thoughtful arrangements. Yet "Normandy Landscape" is the most immediate and catchy tune on the album. For that reason alone, it's a great entry point for people unfamiliar with Seamonster's prior releases.
Baldessari is a crisp and beautiful balance of unique textures perfectly soundtracking both late summer and early fall. For these reasons, it pairs well with Kasey's Watermelon, Ricotta Salata and Sumac Salad. Together they will help you make the most of the final days of summer.
Seamonster – Normandy Landscape
Preorder Baldessari from Gold Robot (I already have). It's limited to 250 copies on yellow vinyl so get it fast. Then head to the Kitchen to read Kasey's recipe for Watermelon, Ricotta Salata and Sumac Salad.