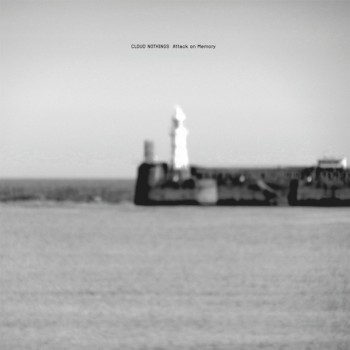 I won't lie. I didn't really see this one coming. Cloud Nothings' Attack on Memory is the first great record of 2012. Cloud Nothings, if you aren't familiar, is the project of Cleveland, Ohio rocker Dylan Bald. I enjoyed Baldi's lo-fi, self-titled debut record from last year, but I didn't love it. I's also liked many of the demos and singles he'd released (I even used them on a few of the monthly mixtapes) but, again, they didn't really leave me salivating for his next release. On Attack on Memory, Baldi puts away the lo-fi canvas he'd use for his prior releases and teamed up with none other than Steve Albini for his follow up. In recent interviews, Baldi stated that the new album was influenced by albums by Kill Dozer, Bitch Magnet, Thin Lizzy, The Wipers, Zounds and Swell Map. If that list doesn't provide any familiar touchstones for you, I'll add that those same bands influenced many of your favorite hard-rocking and grunge-tainted bands from the 90's.
And you'll hear that kinship to the hard-rocking bands of the 90's alternative scene almost immediately. Album opener "No Future/No Past" unfurls with a deliberate and menacing coolness. Baldi's sneering vocals are up front and centered in the mix as he slowly intones the lyrics while the track builds pace. By the end, his voice is scratched and full of discontent as he repeatedly growls: "no future / no past."  It's followed by the bombastic, growling "Wasted Days," a stunning, nearly nine minute long rocker. Instrumentally, the track is grandly ambitious including a grungy bass riff, tight percussion and meandering guitar riffs, but the track finds its true power in Baldi's vocals and straight-forwards lyrics, especially when he snarls: "I thought / I would / be more / than this." By the end, Baldi is shredding his vocals in a way they'll never recover from. It's more than enough slacker angst to fill your cup until it runneth over. Meanwhile, "Fall In" alternates between a sturdy, almost Green Day-esque power pop chorus before ripping into a dangerously unsteady, punk-inspired verse.
"Stay Useless" is the album's first single, and also represents the album's most concise and hook-laden slice of power-pop. It's simply oozing with rubbery, reverberating guitar riffs and crashing percussion. "Separation" is a explosive, sharply vibrant instrumental featuring angular guitars and shatter-shot percussion. "No Sentiment" bounces across a sludgy, slow bass groove and a razor-sharp guitar freak out.
The bottom line is that the album is just damn good.
MP3: Cloud Nothings – Stay Useless
Wasted Days by Carpark Records
Visit Insound to pre-order this on vinyl and receive an exclusive Cloud Nothings poster with your order.