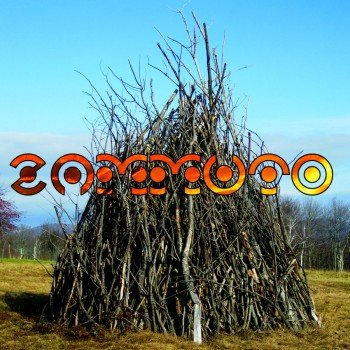 After the members of the New York City-based duo The Books disbanded last summer, co-founder Nick Zammuto had to ponder whether or not he wanted to continue his career as a musician. At the urging of his wife and close friends, he decided it was time to start penning new material for a different project, this time under his own name. Solo songwriting wasn't a new endeavor for Zammuto, but whereas that earlier material had been more ambient and glitchy, the new material would explore fresh territory for the songwriter. Indeed, given an opportunity for a musical rebirth, he wanted to write music to be performed by a four piece band. Unsurprisingly, there is a clear kinship between the self-titled Zammuto LP and the folk-tinged, electronica-inspired sound collages of The Books. Nonetheless, it would have been hard to imagine Zammuto recording this broader and more expansive new material as a part of The Books.
On his eponymous debut, Zammuto takes the immersive, folksy electronica he'd developed as part of The Books a few steps further by blending in elements of jazz, funk and more. The ebullient opening jam "Yay" breaks loose with a stuttering vocal stream that is hashed out along skittering, thoughtfully metered percussion. Meanwhile, "Groan Men, Don't Cry" blends coldly vocoded-vocals with funky-electronica riffs, pulsating percussion, and undulating organ tones. Similarly, the swaying and sparse "Idiom Wind" sparkles with clinking layers of threaded percussion. It's textured and rich. To the extent that a pattern emerges, it is that throughout the whole of the album, Zammuto's songwriting relies on thoughtful arrangements built upon deconstructed elements of jazz, funk, pop, folk and electronica. The result is an intelligent album of headphones music filled with warmth and soul. Zammuto sounds both relieved and exhilarated by his newfound direction.
Zammuto (the band) is a traditional four-piece rock band set up with a guitarist, bassist, drummer and "multi instrumentalist." Sure, it doesn't sound all that interesting, but their originality isn't predicated upon their component ingredients, but instead upon the compositions Zammuto has crafted. As a result, the recipe pairs well with Kasey's Avocado Toast with Poached Egg. All of the ingredients in the recipe are pretty standard. Toast. Avocado. Poached Egg. But as an open-faced sandwich, it's unique and delicious primarily because of the way the ingredients are put together. Like the album, it succeeds because it relies on excellent ingredients thoughtfully combined.
Zammuto – The Shape of Things To Come
Zammuto – Too Late To Topologize
Head back to the Kitchen to read Kasey's recipe for Avocado Toast with Poached Egg. Then head to Zammuto's site to order a hand-printed copy of the album on limited edition vinyl (500 copies) before they are gone.