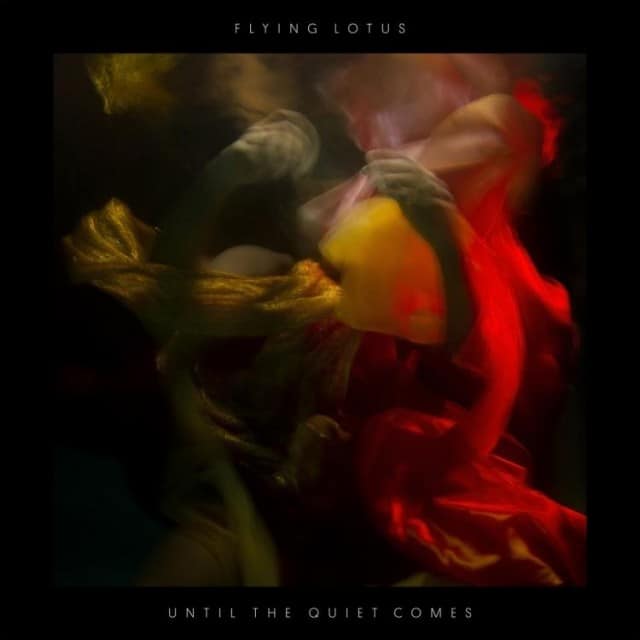 Flying Lotus' music is anything but subtle and easy. Indeed, his albums consistently challenge the listener with complex melodies, viscerally textured sonics, and highly syncopated rhythms. In that regard, his latest effort, Until The Quiet Comes, stays the course. It's Los Angeles' Flying Lotus' fourth, and most thoughtful, album to date. Previously, I described his album Los Angeles as a "highly textured . . . sonic delight." The same could have been said for his third LP Cosmogramma. Again, in that regard, Until The Quiet Comes stays the course set by its predecessors. However, unlike his previous albums, Until The Quiet Comes is less tightly woven and built-up than FlyLo's prior releases.
Indeed, in interviews FlyLo explained that he wanted to experiment with songwriting techniques like "tension and release" within the context of an album themed around dream-like innocence and an exploration of the human subconscious. For his palette, he unambiguously pulls inspiration from African percussion, the mystical elements of psychedelica, the grooves of downtempo EDM and trip hop, and the overall vibe and thoughtfulness of avant-garde jazz. On "Heave(n)" for example, there is a sparkling mysticism spun around a frame of skittering tribal rhythms. Meanwhile, much of the tones comprising "Tiny Tortures" are viscerally organic despite an overall unearthliness to the tune's atmosphere.
At times, FlyLo risks delving too deep into the atmospheric and esoteric qualities of his textural explorations thereby losing the attention of all but his most attentive listeners. However, just when he starts to veer into that danger zone, he pulls the listener back with an engaging and upbeat tempo. For example, he spills out the low end across a sparse and shimmering 8-bit melody on the entrancing "Sultan's Request." He follows that with "Putty Boy Strut" which is the album's most playful and swinging groove. And once he's nabbed your attention, he holds tight following it up with the swirling Erykah Badu sporting tune "See Thru to U."
Shortly thereafter, though, he gradually loosen's the grip with more cosmic and spacey dubs before sharply tugging the cords for another round of relatively high energy grooves. "The Nightcaller" features a shimmering, vintage groove and a upbeat sonic skank. Shortly thereafter he deftly discharges ghostly Thom Yorke vocals atop the narcotic and gritty "Electric Candyman." As a result of this catch and release like sonic signature, Until The Quiet Comes feels more plaintive and considerate than his prior albums. Although, it isn't necessarily "better" than his prior albums, it's most certainly yet another unique and engaging vision from the highly talented producer.
In the Kitchen, Kasey is featuring a delicious recipe for Miso-Marinated Beef and Charred Shishito Pepper Skewers adapted from Aida Mollenkamp's Keys to the Kitchen. The recipe is a smooth amalgamation of complex flavors stripped down to a basic, but deeply flavorful recipe. In that regard, Until The Quiet Comes is well paired with this recipe. Go take a look at that recipe.
I bought the limited-edition deluxe version of Until The Quiet Comes. I anticipate that this album, which is already critically well-received, will continue to gain a following over time and the value of this deluxe edition will rise in value over time. If you're a collector, you'll want to pick up a copy from Insound (and use promo code PUMPKIN2012 for 10% off). Then head to the Kitchen to read the recipe Kasey is featuring for Miso-Marinated Beef and Charred Shishito Pepper Skewers adapted from Aida Mollenkamp's Keys to the Kitchen.