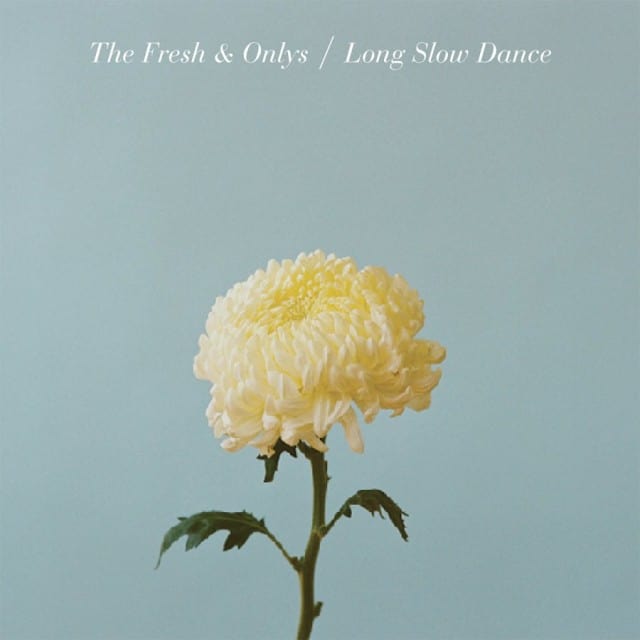 San Francisco's The Fresh & Onlys have been on an exceptionally solid run since officially forming in 2008. What began in its earliest days as a side-project for frontman/vocalist Tim Cohen and guitarist Shayde Sartin has evolved into an impressive band of its own merit. Indeed, they've released four catchy and ever-so-slightly off-beat albums in as many years. Long Slow Dance, which was recorded at Lucky Cat Studios late last year, is their latest and best to date. Not only that, it's arguably one of the year's best albums over all.
Long Slow Dance is built upon a foundation of catchy hooks and acoustic guitar-led rhythms imbued with psychedelic grooves and hints of darkly-lit romance. The album opens with the melodically upbeat and glossy "20 Days and 20 Nights." It's an acoustic slow-roller drenched in sugary layers of reverb with downcast melancholy lyrics balanced against the tune's bouncing rhythm.
The album's title track "Long Slow Dance" features the band at it's most heart-achingly romantic. It's a tambourine-spined, black-and-wine love song with a smooth hook as Cohen sings with his most debonaire croon: "Cos true love will drag you out into the road, and set fire to your soul. It's one long so-called slow dance forever…" It's a tune full of passion and excitement.
Indeed, Cohen and Co. have stitched their-brand of John Hughes-inspired romance into every available nook of Long Slow Dance. As that implies, despite feel good, crowd-pleasing tunes, it's often tinged with melancholy and heart break. For example, both "Presence of Mind" and "Dream Girls" are jangly grooves with Cure-esque flourishes. On the latter, which features a beautifully lush vocal hook, Cohen sings atop bright harmonies, his voice dripping with woe: "Dream girls, and the dreams they ruin. Sing a little tune and they break your heart. You can have anything in the world, but you'll never hang on to a dream girl."
But things aren't always so morose in Cohen's world. For example, "Fire Alarm" is flushed with an upbeat new wave slink and Cars-like rhythm guitar and synths. Indeed, Ocasek and his boys couldn't have done it better themselves. On it, Cohen is driven to acts of heroism to save the girl he loves: "Tonight I'm gonna dance for the firing squad. Pumping my getaway sticks so hard, to make it to your bed and fall into your arms."
Long Slow Dance is so melodically upbeat, so catchy, and so sweet it makes a perfect musical pairing for Kasey's Chocolate, Cardamom and Vanilla Bean Ice Cream Sandwich. I'm sure you can tell from the name alone how awesome that recipe is. It's supreme. If you don't believe me, just take a look at the pictures. They don't lie. And I might add that today is Kasey and I's three-year anniversary. Despite Cohen's suggestions, I have been able to hang on to my dream girl. But, he was right, true love will set fire to your soul. It turns out that's a good thing.
The Fresh & Onlys – Presence of Mind
Buy Long Slow Dance on Insound (they're throwing in a bonus 7″ while supplies last). Then head to the Kitchen to read Kasey's Chocolate, Cardamom and Vanilla Bean Ice Cream Sandwich.