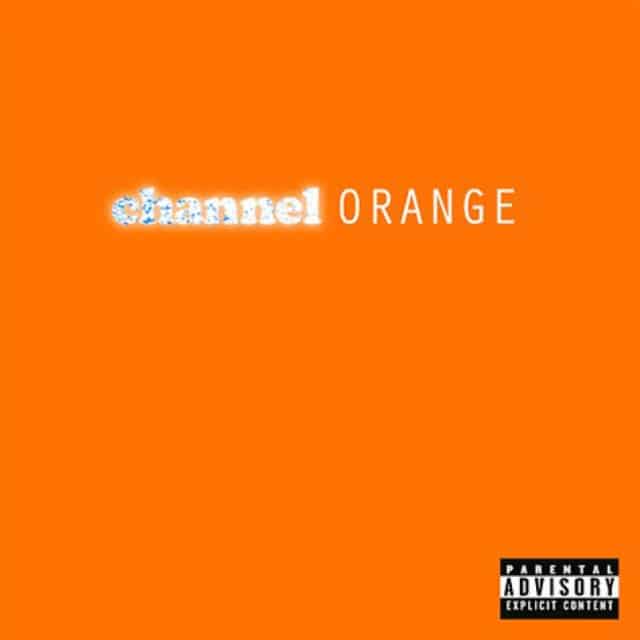 If you're a regular spectator in the r&b / hip hop music scenes then you already know that Frank Ocean is one of the hottest up and coming songwriters in music. Seriously, the dude writes r&b jams with the slick hotness. Technically the recently released channel ORANGE constitutes Ocean's debut album, though it was predated by his phenomenal free mixtape nostalgia, ULTRA which sent most critics aflutter (I was certainly not immune). In fact, that debut mixtape was so incredibly good, it set incredibly high expectations for his "official" debut album.
Does channel ORANGE live up to those expectations? For the most part, the answer is yes. For me, "We All Try" (from that debut mixtape) was the track that made me realize that Ocean was something special. He'd already established his falsetto, but there are many talented vocalists in the world. He'd already established himself as a solid songwriter, but – again – there are many talented songwriters in the world. What made Ocean really special was his ability to combine those talents into a song that addressed significant social issues in a way that felt natural and conversational. In the first thirty-two seconds of that tune alone he addresses religion, war, abortion, and gay marriage in a way that never sounds forced.
Ocean didn't waste much time delving into social issues again on his debut. In fact, in the liner notes of the album (which were posted to his Tumblr page before the album was released) Ocean reveals that his first love was a man. Though the move has been cynically derided as a publicity stunt, there is no evidence to suggest this. For me though, even if it was, that is besides the point. If we are willing to accept the truth of Ocean's revelation, then it was a courageous move regardless of the motive. And even if you for some reason believed it wasn't true (again, to which there is no evidence), it was still a pretty ballsy gamble in the context of the current hip-hop and r&b landscape. In the context of the album, the revelation potentially sheds light on what might otherwise appear to be innocuous tracks with absent or flipped gender pronouns ("Thinkin About You," "Bad Religion," and "Forrest Gump"). Aside from the issue of sexuality, through the course of the album Ocean addresses, either directly or indirectly, issues ranging from race ("Pyramids"), drugs ("Crack Rock"), sex ("Pink Matter"), unintended pregnancy ("Sierra Leone"), religion ("Bad Religion"), and sexism ("Pink Matter").
He also explores his range as a songwriter on the album. For example, the sprawling nearly ten minute long "Pyramids" may be the album's finest moment easily blending synth, funk, r&b, and psychedelica into a dark and dirty funk groove meets slow jam. The tune begins as the famous Cleopatra of Ancient Egypt is kidnapped (or flees) from her powerful African King (the distraught narrator) and his opulent kingdom. Eventually she is discovered in the bed of another man. Subsequently, the song's lyrics travel forward in time to the modern day where Cleopatra is a stripper/prostitute working the Strip in Las Vegas. The narrator, now quite poor and still in love with Cleopatra, is one of her clients. Demonstrating his abilities as a storyteller, Ocean keeps the tale gripping. More importantly, it's clear that there is a lot more going on under the surface of the story than a literal reading of the lyrics would imply. It's the moment on the album where Ocean best demonstrates un unison his abilities as a songwriter, lyricist, and (to a slightly lesser degree) as a vocalist.
Album opener "Thinkin About You" is a warm and touching love song in which Ocean cleverly flips verses with blatant lies to reveal his feelings for his first love: "Got a beach house I could sell you in Idaho / since you think I don't love you / I just thought you were cute / That's why I kissed you / Got a fighter jet, I don't get to fly it though / …  / It won't ever get old / not in my soul / not in my spirit, keep it alive / We'll go down this road 'til it turns / from color to black and white."
The album is packed with plenty of other highlights too: "Sierra Leone," "Sweet Life," "Monks," "Bad Religion," and "the Andre 3000 sporting "Pink Matter." Nonetheless, the album does have it's dips. For example, the album's weakest moment is the creeping exploration of drug addiction on "Crack Rock." It's not a particularly bad track, but it also isn't particularly memorable and the lyrics are some of Ocean's least insightful. There are probably hundreds of touching odes to addiction in the world, some of those are incredibly powerful and catchy. This isn't either powerful or catchy. Nonetheless, the album's peaks clearly outweigh it's valleys, and Ocean almost effortlessly demonstrates to the world why he is one of the most exciting new songwriters in any genre. Like, his initial mixtape, channel ORANGE is mandatory listening.
While the album may not be as light and fluffy as Kasey's Popovers and Jam recipe, it's every bit as tender and delicious. Moreover, the recipe, like the album, is irresistible, beautifully textured, and surprisingly complex. The two make for a great musical pairing.
Frank Ocean – Sweet Life
Frank Ocean – Pyramids
Buy channel ORANGE from Insound. Then head back to the Kitchen to read Kasey's recipe for Popovers and Jam for some amazingly yummy goodness.