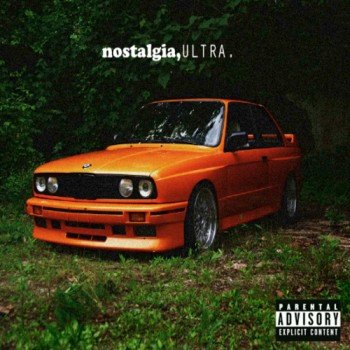 For a relatively new artist without a debut record to his name, Frank Ocean certainly has managed to attract a lot of attention. Unfortunately, it's not all been good. For example, he's already been threatened with a lawsuit by The Eagles' Don Henley if he so much as performs the track "American Wedding" live because it samples "Hotel California." Despite that, he's been universally well received by pretty much everyone else in the industry. As he should be. After all, his debut mixtape nostalgia,ULTRA. sounds incredibly fully formed for an initial (and free) offering. It could be a reflection of the fact that he isn't entirely new to the industry. Indeed, Ocean has been ghostwriting tunes for artists such as John Legend and Justin Bieber for years. Whatever the reasons, his 2011 debut mixtape is fantastic, fresh and clean. In fact, it's so good it quickly drew admiration from Kanye West, Jay-Z, Nas, and Beyonce: each of whom already sought out the young songwriter.
It's easy to see why so many songwriters would want to collaborate with Ocean. Indeed, it's safe to say that in the burgeoning new indie R&B scene, Ocean represents one of the genre's most promising talents alongside artists like The Weeknd. Yet on nostalgia, ULTRA. Ocean demonstrates himself to be the flipside of the new genre when compared to Toronto's dirty R&B maestro. While both artists write sexy, often lyrically NSFW indie R&B grooves with a healthy dose of low-end bump; Ocean proves to be the more spiritual, thoughtful songwriter. For example, in the very first verse of "We All Try" Ocean croons about his belief in heaven, God, a women's right to choose, and gay marriage: "I believe there's heaven, I believe in war / I believe a woman's temple / Gives her the right to choose but baby don't abort / I believe that marriage isn't / Between a man and woman but between love and love." The ease in which Ocean fits all of those themes immediately calls to mind 70's R&B heavyweight Marvin Gaye. Similarly, when The Weeknd's Abel Tesfaye sings about sex, it sounds dirty. When Ocean sings about sex, it sounds full of love.
In the short span of the album, Ocean covers a wide variety of issues (and genre influences). Indeed, he demonstrates an uncanny ability to write conscientious, yet sexy, love songs such as the Coldplay-sampling track "Strawberry Swing," the desperate and drug-induced long song "Novacane," and the lascivious MGMT-sampling jam "Electric Feel." In other words, Ocean demonstrates that he is the real deal.
Complex, romantic, and sexy the album pairs beautifully with Kasey's Chocolate Cakes with Rosewater Frosting recipe. After all, chocolate is sexy. Rosewater frosting is romantic and sexy. And tracks like "Lovecrimes" and "Electric Feel" are similarly smooth and enticing. Combining the two will create a truly decadent dessert experience.
Frank Ocean – We All Try
Frank Ocean – Electric Feel
Buy nostalgia, LITE. on vinyl… er, that is if it ever gets released. Which is probably won't (per Mr. Ocean). Instead download it here for free. Then head to the Kitchen to read Kasey's recipe for Chocolate Cakes with Rosewater Frosting.