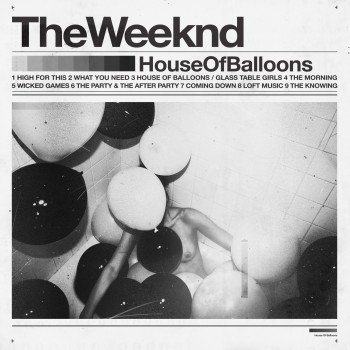 I can't say enough good things about The Weeknd. This Toronto, Canada-based trio (singer Abel Tesfaye and producers Doc McKinney and Illangelo) are making some of the most intriguing and catchy new music I've heard in awhile.  Let's just say it sounds like pure sex.  Mingling all of the naughtiness of deep trembling bass, salaciously dirty lyrics, and mesmerizing samples: it just demands your attention. To be sure, there aren't a lot of contemporary R&B albums that catch my ear, but House of Balloons, which also happens to be available as a free download from The Weeknd's website, has me hooked. And that probably has something to do with the fact that it isn't your traditional R&B album.  Featuring darkly textured melodies and steady, sexy rhythms that are kinfolk to dub and other forms of electronica, The Weeknd are not like the stuff played on pop radio.
These tracks are as thoughtfully well-produced as they are experimentally composed – mingling elements of R. Kelly & The-Dream with flashes of James Blake & Burial.  So yeah, you can expect The Weeknd to appeal to both fans of mainstream R&B as well as fans of experimental, indie music. The number of artists who can lay claim to that type of appeal are quite limited, so expect these guys to blow up in the months to come.
Take, for example, the sprawling epic "The Party & The After Party."  The track is nearly 8 minutes in length and plays more like a suite than an individual track. The first part relies upon a extended and distorted sample of Beach House's "Master of None" with confident, sexy lyrics like "with your Louis V bag / tats on your arms / high shoes make you 6 feet tall / everyone wants you / you can have them all / but I got what you need / girl I got your back / I got what you need" before descending into a simple but steamy groove and increasingly raw lyrics "messin' up your carpet / I'll get on it after 4 / more sessions of this drug on the floor / shoulda f***ed you raw / but I f***in' pulled."  It's a big hitter and, for me, despite the length it never feels over extended.
And even though they repeatedly demonstrate that they can pull off the 6+ minute track, House of Balloons most sure-fire tracks are the comparatively concise "What You Need" and "The Morning."  I previously featured "What You Need" describing it as "mesmerizingly dark and sexy" which are both words that could describe nearly every track here.  It's a sparse, ambient tune.  "The Morning" grinds with a smooth rhythm and a vast soundscape that, like a lot of contemporary electronica, succeeds because of the negative space between the instrumentation.
So what is our musical pairing?  It is smooth, textured, fresh and packed with flavor.  That's true of House of Balloons and it is also true of the beets and carrots with couscous and harissa yogurt recipe that Kasey featured in the Kitchen.  That recipe is a surprising and satisfying dish that will appeal to vegetarians and omnivores alike. Which is another way of saying that, like House of Balloons, it should have wide appeal. The harissa yogurt calls to mind unhealthy, calorie-laden sauces, but it is actually much better for you than its big flavors would suggest. Similarly, House of Balloons feels too naughty, too indulgent to be good for your soul – but somehow actually leaves you feeling cleansed and refreshed.  If you aren't in the mood for a vegetarian dinner – you can add some spicy Merguez sausage to the recipe.  Even if it's not a match made in Heaven – that doesn't mean it's a sin.
The Weeknd – House of Ballons – Glass Table Girls
The Weeknd – The Party & The After Party
Don't forget to "heart" our songs on hypem if you like what you hear!  And then head back to the Kitchen to read today's paired recipe.