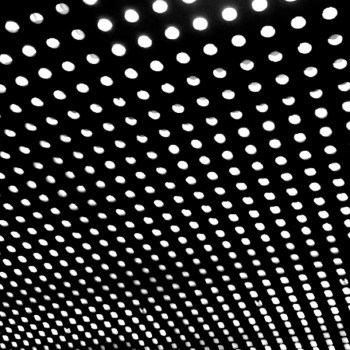 Beach House haven't changed much since they came together as a band. The French-born Victoria Legrand had moved to Baltimore in 2004 for cheap rent after having "raged there" on a few occasions, but also, in part, because of a "weird gut feeling." A few months later she met Baltimore-native Alex Scally (a bassist who'd never played guitar before forming Beach House). After discovering shared influences, the duo began hanging out constantly (not romantically) eventually recording music together. They enjoyed the freedom of working as a two-piece band because of the control the small size afforded them, but also because they enjoyed the challenge presented by the natural limitations of recording as a duo. So they kept it simple. To the degree that their music has changed in the subsequent years, you could describe their evolution by saying that their sound has unfurled like the sails on a ship – gradually expanding and becoming more taut.
Their latest album, Bloom, follows suit in that it isn't a radical departure from the music they've been making all along. It's dreamy, lush and atmospheric. Yet, the overall sound has continued to grow in terms of its overall presence. An easy comparison would be The National. That is to say that Bloom is an evolution from Teen Dream in the same way that The National's High Violet expanded upon Boxer. In other words, the duo have continued to mature in their confidence and songwriting, learning to expand their sound through increasing use of subtlety. Similarly, the production process has continued to blossom providing their music with a greater stage and depth. Of course, I think the comparison is also apt because, as The National had with High Violet and Boxer, Beach House have demonstrated through Teen Dream and Bloom that they deserve to be considered one of the greatest indie bands recording music today.
Part of the beauty of Beach House's earliest recordings was how exposed their melodies were. Now, their songwriting, while retaining an inherent surface-level simplicity, has grown more complex at the core. There's a lot bubbling under the increasingly restrained surface of their new material. Bloom opener "Myth" is a perfect example. Scally lays down the melody with a languid, narcotic guitar riff atop a hazy and clinking ambiance and a steady rhythm. Legrand's vocals seemingly glow through spacious layers of reverb. The melody is no longer as straight-forward and exposed as it once would have been and the stage built for the track is much airier than any the duo have previously inhabited. All of this without sacrificing the small room intimacy they've possessed since the very beginning. This can be said of the album as a whole.
"Lazuli" builds around a sparkling and crystalline synth and a dimly-lit soundscape. It's a grand and all enveloping track. The rhythm is simple and steady, propelling the track forward at an easy pace before tumbling through the track's final moments. It's a track as engaging as anything that I've heard from any rock band in the last five years.
Bloom pairs well with Kasey's recipe for Fennel, Preserved Lemon and Spanish Anchovy Salad. Although the recipe may appear simple and leafy at first blush, it's more complex and meaty than it's initial presentation would suggest. The ingredients are crisp and flavorful. It's one of the best salads you'll try all year. Pair it with an album as steady and unerring as Bloom for a memorable meal.
Preorder Bloom on vinyl from Insound (you'll get an exclusive free poster while supplies last). Then head to the Kitchen to read Kasey's recipe for Fennel, Preserved Lemon and Spanish Anchovy Salad.