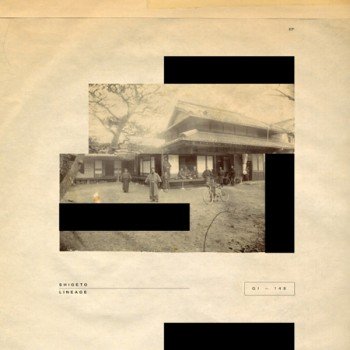 In a way, Zach Saginaw became an electronic producer by accident. As a self-taught drummer with a love for jazz and hip hop, Saginaw hadn't begun composing electronic music until around 2003. Although his drumming was excellent, his self-taught technique was hard on his body, eventually resulting in chronic tendonitus in both arms. He had to quit playing. When he related to his brother that he missed creating music, his brother installed Reason 2.5 on his computer and suggested he give it a try. Saginaw soon discovered that he loved the freedom that creating music electronically offered, so he stuck with it. Blending together his love of jazz, hip hop and IDM, Saginaw has since adopted the moniker Shigeto (his middle name) for his work as a producer. His headphones-friendly music demonstrates the subtle rhythmic sensibilities of a jazz drummer, the beats of a hip hop aficionado, and the crisp textures of a producer.
Lineage, Shigeto's sophomore album, demonstrates his continued maturity as a producer. It's sensibly sparse and reflects a brigthly-lit kaleidoscope of sonic textures. The opening cut, "Lineage (Prologue)," opens the album with ambient crackling, a breezy and shuffling rhythm and crystalline, sparkling wind chimes. The title track maintains a hazy groove, but folds in hip hop influenced rhythms and tinny, tactile percussive flourishes. If you closed your eyes, you'd swear you could reach out and touch the sounds with your hands. Meanwhile, "Ann Arbor Part 3 & 4," begins with a foundation of looping keys and a hip hop groove before mixing in hints of understated dub and a fresh, shimmering melody. Kinetic and shuffling, "A Child's Mind" is a lively and atmospheric standout.
Almost like a jazz band reinventing Moon Safari-era Air, "Huron River Dance" is a jazzy balance of smooth keyboard tones and flinty cymbals and tight snare drum. "Field Trip" is another clean, percussion heavy composition fleshed out with xylophone-like tones and warbly sounds effects. Lineage ultimately comes to a close with analog synth and steady, stop-and-go drumming on the echo-y, hand-clap studded "Please Stay." In all, the mini-album breezes by for a very satisfying 30 minutes.
The album pairs well with Kasey's recipe for Sesame Salt Kale Chips.  The album and the recipe are both crisp, clean and demonstrate the value of simplicity. There is plenty of complexity to savor in the taste of the kale chips, but the recipe doesn't rely on many ingredients to succeed. The same is true for Shigeto's Lineage.
Head back to the Kitchen to read Kasey's Sesame Salt Kale Chips recipe.  You can preorder the screen-printed vinyl version of Shigeto's album from Ghostly on January 31 (tomorrow).