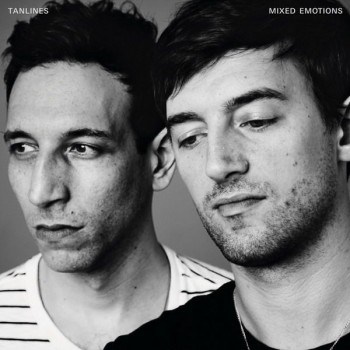 The music recorded by Jesse Cohen and Eric Emm, the two guys behind Brooklyn's Tanlines, could make a great case study in the way music, bands, and recording have changed in the past few decades. For example, a few years ago Cohen was best known as the frontman behind the dance-punk quintet Professor Murder (a name borrowed from a pair of skits on the fantastic sketch-comedy show Mr. Show). Meanwhile, Emm performed in the math rock band Don Caballero (which also took it's name from a skit-comedy show: Second City Television). In addition to his work as a guitarist and bassist, Emm is also a producer. In fact, the duo met because Emm worked as a producer for Professor Murder. When they decided to write a track together for the first time, they borrowed a stem from another band Emm had previously produced (seeking permission via a text message). As a result, their first official track ended up being a remix. I'd say that is pretty damn contemporary.
But it doesn't end with pop culture references and debut remixes. The recording process, which occurs at Emm's studio Brothers, begins with the duo recording music directly into a computer. As Cohen described it: "We write a song as we're recording the song." Then, like most of their contemporaries, they directed their initial offerings, including those early remixes, to music blogs (and debuted a number of their tracks on YouTube). Their initial notoriety received a boost after a Rising profile on Pitchfork. Everything about their background screams 2012 (of course, if they wanted to go "all the way" they would have released their debut on Bandcamp and their remixes on Soundcloud).
After spending the past few years building their profile and recording, last month finally saw the release of Tanlines' debut LP, Mixed Emotions. It's a glimmering, sun-soaked, pop-heavy album of danceable indie rock that blend tropical guitars, slinking synth riffs, and thumping bass kicks; straddling a fine line between Peter Gabriel and more contemporary acts like Phoenix, Cut Copy, and (a more adult take on) MGMT. It opens with an effectively collaborative battery of hand-clap heavy tracks that are so infectious it's hard to make your way beyond them on initial spins. "Brothers" is a smooth groove as upbeat as it is pleasantly relaxing. Meanwhile, "All of Me" is a sure favorite with it's soaring, warm-synth built choruses, tribal chant-like harmonies, and rhythmically electric verses.
Nonetheless, once you do make it beyond those opening cuts, you'll find even more to love. "Green Grass" is a chugging, synth-forward percussive jam. "Yes Way" features a smiling, Vampire Weekend-esque melody. And the light-headed, twirling jam "Not The Same" is a huge, skyrocketing, glittering-synth anthem that incorporates little violin-flourishes, finger snaps and pounding rhythms.
Similarly, Kasey's addiction-forming Spiced Whole Grain Chocolate Cake with Salted Chocolate Frosting couldn't be a more contemporary dessert if it tried. The name itself says it all: it's made with whole grains and is spiced and salted. But it also perfectly complements the mood on Mixed Emotions in that it will make you feel head-bobbingly upbeat.
Tanlines – Brothers
Tanlines – All Of You
Buy Mixed Emotion on vinyl from Insound and catch them at an Epicsauce presented gig at The Rickshaw Stop in SF on 4/27. Then head to the Kitchen to start some yummy habits with Kasey's Spiced Whole Grain Chocolate Cake with Salted Chocolate Frosting.