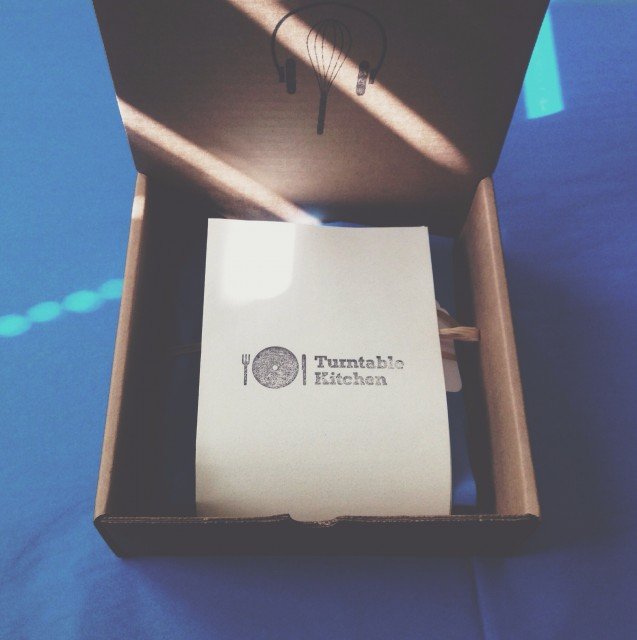 For Kasey and I, it's incredible to think that that the Pairings Box is entering its third year. When we came up with the idea we had no idea whether it would succeed or not. The idea was to create something tangible that we could share with out readers that would allow them to create a true food and music experience in their own home. We wanted to include delicious, healthy recipes that would be fun to create regardless of experience. We wanted to share some of the spices and ingredients necessary to help build an awesome pantry. And, of course, we wanted to introduce you to lots of great music. That's why we included both a digital mixtape of the best new music we've discovered and an exclusive, limited-edition vinyl single. To see the service have grown to over twice it's size in such a short time is pretty awesome.
Speaking as the music curator for the project, I'm incredibly proud of the lineup we've put together. In the past twelve months alone we've released 7″ debut vinyl singles by a host of the best up-and-coming artists in indie music including MØ, GEMS, Salt Cathedral, TRAILS AND WAYS, Bells Atlas, The Bones of J.R. Jones, VISUALS, KHUSHI, Port Isla, and Turtle Giant, alongside special releases by Turntable Kitchen favorites Typhoon and Seamonster.
As I mentioned on the occasion of our 1 year anniversary, I took inspiration for the Pairings Box from Sub Pop's Single of the Month club. Beginning back in 1988, Sub Pop mailed limited-edition slabs of vinyl to their subscribers on a monthly basis. If you'd signed up you'd have received singles by a bunch of bands that, at the time, you'd not have heard of  including Nirvana, Sonic Youth, and The Flaming Lips. That was the first three months. During the later years, they shipped singles by folks like The White Stripes and Modest Mouse. At the time of writing this a copy of The White Stripes single is selling for $800 on eBay (it was going for $349 last year).
So far, it's rare to see copies of our Pairings Box singles for sale online. Our subscribers aren't eager to part with their copies. I've only personally seen copies of our Evenings, MØ, and Mikal Cronin singles for sale. Each has sold for between $60-$100. Remember, Nirvana didn't release Nevermind until three years after their Sub Pop single. It's fun to think where some of our artists will be three years from now. They are all critically acclaimed and I'm certain that nearly all of them will continue to grow in popularity.
We would never have made it this far without our subscribers. Last year we launched the Gold Club as a way to thank those subscribers who've stuck with us uninterrupted for a full year. Gold club members receive a discount code for all purchases from our Market. They also receive a special ultra limited version of each month's record. Basically, each month we press a copy of the single on a special vinyl configuration/blend. We only make enough copies of those singles to give one to each member of the band, one to each gold club subscriber, and (naturally) a copy for ourselves. So far that's meant less than 100 gold club copies of each release.
To mark our 2nd year I've put together this playlist featuring a track from each of the artists we featured in the last year. I think it's an amazing mix, but I'll let it speak for itself. Join our mailing list to stay updated or simply subscribe to the Pairings Box now: https://www.turntablekitchen.com/pairings-box/
We've already got some huge surprises lined up for our third year. Subscribe to the Pairings Box now!