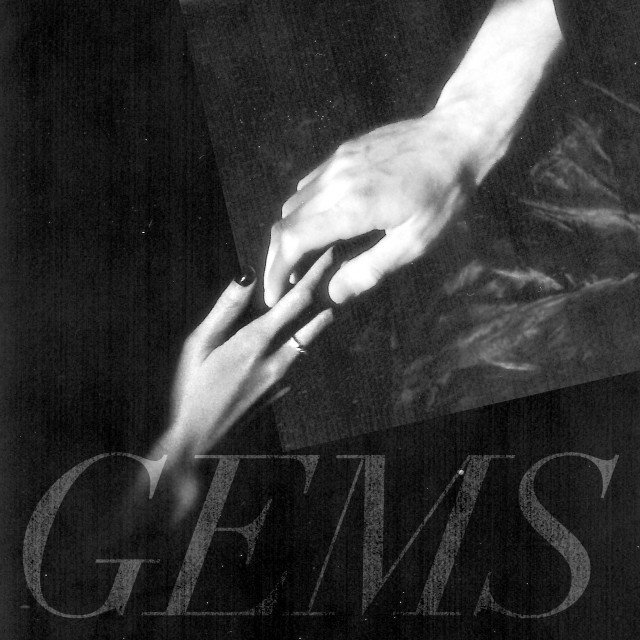 It's not uncommon for professional critics and music bloggers alike, myself included, to start a review by pointing out where the band's from. I suppose (although I'll admit to having thought about it less than I should) that we're implying that the music is informed by the city where it was born. In fact, I almost began this very post by noting that GEMS, the featured artists in our March 2013 Pairings Box, are from Washington D.C. But then I realized that, in this case, it completely misses the point to say that this duo are "based" anywhere. After all, Lindsay Pitts and Clifford Usher have been recording music together for at least four years now, but during that time they've enjoyed a mostly nomadic lifestyle. In fact, they wrote their first song as GEMS over a year-and-a-half ago while living in Texas and listening to Fleetwood Mac LPs. That same track was recorded a few months ago, along with the material on this single, at an empty beach house in North Carolina. And, last I heard, the nomadic duo still had no permanent residence, but were staying in the Washington D.C. area. As a result, it'd probably be more accurate to suggest that GEMS' brand of dark dream pop has been inspired by the ephemeral nature of a lifestyle where one of the few permanent things in their daily lives have been each other. After all, GEMS' music is dreamy and ethereal, but filled with a dark and fierce romanticism. It's tumultuous, cloudy, and uncertain; these are love songs about desperately clinging to one another only moments before (or after) the storm hits.
For example, the single's a-side "All I Ever" is built around an elegant and glimmering melody with an almost mystical, dreamlike ambiance. But as lovely and beautiful as it is, it's a reminder that some dreams, even if not quite nightmares, can still be incredibly unsettling. Indeed, Pitts' lyrics, although delivered bright and clean, are severely troubled: "nowhere to go / so I wrap myself in shadow. / More than you know / I have seen that lonely dead-end road." For his part, Usher doesn't know how to handle it all, and he responds troubled and lost, "I don't know what happens now / you're far away, somehow." As a result, it bittersweet when Pitts sings on the chorus: "all I ever wanted was you."
On the reverse we're proud to debut the previously unreleased track "Never Age." Melodically, it's brighter and more upbeat than the single's a-side and features tight, crisp percussion and a buoyant, bubbly bassline. Yet, again, this isn't a happy tune. The verses make it clear that when Pitts sings, "If only we can stay like this forever," the sentiment has a less cheerful ring than you might expect from a love song. But, even when the lyrics are expressly melancholy, "Touch my heart / pull out the strings," it's balanced by exceptionally beautiful harmonies. After all, as Pitts and Usher can tell you, you can't fully appreciate the light without the dark.
This was available in a limited-edition, hand-numbered pressing of 400 copies on "clear" vinyl and a special edition of 70 copies on "mystical swirled grey vinyl" for gold club members. Like the Pairings Boxes before it, this sold out in less than a week. Don't want to miss a Pairings Box? We'll be opening the list for new subscribers soon. Sign up to be notified.
Going to SXSW? Catch GEMS live at this awesome showcase on March 15th. If you haven't seen it, check out the video for GEMS' track "Pegasus" over at Yours Truly.