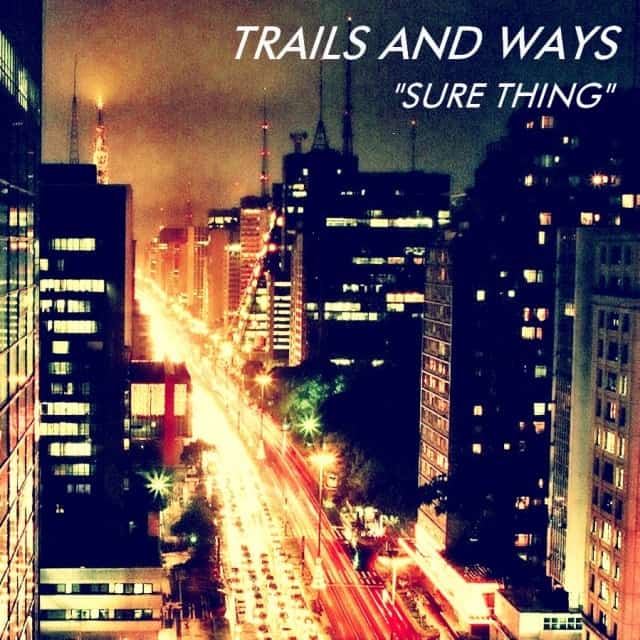 I've been digging the grooves of Oakland-based TRAILS AND WAYS since I first heard their jam "Nunca" this past summer. Indeed, after hearing just a pair of songs by the band I knew I wanted to feature them in an upcoming Pairings Box. Thus, I'm proud to announce that they are our featured artist for TK014. The Oakland quartet was formed after songwriter Keith Brower Brown discovered his muse listening to the hypnotic sway of Brazilian music while living abroad in Sao Paulo. He returned to the Bay Area and quickly formed TRAILS AND WAYS with the specific goal of marrying the subtle, psychedelic flow of Jorge Ben with the warm glow of indie folk artists like The Radio Dept. The single's a-side "Nunca" is the tropically rhythmic and snuggly swaying child of KBB's vision. Indeed, the tune was inspired by a "hot June day in Sao Paulo listening to Drake and Jorge Ben."
The single is backed with the band's cover of the Miguel track "Sure Thing" which we previously debuted here on Turntable Kitchen. The band explain the inspiration for the cover selection by noting that KBB "saw a crew of folks ghost-riding the whip down his block in Oakland, blasting 'Sure Thing' and singing along perfectly." He'd previously spent the summer playing the song obsessively and the site he was witnessing made him realize he needed to try his hand at the tune. But what direction would they take it? TRAILS AND WAYS explain: "If the original 'Sure Thing' was a sunny day in LA, we want ours to be a rainy night in São Paulo." A stormy and hot tune, I'd say they nailed it. Mixing smooth beats, jazz guitar and slick rhythms the band reinvent the tune from the ground up even taking the time to dramatically rewrite 70% of the lyrics. With the winter upon us, I think you're going to cherish tracks that can warm up a room like this. Enjoy!
This is available on tiger-striped vinyl (red, orange and black) which is limited to 300 copies. As usual, copies of this one are going fast (less than 50 copies remain). Subscribe to the Pairings Box now to make sure you don't miss out.