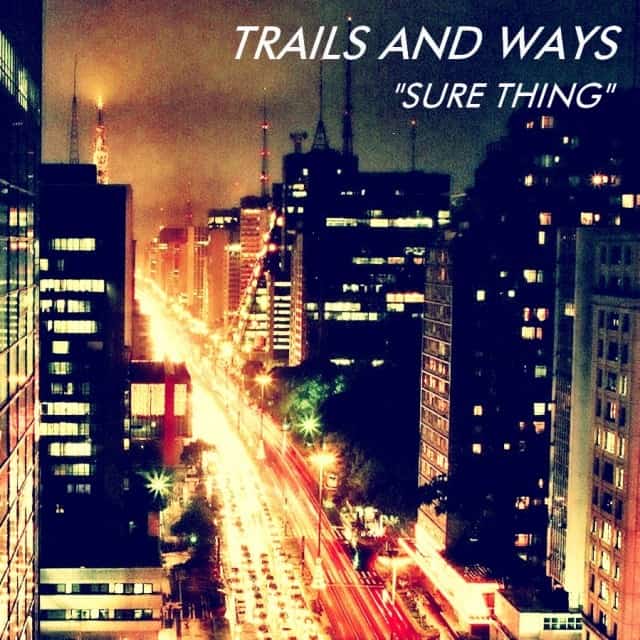 From where I'm sitting it looks like Oakland-based Trails and Ways have been on fire. The quickly rising quartet's last single, "Mtn Tune" is a summery, uptempo pop tune that hit all the right notes for me with it's hypnotic co-ed vocals and smoothly flowing melodies. And it's clear I wasn't alone in that regard. The jam racked up over 4,800 likes on Hype Machine in short order. Similarly, the single that preceded it "Nunca" scored them over 7,300 likes on Hype. And, it's no wonder it was such a hit either. The tune's tropical rhythms and sexy grooves are simply infectious.
Today, we're incredibly proud to offer the debut of their latest single a cover of Miguel's "Sure Thing". The band explain the inspiration for the cover selection by noting that frontman KBB "saw a crew of folks ghost-riding the whip down his block in Oakland, blasting 'Sure Thing' and singing along perfectly." He'd previously spent the summer playing the song obsessively and the site made him realize he needed to try his hand at the tune. What direction would they take it? The band explained it like this: "If the original 'Sure Thing' was a sunny day in LA, we want ours to be a rainy night in São Paulo."
Stormy and hot, I'd say they nailed it. Mixing smooth beats, jazz guitar and slick rhythms the band reinvent the tune from the ground up even taking the time to dramatically rewrite 70% of the lyrics. You can read their new lyrics below (they are interactive)!
Full (and interactive) Lyrics
you can bet that,never gotta sweat that.
If you be the
Marx
, I'll be your
Engels
, babe.
If you be the
plot
, I can be your
ruse
, boom.
union baby I could be your
dues
.
If I'm in prison baby you're my
tunnel loose
.cause you're the
suffragette
, and I'm the new vote.
you are the
miles
, I could be your
blue note
, true though.
you are the
bloc
, and I can be the
soviet
.
you can be the talk, and I can be the walk.even when the
sky comes falling
,
even when the
sun don't shine
,
I got faith in you and I,
so put your pretty little hand in mine.
even when we're
down to the wire
babe,
even when it's
do or die
,
we can do it baby simple and plain.
this
love
is a sure thing.if you be my
jimmy
, I'll be your
grace lee.
if you're the
picket
baby, I could be your tough feet, line it up.
if you're
benjamin
I can be yr
quote
,