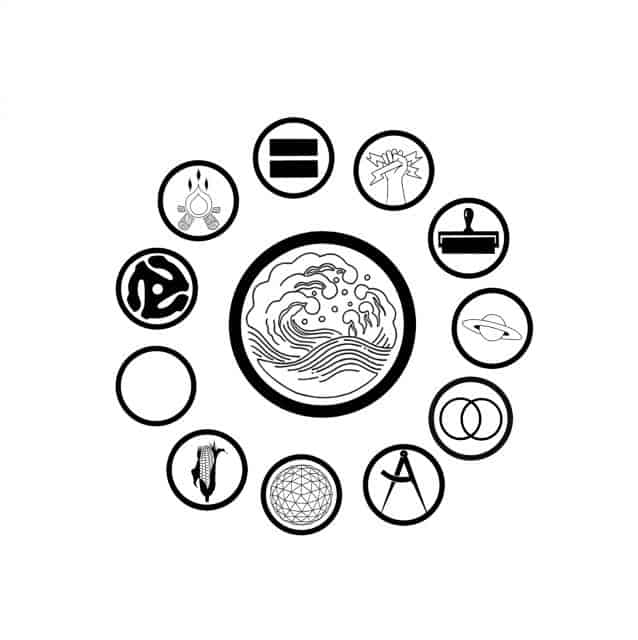 We've made it no secret that we believe Typhoon's latest album White Lighter is one of the year's best releases (buy it from the band's website). After all, the 11-member Portland-based band is one of the few groups capable of crafting beautifully orchestral folk epics that can successfully balance soaring, soul-pumping arrangements against poignant, occasionally heart-breaking, songwriting. What's more, thanks to the band's size, they're able to build wonderfully dynamic arrangements that abruptly swing from brassy horn blasts and stirring string crescendos into explosive rock n' roll. In other words, a thoughtful Typhoon folk ballad can quickly evolve into a bombastic string-backed rock anthem before closing out as a lush orchestral pop groove. As devoted fans, it's a huge honor for us to introduce them as the featured artist for this month's Pairings Box.
Bursts of bright, brassy horns herald open the a-side (and album single) "Dreams of Cannibalism" in grand style before a rattling, piano-laced melody slowly propels the song into forward momentum. A cacophony of crashing percussion, light keys, and punchy horns surround songwriter Kyle Morton as he sings, "I wrote a book and I will call it something cynical. / The story is slow the hero does not change. / And if he can, then he won't, anyway. / Instead his foes and lovers all become identical."
The wall of sounds pulls back like the ebb of an active tide before strumming acoustic guitars and flowing pedal steel guitar (courtesy of The Decemberists' Chris Funk) pull the melody into a new flowing arrangement. In the end though, the tune washes up alongside choral harmonies and chiming glockenspiel for the track's final moments as Morton is engulfed in the now buoyant melody while darkly intoning, "soon enough you'll be dancing at my funeral."
Meanwhile, on the b-side we're proud to introduce non-album track "Rules of the Game." It's a comparatively stripped down tune that presents a particularly dejected brand of heartbreak. The song unfurls with little more than a quietly picked banjo-built melody as Morton sings, "A love, like a bluff, is closely guarded in an effort to depart with anything by steady gain." The tune builds with a deliberate, thoughtful progression as new instruments enter the stage including stirring strings, restrained drumming, and sweetly crooned harmonies as Morton concludes, "I entered your debt and I paid dearly. I take my hand and nearly gave up everything I owned. / Oh no, I lost my clothes, / forfeit the keys to my home to you. / Oh, no! / Who is going to want me now? / I am ruined. / I am fallen."
As always, this is a limited-edition, hand-numbered 45 rpm 7″ vinyl pressing. We've only produced 400 copies on red vinyl alongside a special edition of 100 copies on "white with gold splatter" vinyl for our gold club members. Subscribe to the Pairings Box to make sure you never miss a single.