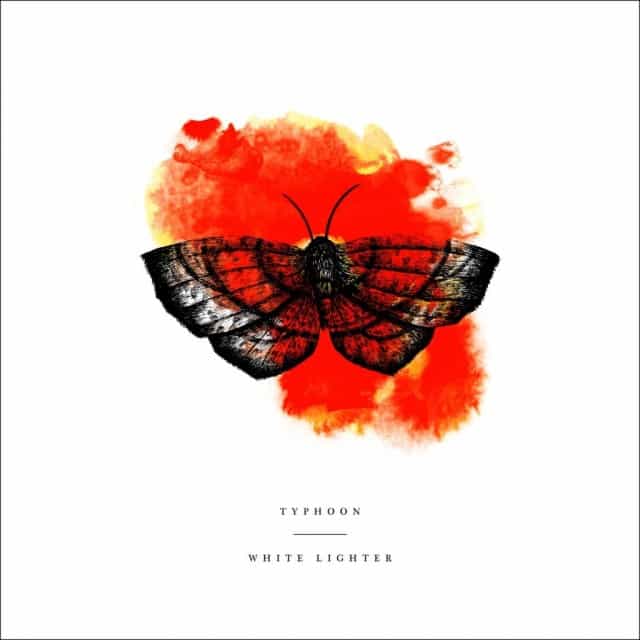 Kasey and I first discovered Typhoon during a road trip to Portland three years ago. In part, I picked up their album Hunger and Thirst as a souvenir from the trip, without having listened to it first, based solely on a recommendation from the clerk at Tender Loving Empire. To be honest, we didn't have any expectations, we just thought it'd be fun to take home a record from a local band.
It's fair to say we were stunned when we gave the album it's first spin. It was good. In fact, it was incredibly good. So good that it was hard to believe everyone wasn't talking about them. Although they've steadily grown in notoriety in the years that followed, I've always sort of thought of them as our little secret. With the release of their magnificent new album White Lighter, its safe to say that they aren't a secret anymore. Indeed, in the past few months they've received well deserved praise from pretty much all corners including NPR, Paste, The Wall Street Journal, and (of course) countless music blogs.
If you're not already familiar with them, the typical Typhoon song is an orchestral, multi-movement piece anchored in a careful blend of folk, pop, and rock. Their tracks often build gradually through turbulent and dynamically shifting arrangements before often collapsing into a sort of soothing catharsis. Yet, although that is the outline for many of their songs, it'd be a mistake to think that the band follows a template. Indeed, their size alone allows them nearly infinite possibilities in terms of arrangements, song structures, and so forth. After all, the band boasts eleven permanent members including a string section, a brass section, two drummers, and, of course, all of the usual elements of a normal rock band.
As you might expect from that description, White Lighter is grandiose, but not solely in terms of the arrangements and instrumentation. It's thematically and lyrically grand as well. The band's primary songwriter Kyle Morton has revealed in several interviews that White Lighter is a concept album of sorts, loosely organized to create a roughly chronological sketch of Morton's growth from childhood through an adolescence marked by a nearly life-ending disease at age 13 (Lyme disease) and the way that period of his life shaped his worldview and his relationships with his family.
Following a brief prelude, the album opens with clattering percussion, violin, and a swelling melody on "Artificial Light." Here Typhoon digs right in to tackle the big stuff. They're not explicit as to what the "artificial light" is a reference to, but the lyrics clearly suggest that it's either confronting religion, God, science, the search for knowledge, or similar matters that men commonly dedicate their lives to, as Morton sings, "This is why we have lovers and why we have fighters. / This is why the arms race and particle colliders. / Our eyes are on the flame, / just a little white lighter."
Although his lyrics are often fatalistic and distraught, these are not the words of a man who has given up all hope. Eventually the song breaks down into a rhythm built from a clean and bounding bass-line underscored by a thinly-laced rhythm as Morton, despite his fears, also demonstrates a profound appreciation for the beauty of life as he sings about his reaction to watching a loved one sleep, "Yes, you are my sunset / you are my last breath of air / I would try to hold it / I would try to keep the moment / like a picture of the sunset / like a little kid with a bug net / like a dying man, I swear."
As White Lighter demonstrates, part of what makes Typhoon special is their ability to address our shared anxieties and fears in a way that feels poignant, meaningful, and sincere. Morton isn't talking down to you and he isn't promising you it'll be alright. Nonetheless, despite the bleakness that Morton is struggling against, Typhoon's music is ultimately hopeful and uplifting. It's a balance many bands aim for but aren't able to achieve – certainly not at this level. For example, on the track "Morton's Fork"  when he cries out, "You are alone," the response is, "We're all in this together." Without a doubt, White Lighter is one of the year's best albums.
I tend to be the most reflective in the morning. In part, that's why I'm pairing White Lighter with Kasey's recipe for Rye Flour Crepe Bowls. The recipe (like the album) is textured, flavorful, and at times slightly bitter. It's rustic, but still elegant in it's simplicity and focus on quality ingredients. Add a cup of good coffee to the menu and you're ready to ponder the joys and uncertainties of life alongside Typhoon. In the end, you'll walk away with a happy belly and well nourished ears.
White Lighter is out now via Roll Call Records. You can buy the album directly from the band or via iTunes. Once it's in your library, check out Kasey's recipe for Rye Flour Crepe Bowls. Also, we'll have some pretty exciting Typhoon related news in the next few weeks, but we're not ready to spill the beans just yet. Be sure to check back.