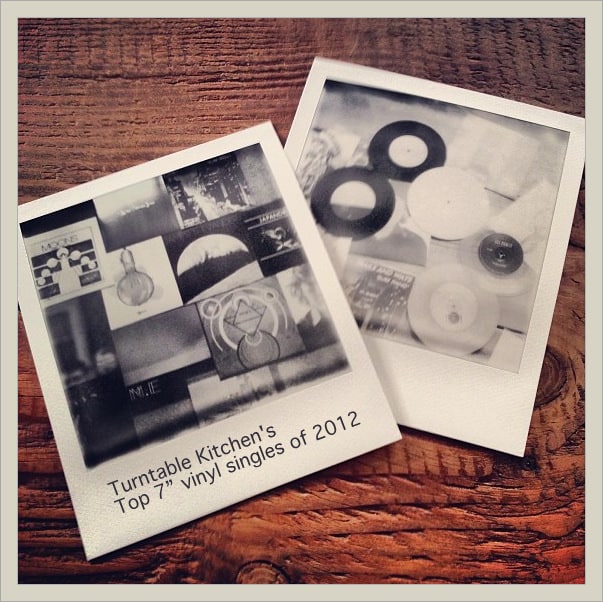 As an avid fan of music, I love putting together my "best of" lists at year end. As an avid record collector, I especially love compiling by 7″ vinyl singles list. This year was an especially fun list to compile because there were so many good singles released. As usual, this list is not ranked. In my opinion, with collectible 7″ singles there are too many factors to weigh, such as whether the single is limited edition, the number pressed, the profile of the artist, the collectible value of the single, and more. Like last year, I limited the list to one single per artist. In other words, if an artist released two singles in the year, I selected only my favorite of the singles by that artist.
And, yes, I included our Pairings Box singles on the list. Despite the obvious bias, it only makes sense that I would include them. After all, each of the singles were created after I reached out to the featured artist because I loved their music. These artists released some of my favorite music this year – that's why we featured them. Not only that, each of our singles are limited edition, each is hand numbered, and each is on colored vinyl. Those are all the right buttons for me. In other words, I think we're releasing some of the best singles out there. So, yeah, they are here because they deserve to be on this list.
I'm not providing a review of each of the singles. Frankly, that would take forever. However, I will say that what is exciting about many of these singles is that many of them represent the debut release by a very promising up-and-coming artist including those by: Algiers, Amateur Best, Cheerleader, Conveyor, DIIV, Field Mouse, Francisco The Man, Ghost Loft, James & Evander, Mind Enterprises, Moons, Oscar Key Sung, The Record Company, Save The Clocktower, Thousand, TRAILS AND WAYS, Turtle Giant, White Arrows, and Yalls. Most of the rest simply represent great one off releases by already established artists including Andrew Collberg, Beach House, Cat Power, Deerhoof, Iggy Pop, Iron & Wine, Japandroids, Mikal Cronin, Seamonster, St. Vincent, Toro y Moi, Typhoon, and Wild Nothing. That single by The White Stripes? It's a recording of the first ever The White Stripes set which was performed at an open mic night. It was sent to members of Third Man Record subscription service.
How many of these did you pick up this year? Lay a number on me in the comments. And, of course, I probably missed a number of great singles (I can only include what I heard). Let me know what's missing in the comments as well.
Turntable Kitchen's Essential 7″ Singles of 2012
stream the tracks below
1) Algiers – Blood / Back Eunuch (sold out)
2) Amateur Best – Be Happy / The Wave (buy from Double Denim)
3) Andrew Collberg – Dirty Wind (buy from Fort Lowell Records)
4) Beach House – Lazuli / Equal Mind (sold out Record Store Day exclusive)
5) Cat Power – Back In The Days (For Christopher Wallace) / Fire 7″ (sold out LP pre-order bonus)
6) Cheerleader – New Daze / Do What You Want (sold out)
7) Conveyor – Mane 7″ (buy from Gold Robot Records)
8) DIIV – Geist (buy from Insound)
9) Empress Of – Champagne (buy from No Recordings)
10) Exray's – Ancient Thing / Something Else (buy from Howell's Transmitter)
11) Field Mouse – Happy / You Guys Are Gonna Wake Up My Mom (buy from Small Plates Records)
12) Francisco The Man – Tiger / Broken Arrows 7″ (buy from Small Plates Records)
13) Ghost Loft – Seconds / Morning (sold out)
14) Half Waif / Deerhoof – Famous Class Records / LAMC 7″ (buy from Famous Class Records)
15) Iggy Pop & Zig Zags – If I'm In Luck I Might Get Picked Up (buy from Insound)
16) Iron & Wine – One More Try 7″ (buy from Insound)
17) James & Evander – Let's Go 7″ (buy from Gold Robot Records)
18) Japandroids – The House That Heaven Built / Jack The Ripper (sold out)
19) King Tuff – Wild Desire 7″ (buy from Insound)
20) Leisure – Follow Me / Follow Me (Keep Shelly in Athens) 7″ (sold out)
21) Mikal Cronin – Violitionist Acoustic Sessions 7″ (sold out)
22) Mind Enterprises – Summer War (buy it from Double Denim)
23) Moons – Bloody Mouth (buy from No Recordings)
24) NO – Stay With Me 7″ (sold out)
25) Only You – White Iris 7″ (buy from Insound)
26) Oscar Key Sung – All I Think About / Higher 5th Bounce (sold out)
27) The Paperhead – Pictures of Her Demise (buy from Trouble In Mind Records)
28) The Record Company – This Crooked City / Tallahassee Lassie (sold out)
29) Save The Clocktower – Like That / Drip (sold out)
30) Seamonster – Neighbors 7″ (sold out)
31) St. Vincent – GROT / KROKODIL (sold out Record Store Day exclusive)
32) Thousand – The Fall / Your Wild Heart (sold out)
33) TRAILS AND WAYS – Nunca / Sure Thing (Miguel Cover) (sold out)
34) Trouble In Mind – Mikal Cronin / Apache Dropout / The Paperhead / The Liminanas (sold out RSD)
35) Turtle Giant – Gold Tooth (Killer) / All Light (Live Session) (sold out)
36) Typhoon – Common Sentiments / Green (buy from Insound)
37) White Arrows – Get Gone (buy from Insound)
38) The White Stripes – Live on Bastille Day 7″ (sold out Third Man Records Vault Member Exclusive)
39) Wild Nothing – Nowhere 7″ (buy from Insound)
40) Yalls – Fantasy 7″ (buy from Gold Robot Records)