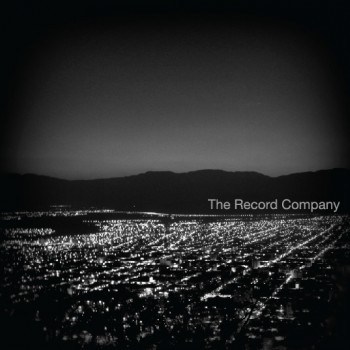 It can be easy to forget that rock 'n roll originated as the mutant offspring of the blues. With a few exceptions (such as The Black Keys) that blues influence is either missing or completely obscured from a large portion of today's rock music. I think it's obvious that I have no beef with modern music. Nonetheless, it's refreshing to hear a band that continues to fully embrace the genre's origins while simultaneously creating something new and fresh. Sadly, although the accentuated backbeat of the blues-heavy rhythm can be sniffed out as an ingredient in some indie rock from time to time, I'd argue that not enough bands write 'em like they used to. Thankfully, Los Angeles' band The Record Company can be counted amongst the blues-rock faithful. Indeed, the trio, which consists of guitarist/vocalist Chris Vos, pianist/bassist Alex Wood, and drummer Marc Cazola, bonded over a shared love of The Rolling Stones, Muddy Waters, John Lee Hooker, and Jimmy Reed.
Having discovered those shared influences, they decided to meet up and record a few jams together. As it turned out, they weren't alone in their love for blues-heavy rockers. Indeed, they recently rode a wave of critical praise from dozens of popular music blogs (including TK) leading to a series of well-attended SXSW gigs and a month-long residency at Los Angeles' Harvard & Stone. Their live set is sweltering and ragged. So much so that it's hard to believe they'd only played their first live show on January of this year.
The single's a-side, "This Crooked City," is one of the band's earliest tracks having been originally laid down that very first day the band decided to record together. It's an affecting, bluesy ballad with twang, grit and a steady groove all complementing Vos' soulful croon: "If you need some money / I swear I'll steal millions / to take care of you my darlin'." Meanwhile, the single's b-side is a non-album cover of the fiery Freddy Cannon groove "Tallahassee Lassie." After throwing down the blistering rocker during a practice session, the trio knew they wanted to bring it out with them to play on the road. It quickly developed into a fan favorite and a staple of their live set. It opens with a siren-like twirl before lighting up and burning across the floor aflame with smoking guitar riffs and a floor-board stomping rhythm.
The Record Company – This Crooked City
This one was released on a marbled sky blue 7″ vinyl with cloudy white swirls. Only 375 copies were pressed. We're down to less than a dozen remaining at the time of writing. The only way to guarantee a copy of each month's single is to subscribe to the Pairings Box.