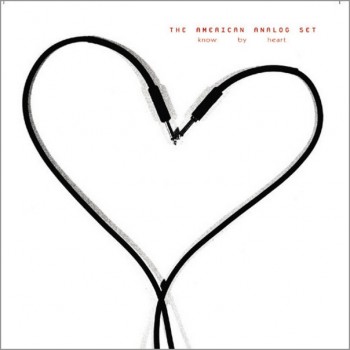 The American Analog Set has been extremely quiet lately (as in: they haven't released an album in seven years). But it wasn't always that way. Songwriter Andrew Kenny formed the Austin, Texas-based indie rock band nearly sixteen years ago in 1995. Initially the band was named The Electric Company, but they were subsequently forced to change their name when another band using the same name started doing the rounds. At the time, the band stood out from many of their peers in part because of Kenny's dedication to simplicity in his production and instrumentation. That isn't to say that they weren't technically proficient or compositionally adventurous. Just the opposite is true in fact. As Kenny explained to the Phoenix NewTimes back in 2001: "I guess our recordings have a little reverb on them, but there was nothing between the instruments and the amplifiers at all. Just a cable, no knob twirling or tweaking."
Released in September 2001, Know By Heart was the band's fourth full-length. With it's shimmering elegance, restrained rhythmic sensibility, and (compared to the band's prior releases) concise compositions, it's always been my favorite album by the band. The album kicks open softly with the misleadingly titled "Punk As Fuck." Brushed jazzy drumming, warm bass tones, and soft acoustic strumming usher in a flowing and gentle melody as comforting and enveloping as a wool blanket and a cup of coffe on a cool morning.
Meanwhile, the album's most upbeat moment may come on the kinetic and shuffling "The Only One" which is propelled along a sharp, tightly wound guitar riff as Kenny warmly intones: "Keep me like a key, I'm the only one. Worn around your neck, I'm the only one. Lucky like a charm, I'm the only one. Closest to your heart, I'm the only one." It's driving and hypnotic.
Death Cab For Cutie's Ben Gibbard provides guest vocals on the sparkling, plaintive track "The Postman." It's pleasantly lethargic and relaxed. Of course, that's the mood the album sets for from start to finish. It's whispered and bright. For example, the buzzing organ and clattering percussion on the grooving "Million Young" is embracing and dreamy. Similarly, the track "Aaron and Maria" is almost hymnal-like in it's cinematic, urban love-story lyrics and unrushed, strummed acoustic guitar-based melody.
Know By Heart pairs well Kasey's recipe for Cardamom and Nutmeg Waffles with Minted Strawberries. Like the album, the recipe is fresh, bright and clean. It's comforting and upbeat. But, not only that, Know By Heart is a great album to start your day with. It's positive and cool, but stays sluggishly kinetic throughout. It's gentle enough that you can leave the energizing to your morning cup of coffee.
The American Analog Set – Aaron & Maria
Buy Know By Heart from Insound (it's no longer available on vinyl though). Then head to the Kitchen to read Kasey's recipe for Cardamom and Nutmeg Waffles with Minted Strawberries.