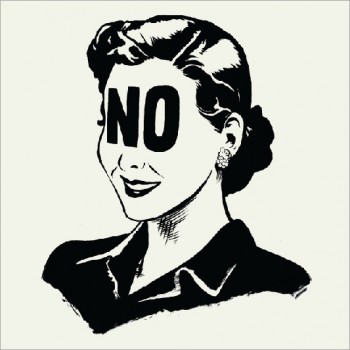 Los Angeles-based band NO have been on fire lately. IFC (the International Film Channel) recently described them as "one of the best bands in Los Angeles." It's a sentiment we strongly share (you may recall that last year we listed them as one of Turntable Kitchen's Top EPs of 2011). They've also drawn accolades recently from TIME, which listed them as one of the top bands to watch at this year's SXSW. So, yup, we're once again incredibly proud of our featured artist. The single's a-side, "Stay With Me," is the devastatingly powerful ballad that opened the band's debut EP. The cut opens with frontman Bradley Hanan Carter singing "I'm only human / I'm fully of mistakes" with the sort of well-worn gravitas one could only otherwise expect from vocalists like Matt Berninger (The National) or Bill Callahan (Smog). The cut is smoldering and moody with a melody that builds like a snowball gaining momentum and scale as it rolls down hill.
The single's b-side is the exclusive debut of a previously-unreleased track that can only be found on this single. It's darkly cinematic and as lush as anything that band has released to date. It's filled with a subtle rat-a-tat rhythm and shimmering guitar drones that build upon a soaring melody. It's also top secret so we can't say much more about it other than that it is an original track (not a cover), has never been available in any other format, and is freaking fantastic.
We pressed 375 copies of the hand-numbered gold vinyl single. They aren't all gone yet, but we have less than 10% remaining and I highly doubt they'll last through the end of the week. Turntable Kitchen doesn't do 2nd pressings. As always, they are only available through the Pairings Box. Get one before they are gone.