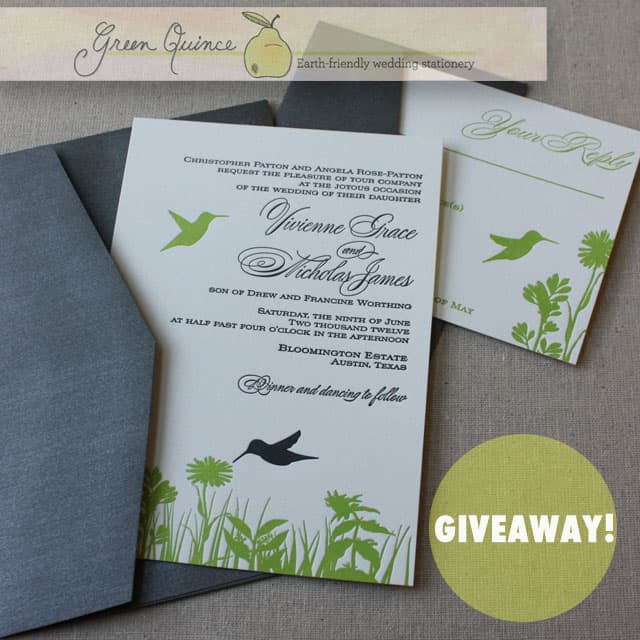 Those of you who subscribe to the Pairings Box and received our February (Valentine's Day) Pairings Box received a special little treat inside: a custom-made lettered invitation card for you to use to invite your significant other, friend, or family member to your next Pairings Box dinner. Jen Merrill, the woman behind Green Quince, created the darling cards. I first connected with Jen when Matt and I were getting married and we were so pleased with all of the letterpressed goods she created for our wedding (including our invitation suite, thank you cards and table setting cards).
Jen is sharing a little giveaway with Turntable Kitchen readers today and I hope you take the time to enter. Her creations are just beautiful. Jen is also the loveliest person, and all of her materials are eco-friendly! If you win, you can select ONE of the three prize options below:
1) $75 credit towards a wedding invitation order
2) A custom letterpress stationery card set
3) A donation of art supplies to the classroom of your choosing
(all valued at $75)
To enter:
1.) Leave a comment on this post
2.) Like Green Quince on Facebook.
3.) Leave a comment on the Green Quince Facebook page, mentioning Turntable Kitchen.
A random winner will be selected on Monday, April 16th. The giveaway closes at 12:00 pm PST on Sunday, April 15th.
Update: Congratulations  Brenda K Davila, you are the winner! Please contact kasey (at) turntablekitchen (dot) com  to claim your prize!