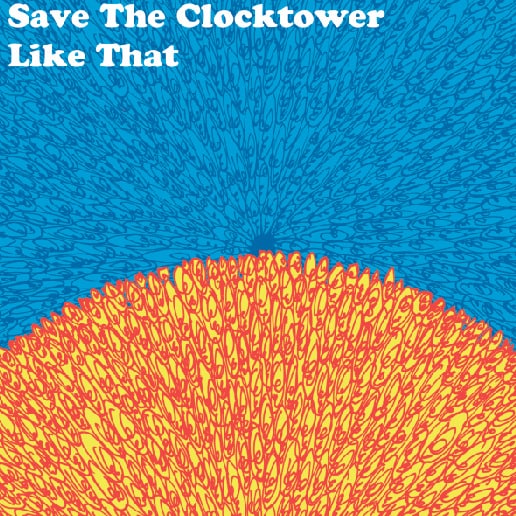 Fall may be just around the corner, but the Summer isn't over yet! And, for me, during the summer months upbeat pop jams are as mandatory as soft t-shirts and suntan lotion. So, it's in that spirit that I've been completely in love with the Chicago, Illinois four-piece Save The Clocktower. On their debut album released in 2011, Save The Clocktower consisted primarily of drummer/vocalist Greg Newton, guitarist/vocalist Sean Paras, and synth/pianist Jimmy Shenk. Since that time, they've been joined by Greg's brother Chris Newton as the band's fourth member. The newly rounded out quartet released their sophomore release, Through The Looking Glass, on July 3rd. For me, it was love at first listen. There are sugary hooks, catchy melodies and smooth grooves. It's nearly impossible to not have a good time listening to that album. So, as you can imagine, we knew they were a perfect choice for the August Pairings Box.
The a-side is the brightly lit and upbeat pop jam "Like That." It's pure indie-pop awesomeness tinted with warm, laser-like disco-synths, a steady grooving piano-anchored rhythm, and heaps of smooth "Oh, girl…" and "Ew, baby…" croons. To top it all off, it's gorgeously atmospheric and irresistibly catchy. This is the jam for the after party. This is the jam for driving cross-country with your best friends with the windows down tapping the armrest as you cruise. Oh, and we've just made it easy to figure out which jam to start your next summer BBQ playlist with. You're welcome.
Meanwhile, the b-side is a remaster of the lithe, blinking opener from the group's debut album "Drip" which was redone especially for the Pairings Box. It serves as an excellent compliment to the single's a-side because it demonstrates just how flexible this band is sonically. "Drip" features snappy, skipping percussion and a pair of unexpected stuttering, psych break downs that tear the track apart before bringing it all back together.
Save The Clocktower – Like That
We have a few copies of the August Pairings Box left. If you want one, you better get it now. They'll be gone by Wednesday. Head to the Save The Clocktower website for more awesomeness by them.