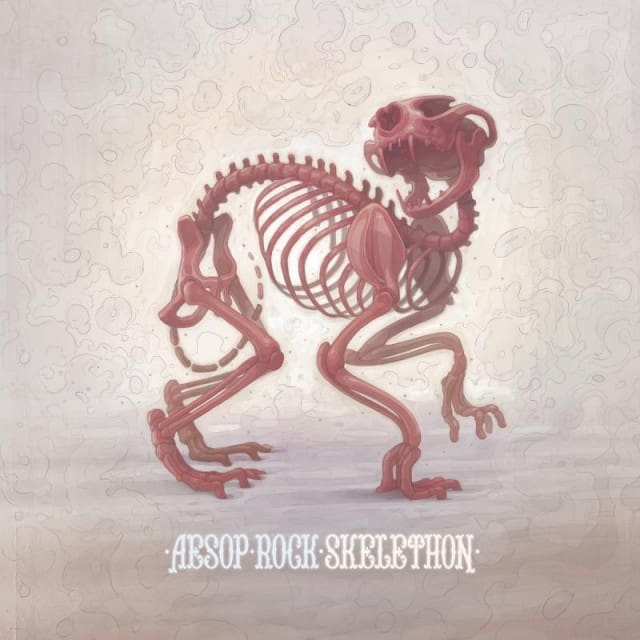 Dead cats being mummified. Dog's saving babies from pools. Bob's Donuts in San Francisco. Racing stripe haircuts. Vegetable hating teenagers. These are the things that Aesop Rock had on his mind when he recorded his latest triumphantly dense LP of occasionally near-indecipherable strange-rap mind-melters. Titled Skelethon, the record is another win for the San Francisco-by-way-of-New York emcee.
It's immediately clear that Rock's remains at the pinnacle of his game. As usual, his lyrics again alternate between cryptic, impressionistic, and abstract to narrative, colorful, and entertaining (oh, and quite often very funny). But what struck me on my first listen wasn't just that Rock was as "on" as usual, but rather just how instrumentally organic Skelethon sounds compared to his prior albums. More than ever before Rock's tunes blend samples, scratching (via long-time collaborator DJ Big Wiz) and live instrumentation. Rock's wife Allyson Baker (of Dirty Ghosts) returns providing either bass or guitar on at least five of the album's cuts. Hanni El Khatib provides guitar on three tracks and El Khatib's long-time ally Nicky Fleming-Yaryan provides crisp percussion on four jams. Kimya Dawson and Rob Sonic provide additional vocals on several tracks. Finally, Grimace Federation, a Philadelphia-based band known for making an ungodly messy groove out of samples upon samples swirled into a multi-percussionist rhythm, provide additional instrumentation on a pair of cuts.
The result is that the beats and accompanying instrumentation sound fuller, more lush, and livelier than they've ever before. It proves to be an ideal stage for Rock to showcase his lyricism and songwriting. It's entirely unsurprising considering the fact that Rock's wife provides the track's grungy guitar riff, but the track "ZZZ Top" instrumentally sounds like Rock rapping over a Dirty Ghosts' album highlight. Baker does her work atop clattering, break-beat percussion as Rock lyrically explores the minds of three individuals as they, in order, carve a word into a desk, write on a pair of chucks with a magic marker, and scrawl a band name onto the wall in a bathroom stall.
The album's first single "Zero Dark Thirty" is the album's most immediately catchy groove and also the track most able to bridge the gap between Rock's latest and None Shall Pass. It's one of the least lyrically straight-forward jams on the album as well. But, despite the puzzle-like nature of the lyrics, Rock manages to evoke the vision of an unpopular kid rising up through the rap scene to become the last man standing as he spits about a "minotaur-fugly stepchild" with "zero friends" that "nevermind straw to gold [can] spin hearts on sleeves into heads on poles." In the end, it's "down from a huntable surplus to one."
Meanwhile, on "Ruby '81" Aesop paints the tale of two year-old baby Ruby who escapes from the house when her parents aren't looking and falls into their pool. Only the family's beagle notices what's happening and is able to save the small child. Later in the album, things don't end nearly as merrily for Aesop's feline friend on "Homemade Mummy" which (as the title implies) provides instructions for making your own D.I.Y. mummified kitten.
A personal favorite, is the hilarious "Grace" in which Rock narrates the story of a stand-off between himself and his father when he refused to eat his vegetables. A few key lyrics for me: "Chris and Graham hate 'em too but advocate a braver chew invented for the code red, cola chaser, nose held, gulp moments. Later two have been released, leaving me the legroom and the legume police" and later "a single portion canned, frozen or fresh, defies the glory of the Poultry or fish."
Kasey's featuring a recipe for Chanterelle Tacos today in the Kitchen. For me, chanterelles are an unusual and pretty non-traditional ingredient for tacos (or in any other traditional street food). But although the main ingredient is relatively unorthodox in this context, it's a beautifully flavorful recipe. Similarly, rap is often regarded as street music, and within the context of the genre, Aesop Rock is wildly untraditional both lyrically and instrumentally. Considering those similarities, (and despite Aesop's childhood aversion to vegetables) I think today's recipe makes a great musical pairing for Skelethon.
You can order Skelethon from Insound. Then head back to the Kitchen to read Kasey's recipe for Chanterelle Tacos.